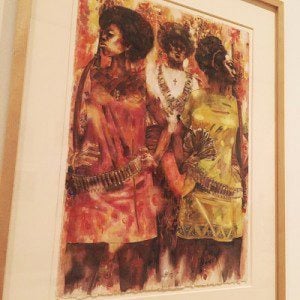 No doubt about it Brooklyn is a magickal place. According to some statistics we have more churches here than anywhere in the world. With slogans like "We go hard," and "Only the strong survive," the reputation of Brooklyn precedes itself. The Brooklyn Museum's new exhibit We Wanted A Revolution: Black Radical Women 1965-85, is full of the spirit and fire of the place. The show will run until September 17, 2017, so if you have a chance, I definitely urge you to check it out.
Thankfully the artwork featured here is powerful and poignant. According to the museum's website the exhibit features " the work of black women artists, We Wanted a Revolution: Black Radical Women, 1965–85 examines the political, social, cultural, and aesthetic priorities of women of color during the emergence of second-wave feminism. It is the first exhibition to highlight the voices and experiences of women of color—distinct from the primarily white, middle-class mainstream feminist movement—in order to reorient conversations around race, feminism, political action, art production, and art history in this significant historical period. "
This is a powerful depiction of, and by our radical foremothers. The paintings, sculptures, films, and performance pieces present a fusion, and a vision that is unparalleled. While all of the selections are sublime, many are spiritually focused as well.
One of my favorite offerings is the 1969 Wives of Shango painting by Jeff Donaldson pictured here. Those involved in African Traditional Religion will recognize the wives of the Orisha Chango : Oya, Oba, and Oshun. In this incarnation they are shown armed, and almost decorated in machine gun bullets and weaponry. This Orisha art shows a feminine power that hearkens back across the ages. A force beckons forth a more secure and empowered tomorrow. The Orisha Shango (spelled the traditional way) is featured elsewhere in the museum too, specifically in Samella Lewis' 1975 Sister Shango drawing. Here we see a more feminine side of Shango, who is sometimes featured in legend as dressing in women's clothes. This drawing shows a deep connection to history and the divine feminine.
All of the works here show a spirit of strong resistance, great pride, and unwavering hope for a better tomorrow. Luckily for us, not only paintings and drawings are represented in the Brooklyn Museum show. There are also amazing films, elements of performance art, and sculpture exhibited here as well. Every piece included in the show is both informative and thought provoking… a true inspiration.
As always if you have enjoyed what you read here please remember to share, share, share !