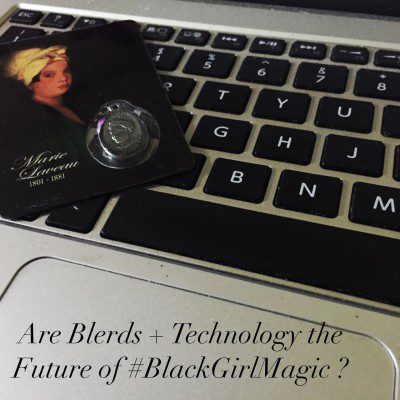 The skyrocketing popularity of #BlackGirlMagic is obvious. If you've never heard the word Blerd before, it's meaning may be less obvious. A Blerd is a modern colloquialism, or slang word blend,  for black nerd. My friends like to joke that I am the High Priestess of Geek, so I'm all over this description and topic.
I sit here watching Richard Ayoade and Gadget Man and deeply ponder the relationship between people of color and sacred science. In the show Ayoade explores all the ways technology can make our lives easier. I wonder if someday people will use robots to cast circle or do blessings, or maybe have electric wassail makers for Yule ( well I already use my crockpot. ) I guess that's a bit of my own #BlackGirlMagic . Here he is making a little techo-love magick .
Technology has a magick and a mystery all it's own. In Haitian Vodou and New Orleans Voodoo there is a Lwa named Simbi who has evolved over time into a deity of technology and communication. In my post Simbi Slithers Between the Living and the Dead I write "In the modern world Simbi has taken on the domain of technology. With lightning speed this Vodou spirit carries knowledge via the internet and wi-fi. The veve, or sacred ground drawing, for Simbi most often features a snake slithering through the crossroads. It is almost as if this sacred power crosses over the realm of magic to communicate his message to the world."
Blerd City
This weekend I'm very excited and intrigued to attend the Blerd City conference in New York City. The information on their website explains "Black + Nerd = BLERD, a blend of a micro-Comic Con with the intersectionality of social issues facing people of color.
A two-day conference of panels, workshops, film screenings, gaming, comic books, Sci-fi/Horror/Fantasy Book Readings, and a Children's Area. " ​
There are numerous panels, discussions, and performances. Including :
Enter the Last Dragon: Black Folks & Martial Arts
Women in Comics: Gender and Inclusion in the Modern Age of the Comic Book World
Correcting People Correctly
A Right Not to Die: Imprisonment from Birth to Death
#BLERDFOODJUSTICE
AfroPast and AfroFuture: Indy Explosive Comics
Kpop and Blackness: Appropriation or Appreciation
and even one by our friends AfroCrowd: Bringing the Digital Footprints of the African Diaspora with Wikipedia (please read our post on wikipedia editing)
a Cosplay ball, and much, much, more !
So what is the future of #BlackGirlMagic and machine ? We have long since evolved from the beginnings of Techno-magic into the reaches of a wider world. How we will continue to apply new modalities to ancient traditions ? I intend to ask these questions at the conference this weekend. I'll let you know what people say. I'd also love to hear your own thoughts on this topic in the comments below. But for now I'm off to go work on my Zoe from Firefly cosplay creation, it's about time some brown people put on some brown coats and became their own "Big Damn Heroes."
As always if you have enjoyed what you find here please remember to share, share, share !