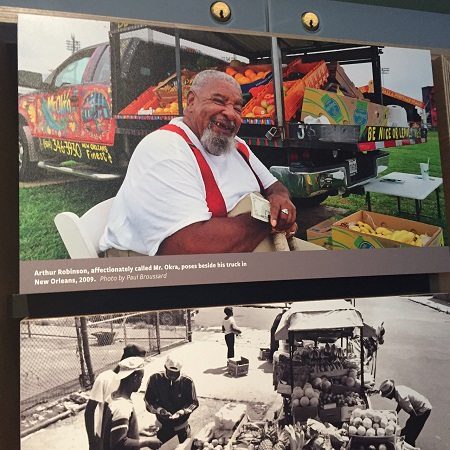 Mr. Okra was a true New Orleans character, he passed away on Thursday February 15 at the age of 75 from natural causes. The New Orleans Advocate broke the story yesterday saying "He didn't play the trumpet or the piano, but for decades, Arthur "Mr. Okra" Robinson provided one of the distinctive sounds of a city famous for its music. He was a roving produce vendor, traveling the city's streets in a heavily customized pickup truck and using a loudspeaker to sing the praises of his oranges and bananas, his avocados and, of course, his okra. But now what seemed like a timeless sound in this city has come to an end. "
He was a master of the melody. Using musical cries to sell his tasty wares, these became famous and were even sampled by Dave Matthews and Morning 40 Federation. His truck was just as colorful as the man himself. It was painted with fruits, vegetables, and sayings like " there ain't no joy like a 9th ward boy. " Mr. Okra even got made into his own children's book written by Lashon Daley. Called Mr. Okra Sells Fresh Fruits and Vegetables, it shows kids the glory of fresh produce and also the city of New Orleans. There is even a Mr. Okra in your pocket toy. I was glad to see Mr. Okra even included in the National Museum of African American History and Culture, in their section about the connection between Black folks and food.
Today social media was awash with beautiful memories of the man whose voice will echo on for all those who remember. People talk about running after him barefoot (which I have done,) and the fact that he always had what they need. He will be missed.
I will miss hearing Mr Okra's singsong chant. I gotta go thru all my grocery bags to make sure I still have my Mr Okra cloth bag. I fantasize someone will do his eulogy in the style of his song: "He's in Heav-en. He's got Pea-ce. His soul's at re-est."

— Melanie Morel-Ensminger (@RevMelanieNOLA) February 16, 2018

As always if you have enjoyed what you read here please remember to share, share, share !