Astrology for Happiness and Success by Mecca Woods has everything you would expect from an Astrology book. It recommends crystals, mantras, herbs, and more to resonate with your sun sign.
When I got this book I did what I usually do with a new Astrology book – I turned to my sign. Since this book focuses on Sun signs, for me that means Aries.
For Aries like myself Woods suggests using scents such as ginger, star anise, amber, and black pepper to enhance both power and seduction. One of my favorite things in Astrology for Happiness and Success is that they also include affirmations for each Sun sign. I've said it before and I will say it again affirmations are so important in magick. They allow one to focus on goals and desires, and shift them into reality.
This book is chock full of information on every Sun sign and what it means for your personal astrology, and your magick. I just wish it had information about moon and rising signs too, hopefully that will be in Woods' next book.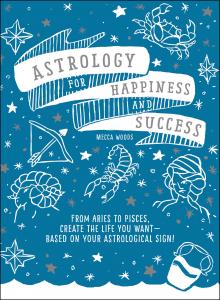 Woods biography on the Simon and Schuster website tells us "Mecca Woods is a New York City-based astrologer and writer who works to help others create a life they truly want using their natural-born gifts. Her writing and horoscopes have appeared in Essence, Bustle, xoNecole, and PopSugar. When she isn't writing, Mecca teaches astrology classes around the city on love, compatibility, and personal development. Her most important job is being a mom to her awesome Aries daughter. You can find Mecca at MyLifeCreated.com "
I hope to interview Ms. Woods here on Voodoo Universe soon, stay tuned !
As always if you have enjoyed what you read here please remember to like, comment, and share this post !