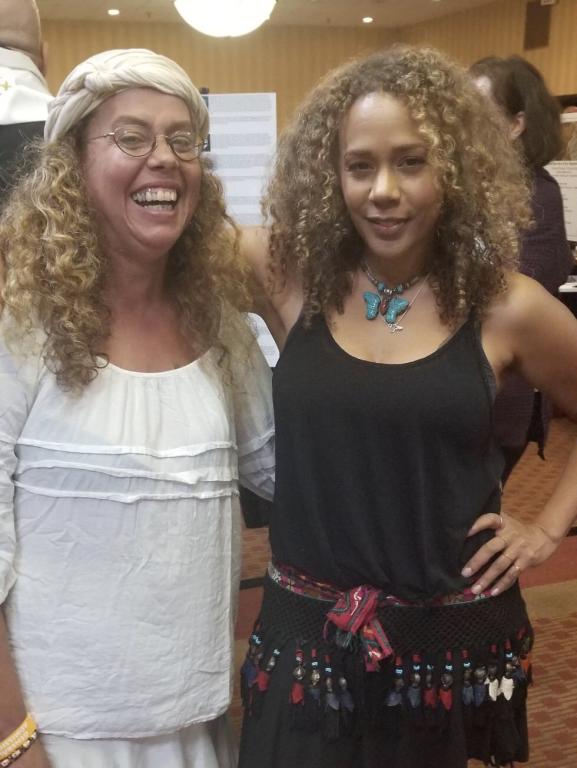 If you are a Witch today you probably know who Rachel True is. She starred in The Craft, a film that has served as an inspiration to a world of Witches since it's debut in 1996. I was given the wonderful opportunity to meet Ms. True this October at The Sleepy Hollow Festival of Witches, where we were both presenting. We spoke about #BlackGirlMagic, Witchcraft, Divination, growing up in NYC, how we're both alumni of NYU, her upcoming True Heart Tarot and much more.
Ms. True has been the center of media attention even more so lately because of a series of tweets she posted on Jan 26.
I think it's interesting these conventions are booking Neve, Fairuza &, Robin all together, but excluding me. Sounds about white.

— Rachel True (@RachelTrue) January 26, 2019
She followed it up with-
Kinda like the press junkets back in the day for the film. ¯\_(ツ)_/¯

— Rachel True (@RachelTrue) January 26, 2019
And then-
Maybe it's just an oversight but…I mean.. it's a film about 4 f*cking girls not 3.

— Rachel True (@RachelTrue) January 26, 2019

It's not easy to speak truth to power, and I want to just publicly state that I'm behind her 100 percent. As a Black Woman who has been involved in Witchcraft and Media for more than half my life, I can honestly say her observations are spot on. I have been more "whitewashed" by more organizers, media outlets, and individuals than I can even count anymore. For me, and I'm sure many many Black Witches out there, this wasn't a film about 4 f*cking witches, it was a film about one. The struggle for representation and inclusion has always been real, so when we saw someone on the big screen finally who looked like us, that was everything !
As for the racists and the haters who have come out to respond to her on her post, I hope she blocks them. Or even better I hope she does her best to educate them, and then puts them on mute. This will certainly be my response if anyone drifts into privilege, insensitive, or hurtful speech here on this blog.
I would just like to end by saying Keep up the great work sister, both on and off screen. Event organizers definitely need to do better, especially for individuals like Rachel True who have done the work. Everyone else please look for her True Heart Tarot being published later this year, and if you have the opportunity to fight for inclusion please do so whenever you can !
As always if you have enjoyed what you read here please remember to like, comment, and share !