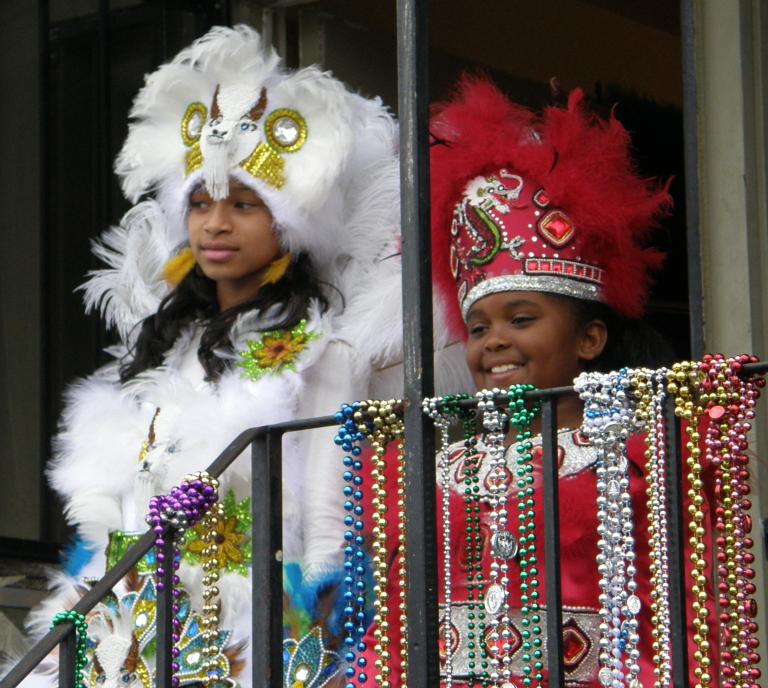 An interviewer asked me once if Mardi Gras Day was the biggest holiday in New Orleans Voodoo Religion. I laughed a little bit, and then told them that it's not really viewed as a part of Voodoo, but for myself and many others more of a celebration of the spirit of the city, most specifically in the form of the Mardi Gras Indians. Many celebrations remind us of both the ancestors and the next generations to come.
The history of the Mardi Gras Indians is almost as colorful as the intricate suits they craft. In my post Battles and Big Chiefs I write " On Mardi Gras Day maybe you will be lucky enough to see some Indians. Locals recommend checking the paper or asking around. Suits are on display at the Backstreet Cultural Museum in the Treme, and if you can check out The House of Dance and Feathers in the 9th Ward, more information is available on their facebook pages. The Mardi Gras Indians are the prettiest, baddest, the toughest… they used their wit, wisdom, and artistry to keep their heritage and themselves alive. They have been here for hundreds of years, and most likely will continue for hundreds more with their fine feathers."
Some say Mardi Gras' origins date back to the 1700's, but like much of the city's history, everyone loves to debate it. The names of the tribes are as exotic as the costumes: Guardians of the Flame, the Black Seminoles, Creole Hunters, Wild Tchoupitoulas, Golden Eagles, Red,White & Blue, Wild Magnolia, and the Flaming Arrows to name a few. There are over 50 tribes in the city according to some. This is history, culture, and pride in graceful action. Please watch my video from the Big Chief of the Golden Eagles- Monk Boudreaux.
Here's a video of the Mardi Gras Indian Orchestra, featuring Big Chief David Montana and Big Chief Sunpie Barnes, performing one of my all time favorites Indian Red.
As always if you enjoy what you have seen and read here please remember to like, comment and share ! And have a wonderful Mardi Gras !