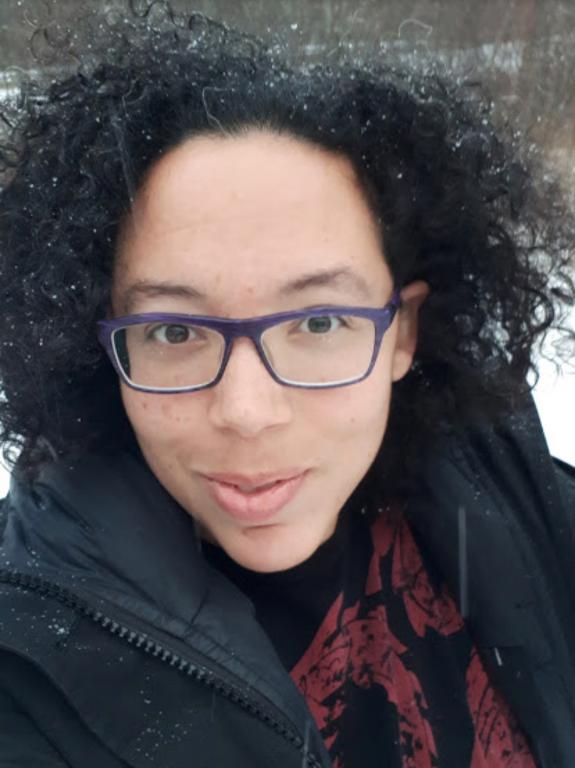 The following is a guest post The Pagan Bookshelf: Black Voices By Lisa Jade.
Reflecting on Black History Month (BHM), I notice that as often happens, writers will highlight black authors and recommend books during BHM as a way to highlight and celebrate. However, as a black witch, I find myself disappointed by the lack of black voices providing input, a lack of pagan authors on the list, and generally problematic points that can occur with book recommendations during BHM.
First, let's get into my own list of book recommendations, and then break down some of the challenges. Fellow writers and allies, consider these points when you're writing about a different ethnic group. While I speak about my own experience as a black woman here, much of this can be applied to any ethnic group or culture.
While this response is linked to the blog in which I recently read these suggestions, I've seen this same approach in other bloggers, and news outlets as well.
Black Voices: Adding diversity to your pagan bookshelf
Considering the above, I went through my own bookshelf, and asked my fellow black pagan bloggers and authors, "what books by black authors are on your bookshelf pagan or otherwise?" There's value in diversifying your pagan bookshelf and seeing other ethnicities represented.
This list of 10 black writers is certainly not exclusive, and I would love to hear your thoughts on which black authors should also be included on this list or are specifically on your bookshelf. In no particular order:
1. Khi Armand, "Clearing Spaces: Inspirational Techniques to Heal Your Home". I added this book to this list because there's so much interest in home clearing, decluttering, and inviting uplifting energy into your home. This book reviews space clearing, divination, exploring your relationship with your home as a spiritual entity, and includes many methods of purifying your space. A list of all of Khi's books are available at https://www.impactshamanism.com/books
2. Mammy is Dead. You might not be able to get this on your bookshelf, but I can't recommend this blog enough (https://mammyisdead.com/ ). Irene McCalphin runs Mammy is Dead, and writes about hard hitting topics, like decolonizing black minds, breaking cycles of supremacy, appropriation, ensuring black spaces, and more.
3. Lilith Dorsey, 55 Ways to Connect to Goddess. This book is one of the first books I recommend to those new to the goddess, and to those who feel the are a bit stagnant in their spiritual path. It is a quick read that you can pick up and read just 1 of the 55 ways at a time, and feel like you're walking away inspired with something new. Lilith has written a number of books, is a writer on Patheos (thank you so much for allowing me to guest-write here), and hosts a fantastic YouTube channel. Her show Witchcraft & Voodoo is always inspiring, covering topics that many shy away from. You can read more about her and her other books at https://lilithdorsey.com/
4. Gina Spriggs, The Intuitive Tarot Workbook. Released in 2012, Gina writes about working with the tarot intuitively and covers exercises to help tap into understanding the tarot. Read more about Gina at her website (where there are free meditations and a free ebook available) https://ginaspriggs.guru/
5. Randall Kenan, Let the Dead Bury Their Dead (Harvest American Writing Series). Cory Hutchinson had this to say about this book: "Kenan's books incorporate a magical worldview with African American folklore. He also deals with issues of LGBTQ concern, too. I love the books I've read from him."
6. Crystal Blanton. If there was ever a black witch who stands strong in her Power, and doing right work for change in the pagan community (and in particular in California), it is Crystal Blanton. Her books Bridging the Gap, and Pain and Faith in a Wiccan World are so important, in particular for people of colour. As editor of Shades of Faith: Minority Voices in Paganism, this anthology shares views from numerous pagan paths, and is a worthwhile read by anyone wanting to break the assumption of paganism being Caucasian-only traditions. She also writes for the Wild Hunt, at https://wildhunt.org/author/crystal.
7. Stephanie Rose Bird. Shortly releasing her fourth book, Stephanie writes books that focus on hoodoo and rootwork, and healing. Her book, Earth Mama's Spiritual Guide to Weight Loss has been so helpful for me as I work on my own health and weight-loss journey. She recognizes that our bodies and spirits are connected, and we must tend to both, integrating the wisdom of our ancestors to reach and keep our goals. http://www.stephanierosebird.com/index.htm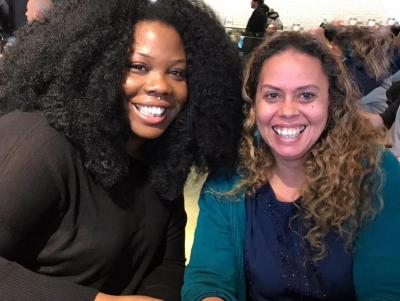 8. Mecca Woods, Astrology For Happiness & Success. Mecca is a rare gem in astrology, featured multiple times in Essence magazine, and recently releasing the aforementioned book. The book contains journal prompts, therapeutic techniques, rituals for each sign, and guides you on knowing yourself better through astrology. https://www.mylifecreated.com/
9. Sam Reynolds, is an astrologer with over 25 years of experience, and writes at The Mountain Astrologer, along with his own weekly horoscopes at http://unlockastrology.com/blog/. He has completed important work in diversifying the field of astrology, co-founding the International Society of Black Astrologers. I highly recommend reading this particular blog about black astrology by Sam as well: http://unlockastrology.com/african-americans-astrology/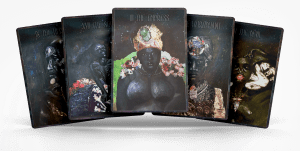 10. Dust II Onyx: Melanated Tarot by Courtney Alexander. This tarot deck got traction with a kickstarter campaign back in 2016, capturing my attention with mixed media art tarot cards, with all cards representing black people. The cards bring depth and symbolism with the many image layers, drawing the eye intuitively to interpret the cards alongside their meanings. Courtney's book that accompanies the deck is just as important, opening with a call to the ancestors, and space for you to add your own. This is one of the first (and few) tarot decks created by Black artists, and featuring exclusively Black people in the images. https://dust2onyx.com/
11. The Sibyls Oraculum: Oracle of the Black Doves of Africa by Tayannah Lee McQuillar and Katelan V. Foisy. This 44 card oracle deck focuses on a system using Libyan Sibyls, African prophetesses of the classical world. I do not personally have this deck, however it was recommended. This review covers what to find within the deck, and how the reviewer worked with the cards. Read here.
Many thanks to Lilith Dorsey, Crystal Blanton, and Laura Tempest Zakroff for sharing their thoughts. There was a lot of overlap in the recommendations sent to me, with most of the books on this list recommended by many of us.
Unpacking – when non-black people recommend black authors
If you're a writer, or have the opportunity to use your voice as an ally, consider the following points, about why the list that I read, and others like it (recently with a local news outlet comes to mind) can cause some issues.
1. The Green Book Issue. The most recent Oscar winner, to the shock of many, focuses on telling the story of a black musician through the eyes of his white driver. In the case of the book recommendations, the list of books by black authors, is given to us by a white person. It filters the experience through that lens. Where are the black voices? Why not interview black pagans asking for their perspective? (if you're interested in looking into the issues with Green Book further, IndieWire covers it well here.
2. Many times when pagan bloggers write about hard hitting issues in the community as an ally (for example, cultural appropriation, sage, trans space in paganism, etc), they don't consider what they are doing as Ally Theatre. This is in a way, an example of white privilege at work, as they seem themselves helping. Ally theatre is when a person, who wasn't previously involved in the issue, starts getting involved and preaches about the issues with it. Doing this for blog traffic or other attention, is where it bridges into ally theatre. People don't get cookies for speaking up about something they had no business getting involved in to make the noise. If you want to be a good ally, just like I say above, lift the black voices to share their own recommendations. If you aren't aware of what ally theater is, read this for a good starting point.
3. In one particular blog on this topic, the intro stated: "In honor of Black History Month, or more like using it as a good excuse, I've put together a list of black authors writing books that pagans should read. You should read them, but not just because they're Black authors, and not just because these are all wonderful stories." At it's surface, this sounds fantastic. A great reason to read the authors. But when you break it down, it's not alright to use BHM as a good excuse. This delves into the motivations for the blog – let's face it, speaking about BHM during BHM draws interest to your blog. So, if you're not doing it to honor black voices, don't bother. Secondly, yes, sometimes, you should read a book by someone with a different cultural or ethnic background than you precisely because it is a different background than you.
At the end of it all, I hope that you walk away from reading this with some fantastic book recommendations, that have been shared by a diverse group of writers/bloggers/podcasters. If you have a book on your shelf that you think should be on the list, I'd love to hear from you!
You can read more from me at https://livingtheliminal.wordpress.com/ and on Facebook at https://www.facebook.com/livingtheliminal/
Lisa Jade is a witch, student, and writer from rural Nova Scotia, Canada. A contributing author in The New Aradia, she is a passionate activist and advocate, and environmentalist.