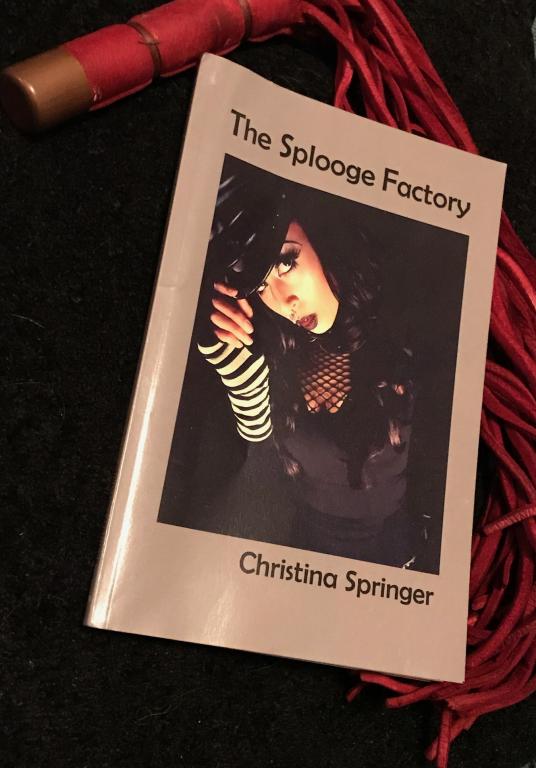 It's unusual for us to review a book of poetry here on Voodoo Universe, but The Splooge Factory is an unusual book. It artfully explores the interstices of gender, sex, power, repression, oppression and release. Written by Christina Springer an "Alt.Black artist who uses text, performance, video, and other visual expressions to communicate what the space between the molecules in the air wish for you to know," …. who I am proud and honored to call a friend. When she told me about her book I was intrigued and knew it was something I wanted to feature here on my blog.
I don't have a single favorite poem from this book but instead are captivated and enamored by each and every one. The powerful lines sing, dance, and fly through my head as I write this. One of my many favorites is when she writes :
we were both lost
puzzle pieces forcing
ourselves onto a Monopoly board. 
These eloquent words are not only a fitting description of the marginalized sex workers she is speaking, of but of many of society's exoticized others who are all too often used and abused by those who surround them.
The poems are rooted in experiences that took place around 1998. In the Introduction Springer writes "At first answering the phones at the Splooge Factory seemed like a continuous exploration of sex, eroticism, and politics….Those of us who grew up during what I call the Failed Post Racial Experiment (1954 to 2016) had not been given critical information necessary to unravel internalized bias, prejudice and stereotypes." This is a very important point, not just for understanding these poems and this time, but all that has come after.
I hope to do an in-depth interview with Springer sometime in the near future, but until then please have the visual pleasure of enjoying this interview with her here :

More information about Christina Springer can be found on her website at www.christinaspringer.com
As always if you have enjoyed what you read here please remember to like, comment, and share !