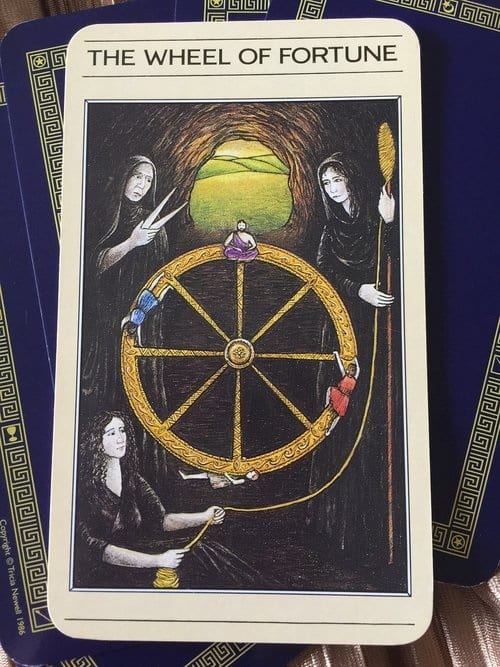 I've been reading cards professionally for over 30 years and a Daily Tarot Pull has been part of my practice from the very beginning. If you aren't doing a daily tarot pull, you should be.
Daily Tarot Pull Benefits
This will help familiarize you with the depth and complexity of the individual tarot cards.
This will help you explore the powerful benefit of a magickal divination routine.
A daily Tarot pull will help set the tone of your entire day.
Using tarot this way will help you prepare for the both joys and challenges each new day will hold.
The process of doing a single card tarot pull is as simple or complex as you want to make it. Most often I begin as early as possible after I wake.  I like to light a small white candle before I begin, and cleanse my hands and my space using florida water or palo santo. Shuffle the cards three times and spread them out in front of you. Move your hands over the pile slowly. Focus on your day ahead. When ready state your question aloud. Most often I ask what influences will be present in my day, or what issue/situation should I concentrate on today?  When you feel moved pick out a single card.
Some people disagree with this method. A blog post by Jenna Matlin tells us :
"the question which is usually, "How will my day go?"But the problem here is that you do not have enough words for the task. Your one card pull for such a nebulous and wide-ranging question will often cause more befuddlement than actual help."
I can see the point here, but that is why my question is phrased differently. Much of the success of the tarot lies in the phrasing of the question. If you don't fully understand what you are asking, you won't understand the answers you are given. Certainly if you single card makes you confused, ask another question and pull another card. Sometimes I will ask about whether an issue is one relating to finances? Or the home? Or love, etc.? Of course there are many varying meanings to the tarot cards, but this will help you figure out what the limits of these signs are. For example I like to joke about the 2 of cups card. For me this most often means a marriage proposal or a verbal commitment in a romantic relationship. Sometimes I have received it and it signified an actual proposal from a long time partner, while other times I have encountered a homeless gentleman on the subway getting down on one knee in front of me. Both were proposals, but very different. For more insight on the tarot cards please check out the other tarot posts on this blog.
I would love to hear about your experience with using a daily tarot pull in the comments below.  And as always if you have enjoyed what you read here please remember to like, comment, and share !