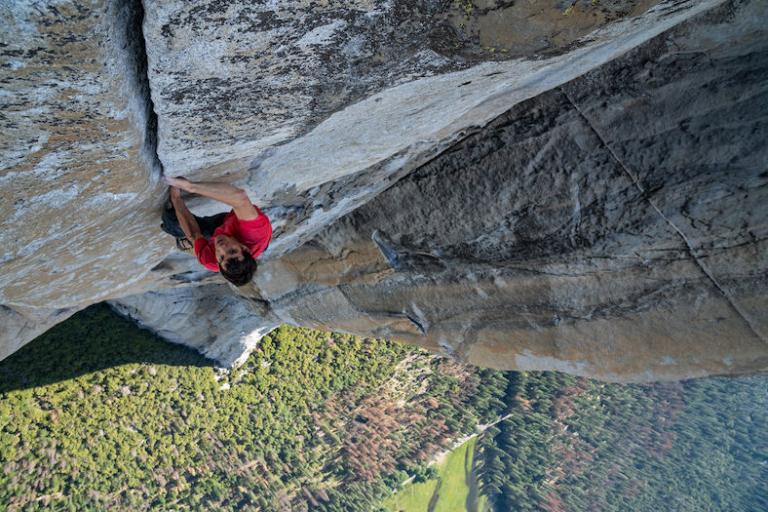 I review movies for a living, and I've seen plenty of horror flicks this year. From A Quiet Place to The Nun to the newest Halloween, I've been subjected to my share of jump scares and creeping chills.
But National Geographic's Free Solo is the most terrifying movie of the year.
No homicidal maniac haunts this film, no hungry alien lurks in its corners. The terror is right in front of you—El Capitan, a 3,200 feet of granite cliff shooting straight from California's Yosemite Valley like a gigantic tooth.
El Capitan is the ultimate monster in the world of rock climbing, so fearsome that no one successfully crawled up its face until 1958. Oh, and it took those first climbers 46 days over 16 months to do it—fighting the beast by stages.
Alex Honnold plans to do it in around four hours.
By himself.
Without a rope.
"People who know a little bit about climbing, they're like, oh, he says he has this. He's totally safe," Alex's friend Timmy Caldwell says in Free Solo. "And then the people who really know exactly what he's doing, they're freaked out."
No one has ever free soloed El Capitan—that is, scaled it by themselves without a rope. Caldwell, a rock climbing legend himself, admits he'd never even consider it. "I think everybody who's made free soloing a part of their life is dead now," he says. It scares the fritters out of the documentary makers, too. Director Jimmy Chin talks about how the filming could make it even more difficult for Honnold, and he discusses the possibility of "him falling through the frame to his death."
Even Honnold admits, in the opening scenes of the movie, that the challenge terrifies
him
. And as he talks with Chin and other members of the doc crew, he suggests they not film pitch 23—the place where Honnold would be most likely to fall. "Nobody wants to see that," he says as a quiet settles over them all.
But if El Capitan is a slab of unfeeling granite, some might say the same of Alex Honnold himself.
It takes a special sort of person to take on the sort of challenge Honnold does here. Doctors discover that his amygdala—the part of the brain in charge of excitement and fear—is so chill to seem almost comatose. He's curiously reserved, even distant, around even those closest to him—his friends, his family, his worried-sick girlfriend, Sanni McCandless. "I had to teach myself how to hug when I was 23 or something," he admits, as though he was practicing a climbing move. "Now I'm a pretty good hugger."
When Honnold freaks out at one point over the daunting challenge, Caldwell admits that he's glad to see it. "It'd be somehow reassuring that Spock has nerves," he says. Solo indeed.
Free Solo is meant to be an inspiring film about human achievement, and that it is. But it's a cautionary story, too. And when we see a sad litany of skilled climbers who lost their lives doing things not nearly as dangerous as Honnold aspires to do, we understand the risk. Or so I hope we do. As inspirational as this film is, I worry a little that it might inspire other would-be adventurers—blessed with just as much heart as Honnold but not as much skill—to take a chance they're not quite ready for.
Honnold's preparation is an antidote for such foolhardiness, admittedly. He practices on El Capitan (with a rope) endlessly. He practices every move again and again until it becomes, in his words, boring. "I work through the fear until it's just not scary anymore," he says.
But for us, the viewer, it is scary. Through this breathtaking doc, Honnold carries us on his back, and we feel the thrill. And the terror.