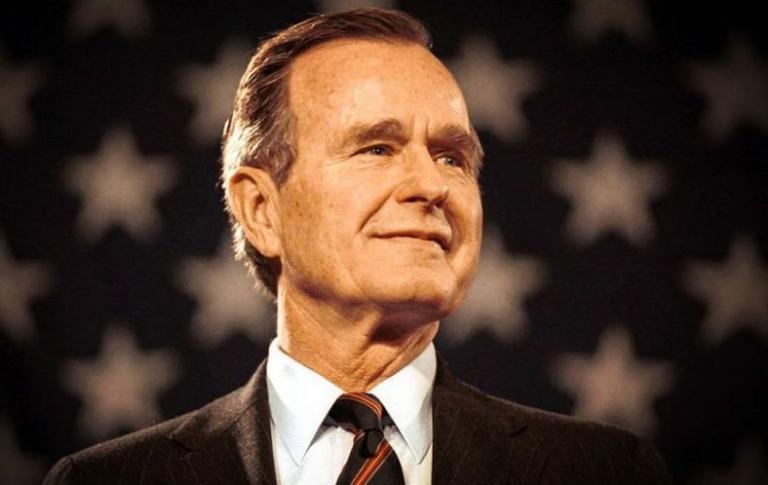 George H.W. Bush first spoke of "a thousand points of light" in New Orleans, as he was accepting the presidential nomination at the Republican National Convention. He first used it as a reference to America's volunteer organizations, then wrapped up his speech by saying that he would "keep America moving forward, always forward—for a better America, for an endless enduring dream and a thousand points of light."
Bush was never known as an electric speaker like Mario Cuomo or Jesse Jackson, some of the age's most linguistically gifted politicians. He was never a Great Communicator in the mold of his GOP predecessor, Ronald Reagan. But watching that speech with my dad as a teen, I remember being struck by that phrase, the endless enduring dream and a thousand points of light.
Bush's signature phrase, "a thousand points of light," has been mocked by many, including current Donald Trump. "What the hell is that?" he said at a rally just this July. "Has anyone ever figured that one out?" But it inspired many, too. When my mom and a friend of hers created a youth volunteer organization, they were recognized by Bush's Thousand Points of Light Initiative.
But the phrase encompassed more than just volunteerism: It spoke of what America itself could and should be, an echo of Reagan's "shining city upon a hill," which itself an invocation of Jesus' Sermon on the Mount. "You are the light of the world," Jesus said. "A city that is set on a hill cannot be hidden." The phrase reflected Bush's inherent optimism in the United States and its people. And that optimism, I believe, was rooted in Bush's faith.
Gary S. Smith wrote this for The Christian Post:
While Bush's faith helped shape many of his policies, it was perhaps most evident in his Thousand Points of Light Initiative. In more than 500 speeches and public statements, Bush urged Americans to increase their personal efforts and financial contributions to aid the less fortunate. Service to others, Bush asserted, advanced Christ's mission. He beseeched Americans to emulate "the selfless spirit of giving that Jesus embodied." Bush strove to create a society where serving others became "part of everyone's everyday thinking."
The first President Bush wasn't nearly as effusive about religion as his son, George W. was. But he was a man of deep Christian faith. He was raised Episcopalian, according to The Washington Post. As a 19-year-old Navy pilot in 1944—the youngest pilot in that branch of service, according to CBS News—his plane was hit and he and another crewmember bailed out into the ocean before the aircraft crashed. It profoundly impacted the young pilot: "Why had I been spared and what did God have for me?" he recalled thinking. And when his 3-year-old daughter, Robin, died of leukemia in 1953, Bush said that his and wife Barbara's faith "truly sustained us."
His ascendency to the presidency coincided with the rise of the Religious Right, one of the most potent political movements of my lifetime. And while Reagan was really the first president to unlock the political power of social conservatives, Bush perhaps was more in tune with their core values than even the Gipper (who went to church once during his entire presidency). In fact, Bush began his inaugural address with a prayer. He said:
Make us strong to do Your work, willing to heed and hear Your will, and write on our hearts these words: 'Use power to help people.' For we are given power not to advance our own purposes, nor to make a great show in the world, nor a name. There is but one just use of power, and it is to serve people. Help us remember, Lord. Amen.
He mentioned prayer in 220 speeches and proclamations, according to the Post. He often said that you couldn't be president without "the strength that your faith gives to you." And once he left the Oval Office, his faith only grew stronger. When Barbara, his wife of 73 years, died earlier this year, he released a statement: "We have faith that she is in heaven, and we know that life will go on—as she would have it," it read. "So cross the Bushes off your worry list."
Obviously, Bush was not without his flaws: Critics have their pick to choose from, as they could with us all. But as I read about Bush today, from the touching letter he wrote to incoming president Bill Clinton to his thoughts about heaven, I'm reminded again of his "thousand points of light" phrase. How much he strove to be one of those points of light, in his own way. He served the country and its people, and he taught his family to serve. His ideas of "compassionate conservatism," another phrase often mocked by some, were rooted in his own understanding of Christianity.
"I do not mistrust the future," he said in his inaugural address. "I do not fear what is ahead. For our problems are large, but our heart is larger. Our challenges are great, but our will is greater. And if our flaws are endless, God's love is truly boundless."
Trump and the Bushes have famously clashed for years. But when George H.W. Bush died, Trump released an official statement that suggested that his office understood the 41st president's most famous phrase at last. It reads: "President Bush inspired generations of his fellow Americans to public service—to be, in his words, 'a thousand points of light' illuminating the greatness, hope, and opportunity of America to the world."
It's a good eulogy for someone I consider to be a good man. Perhaps we can do more than just honor Bush's legacy, but let it inspire us—to let us light new beacons as we re-imagine his endless, enduring dream.