Donning my catechetical hat, today, I'd like to share some links for those of you who are teachers of the Catholic faith.
As September approaches, parish catechists are gearing up to face some tough challenges, chief among them the tendency for parents to live their lives at arms length from the Catholic faith they are asking us to teach their children.
Catechists can develop a bad attitude toward these "drive-by" parents and miss precious opportunities to show compassion and share their love and knowledge of the Faith.
One of my favorite DREs, William O'Leary, provides wise counsel in his blog post, "5 Tips for Parents in Your Religious Ed Program."
In the September issue of RTJs Creative Catechist Magazine, my newest column explains a simple way every parish can embrace and encourage parents right from the first meeting.
Here's an excerpt:
First Teachers: Reaffirming the Role of Parents in Religious Education
A wholesome family life can foster interior dispositions that are a genuine preparation for a living faith and remain a support for it throughout one's life (CCC #2225).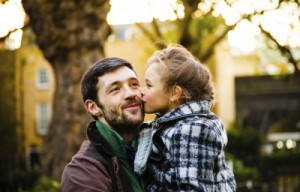 As catechists, most of us have struggled to teach children whose families are, for a variety of reasons, in a woeful state of ignorance of the Faith and habitually separated from the life of the Church. Put very simply, they don't know what they're missing.
But that doesn't mean their parents aren't doing anything right. In many cases, the natural process of raising children lays a foundation for sacramental life that can be useful in engaging the whole family. Parents can be warmly and effectively challenged to appreciate the riches they have already inculcated in their children's hearts and to enthusiastically embrace the role they are called to play in their children's ongoing spiritual formation.
It's important to realize that young parents enrolling children for the first time are often nervous and uncomfortable when they attend the parish's information session. While you and I comfortably use terms like "sacrament," "Eucharist," and "reconciliation," they may be quietly suppressing the desire to flee the room, wondering in embarrassment how they will cope with concepts they have either never heard before or simply do not understand. They may worry, thinking, How will I explain any of this when my child asks questions? Read more…
Thanks for reading!
Please also stop by my website, AmazingCatechists.com,  for lots of other great tips and insights from our staff of catechists, DREs, and RCIA coordinators. We're here for you.