This afternoon, I was email chatting with some members of our homeschool group, here in New York, and my very smart friend with the cool blog, Macbeth Derham, commented on the name of this blog, "Water into Wine," with the note, "BTW, I cannot get Solsbury Hill out of my head." I had no idea what she was talking about (not being very hip and all).
But then another member of the group (hey, Marie Siobhan!) did a quick search and found the official music video for Peter Gabriel's hit song, "Solsbury Hill" and posted it to the list. It turns out this old favorite from the 1970s is about an actual spiritual-esque experience Gabriel had on a hill in Somerset, England during his transition from lead singer of Genesis to solo artist. He likened the transition to "coming home," which of course reminds me of conversion stories. (I'll post the lyrics at the end of this post, so you can search them for deeper meaning, as I did!)
As I read through the lyrics, they touched a chord in me that immediately reminded me of an absolutely amazing story of transformation from–not just water into wine but–a toxic river of poison to an extremely, wonderfully fine wine. Oh, my goodness, you have to read this amazing tale.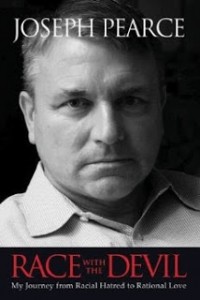 I am talking about the phenomenal book, "Race With the Devil: My Journey from Racial Hatred to Rational Love," by one of my all-time favorite authors, Joseph Pearce. (Sorry for fan-girling, but I am totally star-struck when it comes to this author.) Like all his books, this is a heart-thumping read, and his extraordinary conversion story fits this baby blog to a T. It is about transformation, beauty, goodness, and truth–and I simply could not put it down.
Before his conversion to the Catholic Church in 1989, author and scholar Joseph Pearce was famous in England as a brutal, race-baiting political extremist. His infamous newspaper, Bulldog, existed purely to incite racial division and promote violence against the country's immigrant population. The goal? To run them out of the country altogether.
But because of his passion for learning, the incendiary Pearce read voraciously and widely, finally discovering the writings of G.K. Chesterton and other great Catholic authors. It would be the undoing of his hate-filled life and the beginning of a new life in Christ.
I can't recommend Pearce's autobiography highly enough. I kept thinking of Saint Paul's rage against the early Christians and his attempts to destroy what must have been an incredibly disruptive movement as it swept through his Jewish homeland. Both men were bent on destruction, but were humbled by encounters with Christ.
I don't want to give too much away, but one of the elements of his story that still inspires and moves me is the importance of small acts of kindness by strangers who touched his life at the most unexpected moments. Those seemingly random acts of kindness really do matter. God uses EVERYTHING.
So, here are the lyrics to Peter Gabriel's lovely song about coming home, "Solsbury Hill." I hope you enjoy them one millionth as much as you are going to enjoy Joseph Pearce's conversion story.
"Solsbury Hill" by Peter Gabriel

Climbing up on Solsbury Hill
I could see the city light
Wind was blowing, time stood still
Eagle flew out of the night
He was something to observe
Came in close, I heard a voice
Standing stretching every nerve
Had to listen had no choice
I did not believe the information
(I) just had to trust imagination
My heart going boom boom boom
"Son," he said "Grab your things,
I've come to take you home."

To keep in silence I resigned
My friends would think I was a nut
Turning water into wine
Open doors would soon be shut
So I went from day to day
Tho' my life was in a rut
"Till I thought of what I'd say
Which connection I should cut
I was feeling part of the scenery
I walked right out of the machinery
My heart going boom boom boom
"Hey" he said "Grab your things
I've come to take you home."
(Back home.)

When illusion spin her net
I'm never where I want to be
And liberty she pirouette
When I think that I am free
Watched by empty silhouettes
Who close their eyes but still can see
No one taught them etiquette
I will show another me
Today I don't need a replacement
I'll tell them what the smile on my face meant
My heart going boom boom boom
"Hey" I said "You can keep my things,
they've come to take me home."