It's great to be back home, but–seriously–if every trip could be as much fun as this one, I'd head to California once a month–even with the red-eye travel coming home on Saturday night.
The "Living the Gospel Joyfully: Viviendo el Evangelio Gozo" conference in Santa Clara was beautifully orchestrated. It was my pleasure to interact with the speaker coordinator, Michele Walsh, and Wendelyn Scherbart, the Director of Catechetical Ministry for the Diocese of San Jose.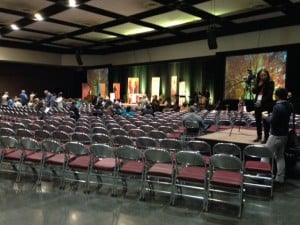 This classy, flawless event was attended by a large crowd of big-hearted, appreciative teachers, catechists, and other terrific ministry leaders. This is a shot of the plenary space, as people were first arriving. It filled up very nicely for Joe Paprocki's opening keynote.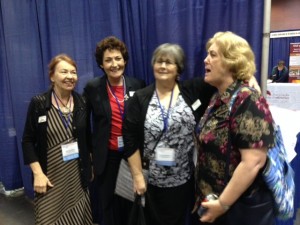 The Our Sunday Visitor team was just spectacular. I was honored to work with Pam Rains and her team again. Thank you so much for sponsoring me to another beautiful event, Pam! I can't wait to come back and see you all again.
I was blessed to present both days. On Friday, it was "O Sacraments Most Holy," which is a lively talk about how to bring First Reconciliation, Holy Communion, and Confirmation to life for our students and make lessons powerful. There was a great turnout. Here's Ballroom J, where it was held (I snuck in a few hours beforehand, to snap some pictures):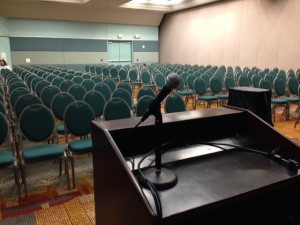 The size of the space gave me the jitters, at first, but the folks who attended warmed it right up with their enthusiasm, their kindness, and their quickness to laugh. I guess it would be apt to say we had a ball in the ballroom!
On Saturday, I presented a one-hour version of my flagship presentation, "You Can Be an Amazing Catechist…Here's How!" Because the theater had stadium seating, it was conducive to lots of interaction. By the end, I was running up and down the aisles with my microphone, encouraging the audience of catechists and Catholic school teachers to share their ideas with each other. They were truly inspiring. Here's the space, from my point of view (shot the day before):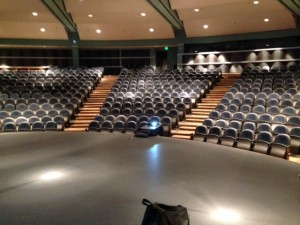 So, all that to say that it was a dreamy experience, and now that I'm home in New York with the wind and freezing rain blowing the last of the autumn leaves off the trees, I'm just California Dreaming, if you know what I mean!