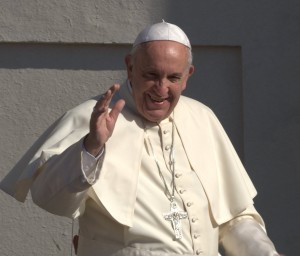 Here's an interesting juxtaposition: An article from the New York Post that shares charming and fascinating details about the formidable and likeable Pope Francis, and another one from the National Catholic Register about our American president's insulting guest list for welcoming the Holy Father to the United States, at the White House, next week.
The results of this meeting of powerful men and the Pope's address to Congress should be very interesting, indeed. I can not wait to see how Pope Francis will respond to the President's transparent efforts to force an ostensibly Catholic-approved LGBT, pro-abortion agenda into the limelight.
Photo ops are going to be a touchy business. Stay tuned!
Vatican Pushes Back on Guest List for White House Welcome to Pope

UPDATE:

TRANSCRIPT of the Holy Father's speech in Washington, yesterday morning

TRANSCRIPT of the Holy Father's address to Congress this morning 9/24/15