My mom and her little sister grew up in poverty in Boston during the 1930s. The two girls were raised by their single mother, a gentle, pretty woman who wore red lipstick, smoked, and sang in supper clubs. In somewhat fragile health, she once took a break from the exhaustion of raising two children alone and brought them to live with a sort of foster family, on a farm in the country.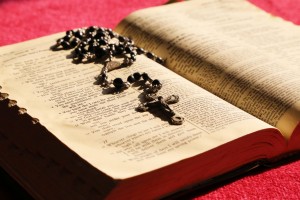 My mother loved her time on the farm, and her favorite memory is of reading Sacred Scripture to the eldest member of the family, a nearly-blind elderly woman whom she affectionately called "Grandma."
Reading Scripture every day fostered my mother's Christian faith, which then carried her through the hardships of early life and the joys of later building her own family on a firm foundation of belief in a loving God.
This week, The American Bible Society is collecting true family stories in which Scripture plays a central role. When have you or your family turned to the Bible for help, hope, or healing?
Stop in to the ABS website and share your story. Encourage others to turn to God's living Word in Scripture.
"In the beginning was the Word,
and the Word was with God,
and the Word was God.
He was in the beginning with God.
All things came to be through him,
and without him nothing came to be.
What came to be through him was life,
and this life was the light of the human race;
the light shines in the darkness,
and the darkness has not overcome it."
(John 1:1-5)
"There are no coincidences. Only aspects of God's Providence that we have not yet fully understood."

Saint John Paul II