I'd like to share an exciting new resource and ask for your prayers.

Radio Maria recently launched a new call-in show on Friday evenings (7 PM ET), hosted by Father James Reynolds, called Occult and the New Age.
The program promotes prayer, the study of Scripture, and the knowledge and wisdom of the Catholic Church's doctrines concerning the Occult and the New Age. Father Reynolds also explains the dangers of participating in Occult and New Age activities and mentalities.
You can call in to Fr. Reynolds' program when it is live by calling toll free, 1-866-333-MARY (6279). Tune in Fridays at 7:00pm ET/ 6:00pm CT.
Fr. Reynolds is a wonderful priest who has ministered for 31 years as a Priest of the Roman Catholic Diocese of Brooklyn, New York. He has given presentations on the subject of the Occult and New Age, and has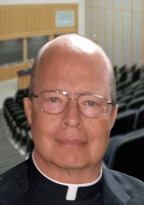 published many articles on these topics on The Catholic Jedi Academy blog (under the category, The Catholic X-Files). He has had personal experiences of observing paranormal activities since age 12.
Please pray for Father Reynolds. "Father Jim" is a friend of mine, a superb, holy priest and an expert in matters of the occult and new age, and like many saintly Christians, suffers greatly for the work he does. His health is always under attack, which he accepts with grace, as he prays for many hours in front of the Blessed Sacrament each night.
So, consider giving him your questions about the occult and new age, and please share this resource with as many people as you can.
God bless!
Lisa