On this day in 2001, my daughter was a toddler and my husband was at work near the World Trade Center in Manhattan. When he called home, that morning, to say that a pilot had committed suicide by crashing a small plane into one of the towers (the first reports said this), I turned on the local news to watch the horrifying images as they were broadcast in real time. I started praying for the souls of those who were lost in the tragedy.
My husband also excitedly mentioned that he and a friend were leaving their office to go out and get a closer look.
Within minutes, the second plane struck. Shortly afterward, the towers came down on my TV screen, engulfing all of lower Manhattan in choking smoke and debris, and I lost all contact with my husband for several hours. It was a grim and terrifying day. Many of our neighbors lost loved ones. Eleven of our neighborhood's firefighters died in rescue efforts. By the time my husband called me from a friend's apartment uptown, the city was a disaster area and the nation in mourning. I was one of the lucky few crying grateful tears.
Watching the footage, over and over, for weeks following the events of 9/11, I couldn't help but feel that those two planes had crashed into my daughter's life, changing the world she would live in, forever.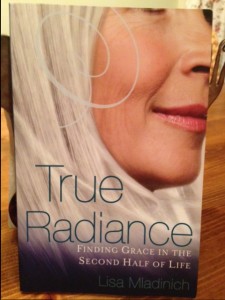 To reflect on such a tragedy on this day of all days is very good for my soul. I received the first copy of my new book in the mail, last night. My publisher, Father Daniel Kroger, OFM, CEO of Franciscan Media, kindly overnighted it to me, so I'd have a copy in my hand before anyone else received it.
I cried for joy when I opened it, awed to finally hold my new book in my hands, and touched by the kindness of Fr. Kroger's gesture. Before I could announce its arrival, a succession of needs within my family arose and my ego had to wait quietly while God's grace and the love of our family took precedence. It was good for my soul.
This morning, heavy rains have finally petered out and a soft mist is gradually brightening, with hope of some sunshine later today.
I hold this little book in my hand and feel so gratified and humbled by the presence of both joy and sorrow burning in my heart and flooding my mind.
Isn't this what life is? Birth and death, side by side? Our tiny human achievements dwarfed by God's gracious presence in our souls in every moment of our lives?
So much of my book is about this interior radiance, this connection with the Divine. It's about the ways we carry joy and sorrow together, the beauty of that, and the fleeting nature of our earthly life.
Today, I offer both my joy at the launch of my book and the sorrow of so many painful memories associated with this day. I offer them in honor of every soul that went to God on September 11, 2001, every person suffering physically from exposure to the devastation of those attacks, and for those still grieving their precious loved ones.
We live with sorrow because we are broken and in need of God. We live with joy because our God is good and wills our happiness, lifting up our small efforts and helping them to bear fruit.
Lord, thank you for this beautiful, cloudy day, with the sun waiting just beyond the mists. You are all good and all holy.