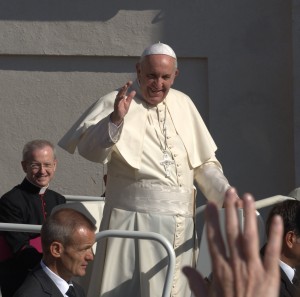 Papa Francis is coming soon to the USA for the World Meeting of Families!
Let's quickly round up a few piping hot resources to share around to our parishes, families, schools, and friends to help everybody get ready for some in-depth conversations about love, family, and a few of the cultural phenomena that are impacting us all.
To set the mood, I'll include some of the photos my husband took of the Holy Father at the Wednesday audience we attended as a family on August 26th, in Rome. And I'll share a fun vocation story, at the end.
First, the recommended reading is Love is Our Mission: The Family Fully Alive, A Preparatory Catechesis for the World Meeting of Families. At 100 pages and ten bucks, it's a bargain. I hear it's a wonderful read. I can't wait to get mine!
More great resources: My thanks to the Blessed, Beautiful, and Bodacious Pat Gohn for sharing the above link at her blog, along with lots of other great links connected with the coming of the Holy Father, as well as some great Twitter handles to help us follow some of the many fascinating stories that will soon be pouring out of the Catholic blogosphere. (Pat, that was 55 words in one sentence! I can see you cringing, right now. LOL)
Here's a charming review of The Journey of Our Love: The Letters of Saint Gianna Beretta and Petro Molla, a gorgeous,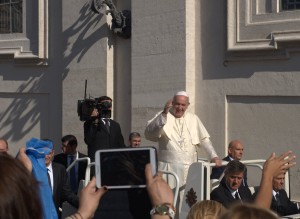 romantic, soaringly spiritual new book of love letters written between St. Gianna Molla (one of the patrons of the World Meeting of Families) and her adorable sweetie of a husband. The blogger who did the review is a wonderful, up and coming pre-cana, marriage, and family author and speaker, Karee Santos. And she's got a new book coming out in 2016!
Next, a terrific article about the transgender movement, written by Nuriddeen Knight. She writes compellingly about the serious problems inherent in the transgender movement, an issue impacting many families, as public schools indoctrinate children and teens against the wishes of parents. There's a lot of confusion and pain being caused by misinformation and politics. We need to think clearly about this, for everybody's sake.
Occult and New Age Dangers: And don't forget the new call-in show on Radio Maria on Friday nights at 7 PM ET / 6 PM CT all about the occult and the new age. It's critical that we understand the dangers to our families and to our souls. I wrote about it earlier this week, here.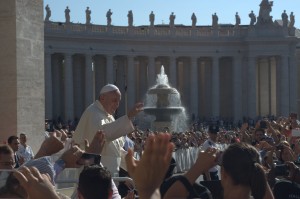 Finally, this one's about giving over control to God. I'll end on a high note with this story, shared today by a lovely Catholic mom of a big family, here in New York:*
"I thought I'd share a sweet story Joseph shared with my husband today.

It seems two summers ago, while Joseph was working at Boys' Town in Nebraska, he acquired a liking for cigars (yuck!)

So today Joseph was re-stocking and stopped in a cigar shop. He was wearing his clerics, but without the collar. The clerk in the cigar shop asks if Joseph is a priest and he says no, but he's in training. So the guy says "my son wants to be a priest". With that the clerk pulls out his phone, calls his son, and puts Joseph on with him!

Joseph gives the son the info for the vocations office and boom… a new vocation is born!

This got me thinking of a few things:

First, I just thought this was so cool and really brought to light how important it is for our religious, whether Sisters, Brothers, or Priests, to look the part! Had Joseph not been in his blacks none of this would have happened.

Then I (as a mother who worries a bit) thought about those who would have a negative reaction to a person in religious garb and it made me realize how these men and women put themselves out there each day never knowing what reaction their appearance will evoke in anyone they may pass on the street. We need to really pray for our religious!

And finally, I guess I realized that maybe, just maybe, God may have brought some good out of Joseph's cigar habit.

Thanks for allowing me to share!
*The names have been changed to protect everyone's privacy.
God bless!
Lisa