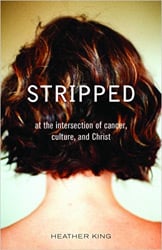 Stripped: At The Intersection of Cancer, Culture, and Christ is a boldly insightful and compelling read, chronicling the physical and spiritual journey of a Catholic woman facing a cancer diagnosis.
The author, Heather King, is a phenomenally gifted writer. I am underlining and turning down page corners, a sure sign that her insights are sparking in me an uncommon thrill of recognition: I am simultaneously seeing myself more clearly and being drawn into the mystery of another human life, with its own peculiar unity of body and soul, so unique and yet so like mine.
Here's a short passage soon after her cancer diagnosis, as she contemplates her own human tendency to judge:
The journey, of course, is to abandon yourself completely, to be transformed by God. The journey is to take the beam out of your own eye, at which point you might be equipped to take the mote out of your neighbor's eye (Matthew 7:5). The impulse is to believe that people will improve if you point out their faults to them. The impulse is to exhort. But to think that the suffering of the world will be alleviated if other people act better is like making your life's work to exhort, Marriage is imperfect! Or People aren't kind! Or You live and then you die! We know that.

"Where are the courageous ones?" the indignant voice perpetually asks. "Where are the saints, the heroes, the martyrs? Where is the real follower of Christ?"

From my bed on the couch, I gazed out over the rooftops of Koreatown. I was just beginning to realize: Oh. I'm supposed to try to be that person myself. (p. 66-67)
Heather King writes about her own callings and crosses so vividly and truthfully that I can't help feeling a deep spiritual friendship with this total stranger.
I love that this suffering, beautiful woman sees things, and can illuminate them with such clarity and humility, that her words help me to feel more awake and more called than ever to my vocations as wife, mother, writer, and teacher–with all the joy of knowing that I am simultaneously dying to my own desires and being drawn more authentically into the beautiful life ordained for my soul, uniquely.
Stripped is not just a book about cancer, though it's a wonderful book about what it's like to discover that one has cancer and the seismic changes that occur in both the spiritual and physical experiences of each moment of every day. It's more. It's a book about the pilgrimage of the soul that calls every single one of us to withdraw intentionally and with the courage of wilderness explorers into the spiritual desert of our own hearts, to reflect deeply on the meaning of our existence, while the same pilgrimage drags us out of our self-absorption and into relationship with the world.
Don't imagine that this is a heavy book that will require you to slog through misery to reach mystery. You're in good hands, here, and the reading is pleasurable and motivating.
Ms. King spent many years actively alcoholic, wandering inebriated through the streets of the various cities and towns where her brilliance took her to colleges and jobs–even while her illness progressively undermined her freedom to live and love, as it threatened to annihilate her, both body and soul.
Her subsequent attractions to the cross of Christ and the spiritual treasures of Catholicism profoundly redirected her steps. Invited into the mysteries of redemptive suffering, she began the sometimes grueling, but ennobling and thrilling process of submitting her life to God's tender love. His grace brought healing to old wounds and a genuine resurrection of hope and joy.
Ms. King observes that twenty years of drinking to the point of blackouts took a terrible toll and prevented her spiritual and emotional growth; but it seems apparent to me, as an objective reader whose own broken life has been so miraculously healed and fast-tracked to what I consider a remarkable level of health, that the sacramental life of the Church has formidable transformative powers. And those who dwell in the arms of the Church can experience miraculous progress.
It makes sense. God created time and lives outside time. He owns it, and he can overcome the loss of it. Our Jesus, from the cross, redeems all our losses. His introverted, tender-hearted child, Heather King, once debased and sidelined by the disease of alcoholism–which she continues to hold at a fragile distance, even after 28 years of sobriety–has given her heart to Christ and received back a thousand-fold in graces and gifts, and she passionately shares them outward through her writing.
Her writing style is spare, and yet the experience for this reader is lavish–a heart connection that expands with each chapter. Because she reverences small, searing moments of illumination and the precious gifts of people and places, as well as the simple act of being, every scene is sacred on some level. By alternating between descriptions of her human interactions, habits, and observations–which are wonderfully descriptive, honest and personal–and the contemplative process of seeking meaning and attempting to see beyond the veiled mysteries of human suffering, love, and sacrifice, the author strips with dignity, offering a rare and companionable invitation to the reader to walk with her in some of the most transformative experiences of her life.
It's nearly impossible to share everything that touched me–I'd have to quote too copiously–but here's a passage that touched a chord in me, where the author describes her thought processes in the early days, after receiving her cancer diagnosis:
I was also being invited to reexamine my deepest wounds–and again, I thought of the wound of my marriage–because those important questions do not arise, nor are they answered, in a vacuum. The questions are always manifested by virtue of, are worked through, and involve the incarnate. "No one comes to the Father except through me," Christ had said (John 14:6). In other words, no one comes awake except through the messy, awkward, lurching, faltering encounter between one suffering human being and another. Love begins, ends, inevitably comes around to, and flourishes or dies in the conflicted, hemorrhaging human heart. (p. 75)
Now, I've never had cancer, but I'm a 55-year-old woman, the daughter of two cancer survivors, and I live in an area of New York that reports high cancer rates. Several close friends are cancer survivors, as well as many acquaintances. I consider this book a gift paid forward. Not because I think I'll have cancer, some day, though it's something that crosses my mind fairly often. But life's crosses are all of the same cloth, and they are gifts, if we walk with Christ.
I'd like to end by thanking Deborah Arca for inviting me to read this beautiful book and review it, here at Patheos, for inclusion in the site's Book Club roundtable discussion. Her interview with Heather King is well worth reading. Here's an excerpt, where she gives her reasons for entering the Catholic Church:
I needed supernatural help. I needed the Body and Blood of Christ. I didn't shop around for a religion: "Eeny, meeny, miney, mo, I like the candles and incense, let's choose THIS ONE!" I never ever thought Let me choose the religion that will make me look good or feel good.

I didn't choose at all. It chose me. I thirsted, I quested, I pondered, I read, I went around to a bunch of different churches. I read the Gospels. I saw the Gospels were living water, and Christ called me. There is nothing "like'" Catholicism. There was no question whatsoever of a "preference," or a weighing, or this religion has this that I like and that one has that that I like. Either God took on human flesh, came to earth and pitched his tent among us, was crucified, died, buried and rose again and left us his Real Body and Real Blood or he didn't. Either Jesus is who he said he was or there is no reason to live. There's no middle ground. The stakes are life and death. That appealed to me immensely. The medieval romance: a perilous journey, necessarily undertaken alone, the risk, the quest for the Holy Grail. The fact that we don't know how it will turn out. You have to be open to the surprise ending. You have to live your whole life in crazy, wild-card faith, in a world that has no conception whatsoever that the quest even exists, much less that you've given your life to it.
And finally, I leave you with a quote from a letter written by Catholic novelist, J.R.R. Tolkien.*
"What punishments of God are not gifts?"
Follow Heather King on Twitter at @ShirtOfFlame and at her blog.
* This quote appeared in an article by Father Robert Barron, in a discussion of an interview with Catholic comedian, Stephen Colbert, whose father and brother were killed in a plane crash when he was only ten years old. I highly recommend both the article and the video.