We are people of joy because of our hope in the Lord–even in the midst of darkness and suffering. King David once danced ecstatically before the Ark of the Covenant–blowing horns all the way to Bethlehem and jumping for joy in the presence of the people of Israel –which rather annoyed his wife (see 2 Samuel 6:14-16). (Killjoys are nothing new.)
The Catechism of the Catholic Church tells us that we humans are a unity of both body and soul, not just souls trapped in bodies, but a true unity that expresses one human nature (see: CCC 365). That nature images our luminous and beautiful God (see Gen 1:27). This is a beautiful truth that we should never forget.
But if you're like me, you tend to forget about the gift of your physical body and sit too long at a computer screen. Your neglected body–as well as your hard-working brain–is craving some healthy, oxygenating movement.
So in the spirit of joy in the Lord, I begin this series of posts urging the people of God to GET UP AND DANCE!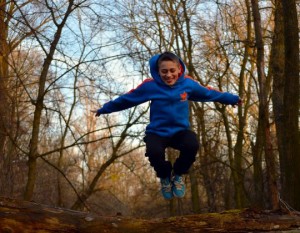 Every Wednesday, I hope to share an audio or video file of an irresistible dance tune to get you up on your feet and dancing! I hope you'll share your favorite dance tunes in the com boxes, share these posts around…and if a killjoy tries to stop you from unleashing your joy in the Lord, laugh and jump and dance HARDER!
Here we go.. GET UP AND DANCE to SOUL MAN, by Sam and Dave, circa 1967. (My thanks to Dave Armstrong for this suggestion!)