I'm so proud of a dear friend. Starting tomorrow, October 1st, Donna-Marie Cooper O'Boyle is celebrating the launch of her brand new EWTN series, "Catholic Mom's Café"!
The series launches the first week of November, so Donna-Marie is going to spend the whole month of October celebrating with lots of exciting prizes and special offers on great Catholic books. See details and links below! Please celebrate with Donna-Marie and spread the word!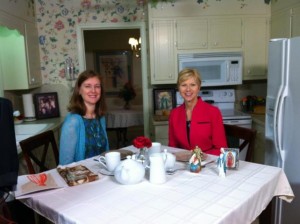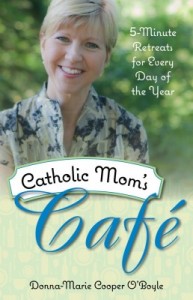 Brand new television series to launch this fall on EWTN!
Motherhood is a miraculous vocation. 
Sometimes the miracle is just getting through the day!
     Set in the heart of a Catholic home, Catholic Mom's Café dishes up bighearted helpings of inspiration, encouragement, and Church teaching as it delves into the challenges and joys amid the miraculous yet crazy vocation of motherhood.
Popular author and speaker Donna-Marie Cooper O'Boyle will host a new half hour television series on EWTN geared to Catholic Moms, GrandMoms and caregivers. Donna-Marie will delve into all kinds of parenting issues along with her guest on each show.
The new series debuts the first week of November, 2014. More details (which include photos of Donna-Marie's first guests) are at: http://catholicmomscafe.blogspot.com/2014/06/catholic-moms-cafe-premiering-in.html and at Donna-Marie's website: www.donnacooperoboyle.com
Beginning in October Donna-Marie will be offering many fun contests to win a copy of her book
Catholic Mom's Café: 5-Minute Retreats for Every Day of the Year
as well as exciting contests the week of the EWTN series launch.
Subscribe to Donna-Marie's email newsletter (through her website: www.donnacooperoboyle.com) to be kept abreast of the upcoming contests and news.
A bit about the Host: Donna-Marie Cooper O'Boyle, a Catholic wife and mother of five is an award-winning author and journalist, speaker, reviewer, and the EWTN television host and creator of Everyday Blessings for Catholic Moms and Catholic Mom's Café. Donna-Marie enjoyed a decade-long friendship with Blessed Mother Teresa of Calcutta and for many years her spiritual director was Servant of God John A. Hardon, S.J., who also served as one of Mother Teresa's spiritual directors.
Donna-Marie was invited by the Holy See in 2008 to participate in an international congress for women at the Vatican. She received apostolic blessings from Blessed Pope John Paul II and Pope Benedict XVI on her books and work and a special blessing from Pope John Paul II for her work with Blessed Mother Teresa.
Donna-Marie is the author of numerous books on faith and family, including Catholic Prayer Book for Mothers, Bringing Lent Home with Mother Teresa, Bringing Lent Home with Saint Therese of Lisieux, Bringing Lent Home with Saint John Paul II, Mother Teresa and Me: Ten Years of Friendship, The Heart of Motherhood: Finding Holiness in the Catholic Home, Embracing Motherhood, The Domestic Church: Room By Room, A Catholic Woman's Book of Prayers, Grace Café: Serving Up Recipes for Faithful Mothering, Prayerfully Expecting: A Nine Month Novena for Expectant Mothers, The Heart of Motherhood, Catholic Saints Prayer Book, Rooted in Love: Our Calling as Catholic Women, My Confirmation Book, Angels for Kids, and The Miraculous Medal: Stories, Prayers, and Devotions. Donna-Marie's memoir will be released in the near future.
She has been featured by Zenit news and Rome Reports, Vatican Radio, and is a frequent guest on EWTN radio and EWTN's TV: Bookmark, Sunday Night Prime, Women of Grace, EWTN Live, Faith & Culture, as well as Vatican Insider. Learn more at Donna-Marie's website: www.donnacooperoboyle.com
Media inquiries or for interview requests, please contact Donna-Marie at: DMCOBoyle@aol.com.