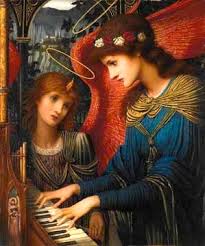 Today I'd like to highlight the way music can so powerfully draw our hearts to God. Even people who don't believe in God seem to lose themselves in raptures over their favorite music. Sacred music has been used to evangelize for many centuries!
As Dr. Jem Sullivan says in her book, The Beauty of Faith: Using Christian Art to Spread the Good News:
"In order to effectively share the Gospel with the native peoples, Jesuit missionaries appealed to their natural affinity for music and their superior musical talents. Evangelists and missionaries understood well that the sheer beauty of sacred music would open hearts, prepare minds for Gospel truths, and uplift and unite the soul to God." (p. 86)
It's also important to note that human beings respond differently to different forms of music. Our tastes vary, just as our souls are unique and unrepeatable. That's why it's possible to have, within one family, an opera buff, a "dead-head," and a rap artist!
To honor our love for music, I am sharing three short videos. First, I'll share two videos that each take as their inspiration Saint Augustine's beautiful prayer:
"Lord, you have made us for yourselves and our hearts are restless until they rest in you."
And after that, I'll post a video of a magnificent operatic flash mob that took place in a grocery store in London.
Finally, please visit Elizabeth Scalia's post about the amazing "virtual" choir of cloistered Carmelites singing together from all over the world!
Enjoy these experiences of beauty, and please post your favorite inspiring musical clips in the com boxes!
Blessings and peace!
"Restless," by Switchfoot (Christian Rock)
"Restless," by Audrey Assad
Opera in a London Market
I'll close with the beautiful Litany of Loreto, as I have for day one and day two. Keep on singing and praising God!