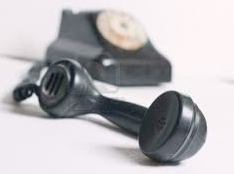 An elderly lady from my church told me that she was the last to speak to her son-in-law the morning of the terrorist attacks at the World Trade Center in New York City. He called from an office engulfed in smoke to say a tearful good-bye to his wife, but she was out jogging. My elderly friend happened to answer the phone while she was watching the couple's first baby. She took a message.
My daughter was barely two years old when Al Qaeda hijackers flew two airliners into the Twin Towers that morning. For weeks afterward, each time we watched news footage of the second plane crashing into the building, I couldn't help feeling that the terrorists had flown smack into our little girl's life, changing it forever.
We lived in Brooklyn in those days, and burning debris fell from the sky not far from where we lived. Twelve firefighters from our neighborhood died trying to save people trapped inside the crumbling infernos. Many of our neighbors perished in the once-lovely offices where they worked to support their families.
Candle light vigils followed, while New Yorkers rallied, contributing meals to the bereaved and raising money for their families. We healed and moved on as best we could. But we will never, ever forget the heroism of those who gave their lives when they could have walked away, or the volunteers who streamed in to Ground Zero from all over the country, at risk to their health, to try and recover the remains of the missing dead.
The other day I was at my chiropractor's office and she had posted the following on one of the two whiteboards that usually display information on natural healing or a thought for the day:
"Lord, take me where you want me to go; let me meet whom you want me to meet; tell me what you want me to say; and keep me out of your way."

Prayer of Father Mychal Judge, Catholic priest and chaplain to the NYC Fire Dept

He was killed while serving at Ground Zero September 11, 2001
On the other board, she had written this:
Celebrities show off.

Heroes show up.

Thank you to all first responders of 9/11 and today.
Father Mychal is considered the first "martyr" of 9/11 because he refused to leave Tower One with firefighters still trapped inside and was killed when the building collapsed. His sacrifice exemplifies the Christian message of self-donation and sacrifice for others that is fulfilled in the Cross of Jesus Christ.
The seemingly accidental "cross" that was discovered amid the wreckage, a remarkable cross-configuration of broken girders from the decimated towers, still serves to inspire and console many thousands of survivors, family members, first responders, and visitors to Ground Zero.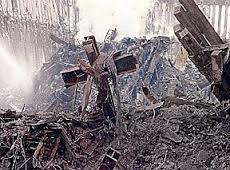 In spite of the efforts of certain "special interests" to prohibit its display on public lands, the cross has been preserved at the site as a memorial to all who died there, many of whom were Christian. It has become a universal emblem of the goodness of humanity, in spite of the vicious acts of a few; it reminds us that our hope is not of this world, that suffering can lead to joy and resurrection.
To the beauty of heroism, I bow my head in thanksgiving, and I call on the Divine Mercy of Jesus Christ for every person lost that day, in New York, Pennsylvania, and Washington, D.C., and for everyone martyred by acts of hatred across the world. My heart goes out particularly to those in the Middle East and Africa dying for their faith. For their souls and for those who mourn their loss, I offer my continued prayers.
For more information on the Divine Mercy, here's a short video of Father Michael Gaitley explaining ways to understand this beautiful devotion and incorporate it into your life.
Since we all need it, lets enjoy a song about God's mercy from Julie Carrick.
And of course, since this is a novena of beauty in honor of Our Lady's nativity, here again is the beautiful Litany of Loreto from EWTN, with the sung Ave Maria at the end.
Blessings and peace!