In honor of the Feast of the Immaculate Conception, a bereaved mother, Karen Blair, shares this reflection on Mary's motherhood: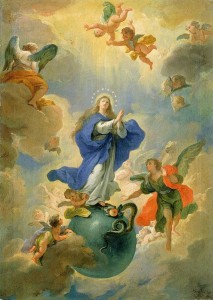 I was sitting at my computer one August afternoon, and was going through a book titled "Hail, Holy Queen," by Scott Hahn.
In this book, Scott talks about the "The New Eve," and the "Queen Mother"; Mary, Ark of the Covenant, "clothed with the sun," with the "moon under her feet," and on her head a "crown of twelve stars."
As "The New Eve," the "mother of all the living," Mary mothers the Church: "the rest of her offspring."
Scott begins by saying, as all mothers give of themselves, Mary, "The Queen Mother" will give more. Always a mother, Mary watches over us, prays for us, and leads us to fulfillment in life. We will see her with "new eyes."
I have witnessed these "new eyes."
I went to the chapel to hold her hand and pray to her the morning of August 12th. My husband and I were having Mass intentions for our beloved daughter.
I looked into Mary's eyes and said, "Please have your Son give me a sign that He is with me this day."
Mary did one better!
She had Jesus send me a strong image of our first child and only daughter, Nicole. That day would have been her 39th birthday. Nicole was born on August 12th and died on August 13th, 1975.
I felt Nicole's presence all around me. Her beautiful baby face.
It brought so much joy to my heart and lasted through the following day, too, but then started to fade away. I will cherish that moment forever.
We all have had moments like that! Life is filled with joys and sorrows, but we know to turn to our Blessed Mother for strength and hope.
She takes our hand and guides us, and with great sincerity we can say to Jesus and Mary, "Accompany us on our way; everywhere and at all times, be our guardians."
As I randomly opened up my prayer book, "Mary, Day by Day," this prayer caught my eye:
O Mary, all that is good in me comes from God through you. I offer you my humble gratitude and ask you to thank your Divine Son on my behalf.
There are no coincidences, only God incidences. God is love and it is that circle of love that binds us together.
Love is patient, love is kind. It does not envy, it does not boast, it is not proud. It does not dishonor others, it is not self-seeking, it is not easily angered, it keeps no record of wrongs. Love does not delight in evil but rejoices with the truth. It always protects, always trusts, always hopes, always perseveres. (1 Cor 13:4-8) (NIV)
( THANKS SO MUCH TO KAREN BLAIR FOR THIS REFLECTION.)