The next leg of my journey took me to Bath and to the Temple of Sulis. We arrived at about 11 am and left at about 9 pm. So I had a significant amount of time there. Of all the time I spent in Somerset this past summer it was this particular day that was my favorite! I have always loved Bath, I first visited when I was very small around 5 years old and have made several trips to visit over the next 30 years. Sometimes as a young girl and in a more conscious and connected way as an adult and Water Priestess.
I headed straight to the center of Bath where the Museum, shops and Cross Bath are located. I did a bit of quick shopping and stopped by the Statue of the Water Maiden. I had been wanting to take a photo of this since I had seen a image of it on the internet and while I was able to get one there was construction around her and so it is obscured by construction debris. I did take a quick walk through the courtyard and browsed in a few shops. It was about time for me to head to Cross Bath for the ritual and so I decided to search out the Thermae Spa!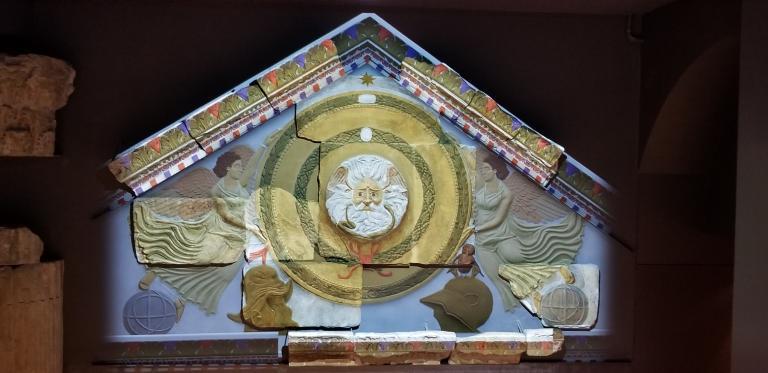 While I didn't partake in any of the services that Thermae Spa I was eager to take a peek and so I stepped inside and looked around the lobby before taking a seat on the steps outside. While I sat on the steps I had some interesting conversations about Sulis and got to observe the outdoor structure that surrounds Cross Bath. This was a new experience for me as I had never consciously observed this portion of the Temple complex.
It was soon time to enter Cross Bath, we had split our group into smaller portions and each had about an hour at Cross Bath. I was really excited to see inside and connect with Sulis. It was not long before I stepped through this portal of profound healing. When we first stepped through the doors we were sent straight to the locker room to change. Once we were in our bathing suits, we circled around the pool. Starting at the Vesica Pisces Eye which was located at the top of the bath we circled around to the stairs then down into the water. While we did this we chanted Sulis' Name. After a while we changed the chant to "Heal us Great Sulis" We began to float and partake in the waters while continuing our chant.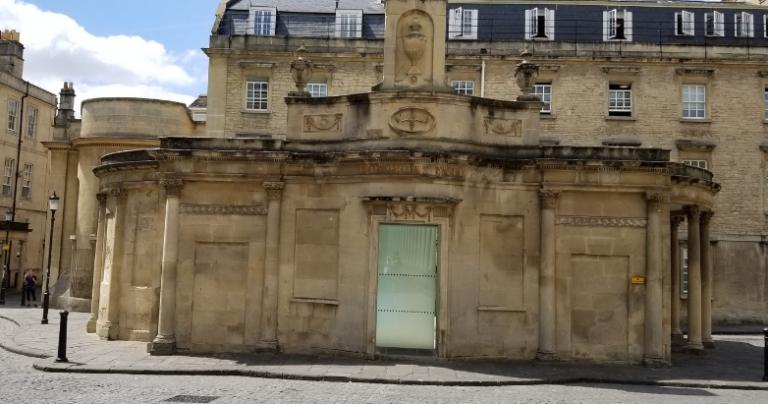 It was about this point that the Priestess holding space for the ritual came over and tapped me on the shoulder. She told me, that while we were chanting she was told by Sulis to come and have me sit at the Vesica Pisces where the water flows forth. Admittedly I had wanted to do this and had even thought of it, however having been at many group rituals I was not going to ask or disrupt the ritual so I tucked my desires away and was overjoyed to hear that she spoke through the facilitator to give me permission. (Even writing that makes me choke up just a bit!) I am sure Sulis knew this, and that she knew I would not disrespect the energy unless directed. The Priestess knew that I had a deep connection to Sulis and that she was the Goddesses I work most closely with.
As soon as she tapped me on the shoulder I dove down and swam out of the water. I eagerly walked over to where the Vesica Pisces Eye was, sat down, placed my feet in the shallow water of the Vesica Pisces and my hands on the clear glass ball where the water flows out and just began to trance out. I felt the Priestess behind me doing something on my back and later I asked her to tell me more about it. She replied that she didn't remember, she was just the conduit for the Goddess's work and so she was.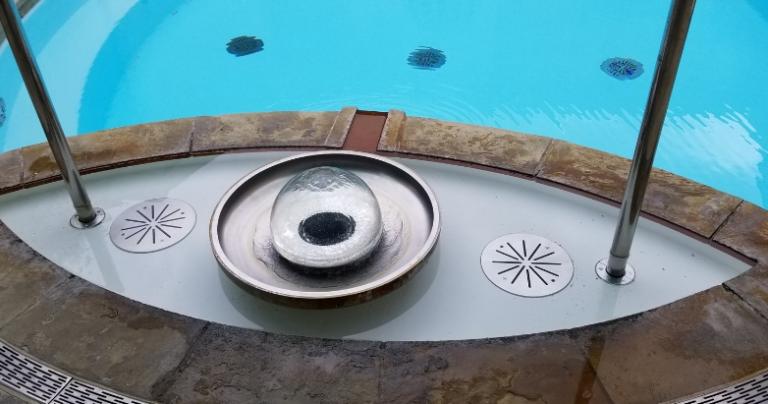 As soon as I was settled in and moved into a trance state, I could hear Sulis loud and clear speaking to me. She said "I am the mother, the primordial Queen, I am the gap, the in between. You have been mine since you were a child." She then showed me an image of myself as a very young girl around the age of 5 at her temple. I had many questions and difficult things on my heart and she spoke to these as well. She then said "you are mine and have always been, I am the reason you are a witch, I am the one who gave you these gifts" an image of my own mother came to my mind, but it was swooshed away with a frustrating like energy, with more words from Sulis, "No" she said. "I am your mother, I have always been, I always will be. From this point on you will never be the same, I am transforming you, I am healing you." I wouldn't know it till about 2 months later, but she was so right I was healing. I stayed as long as I could in this space, but my time soon came to a close and I broke the trance and came back to the earthly realms.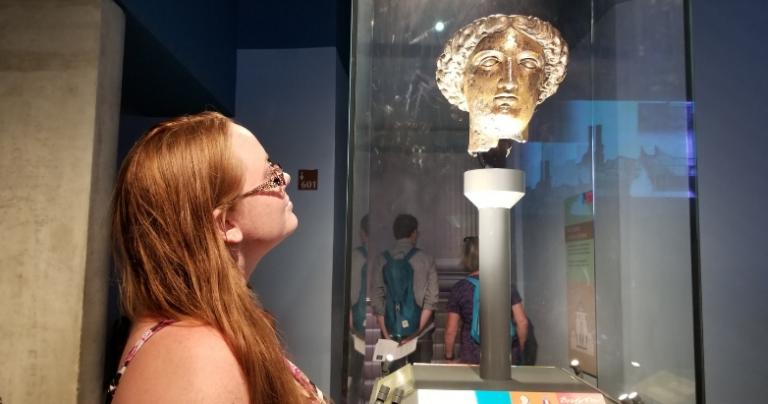 We all changed and finished up our time at the bath. I was still in a bit of a daze and decided that I would find something to eat, after searching for something that would suit my dietary needs, I deiced on Tea for One at the Pump Room. I was very thankful that they sat be right next to the orchestra, where I was able to eat dairy and gluten free tea sandwiches and treats! (The really did an amazing job feeding me!) I sat and wrote in my journal and then decided to spend the rest of the day in the Temple Museum. I spent time near her bronze head and then wandered around her Temple for the next few hours. I enjoyed seeing the altar stone and temple complex again.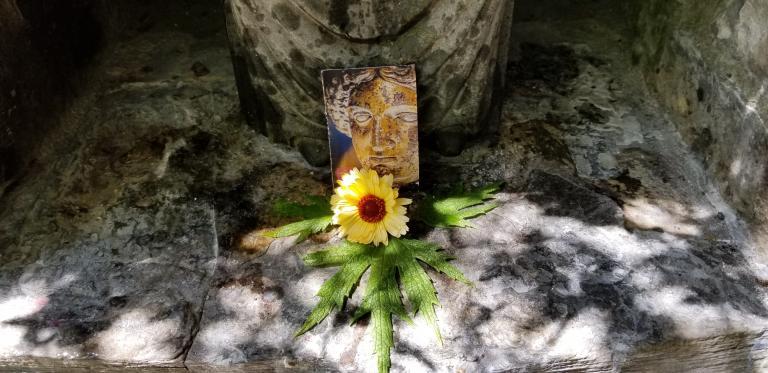 A few days later while spending time in the Chalice Well Garden I decided to do a re-dedication to Sulis, working at the shrine of The Sacred Mother I used a yellow flower from the garden to represent her solar aspect, motherwort and the shrine to connect to the Mother energy. I had saved water from both Cross Bath (which was did have chemicals in it) and water from the Hot Spring fount (now at the end of the Museum complex) I used the drinking water to anoint and bless the Mother Statue and then finished my ritual. The details of which are personal.
When I arrived back home in Oregon I blasted right into a large performance piece with my dance sisters. It was an amazing experience the details of which are for another blog. After the performance, school started and then about mid September, 6 weeks after the Pilgrimage I ended up in the ER. Over the past few years my health has been on the fritz. I have the support of a wonderful naturopath who is really good at her job and also coped with a food elimination diet. It has helped, but it always felt like a band-aid solution. These issues and describing exactly what is happening to me could take a few blog posts, so I won't be writing about it. However the trip to the the ER provided an interesting twist to the health saga, it has revealed things I was ignoring which made me re-focus my efforts to a better and happy life. Now a few months later I can say I really feel I am feeling better and on the way to a healthy life! It wasn't just the medical issues that Sulis shed light on, but she also shed a light on how to heal ancestral, familial, sister and mother wounds.
You might be wondering does this mean I will connect with my blood family again? BIG NO! This is not the healing Sulis gave me, it was the healing of the betrayal, pain and abuses that have been and continue to be dished out. There is no healing in putting yourself in emotional and spiritual danger by spending time with those that despise your existence. It was about letting go, not feeling like I had to put myself in turmoil to fulfill obligations. It was about filling the hole of the blood mother, with the divine light and pure love of the Divine Mother. It was showing me that I did have sisters, but they did not share my blood, they share my spirit. It was about release of it all, forgiveness of it all, compassion for it all, and most of all love and acceptance of myself here in this space with loss being filled with the divine love of the Sacred Mother. The whole trip taught me so much about healing the sister wound, and Sulis healing the mother wound. I feel so much more grounded, healed and find myself less and less spiraling down the rabbit hole of rejection and loss. She solidified my belief that Family is not blood, but those that love, respect and want you in their lives. In short… leave where you are hated, never look back. Then run to where you are loved.