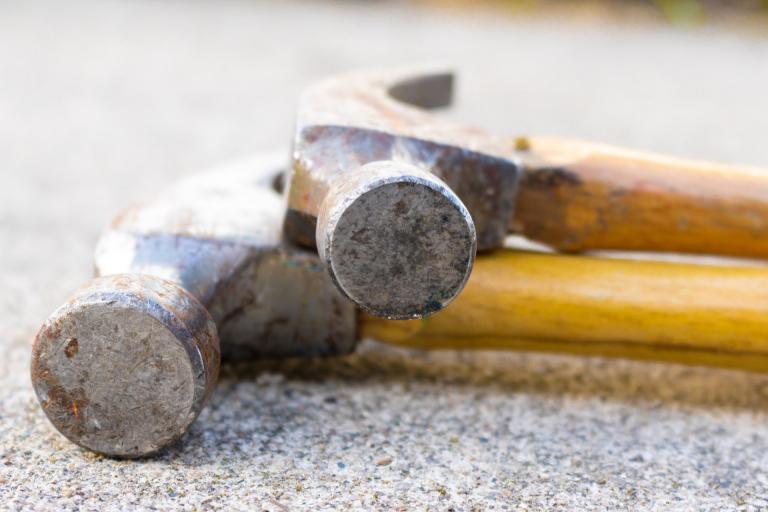 I've seen a lot of conversations about gratitude lately. I'm all in favor of gratitude. A lot of people are posting on social media about learning to be grateful for their possessions, and I think that's great. When we have plenty, we should be grateful.
When I say I don't tend to focus my gratitude on my possessions, some people misunderstand and think I'm being whiny or jealous of people who have more. But that's ignoring how our experiences shape us.
The focus of my gratitude is directed toward people and their good works in my life instead of the things I have. I'm deeply grateful for the people who have chosen to be Christ's hands on Earth.
When I was in high school, I volunteered with Mennonite Disaster Service during the summer. We lived so close to Tornado Alley there were always projects within driving distance. My father was the pastor of our small Mennonite-Brethren congregation, and he'd organize work crews for adults and members of our youth group.
One day, I hauled wood. Another day, I helped run wiring. I got covered in insulation during one trip, and on another someone taught me how to mud and tape drywall. We'd show up and do whatever needed to be done that day.
I knew we were rebuilding homes that had been damaged by tornadoes, but I was too young and too secure in my own good fortune to understand we were doing more than just mudding drywall.
During one of our trips to Oklahoma, an older man showed up while we were working. He owned the home we were building. His excitement passed straight to me. We walked around to the backyard so he could show me where he was going to put in a garden, then he talked about how he was going to set up his living room. He looked around at the unpainted walls and said it was the nicest home he'd ever had.
Mennonite Disaster Service volunteers step in when someone can't afford to rebuild on their own. This man hadn't had much to begin with, and a tornado had taken his home.
It was hard for me to imagine what it would be like to lose your home until I lost mine.
The summer of 1999, I was on another service trip with Mennonite Disaster Service, rebuilding Oklahoma homes lost in another tornado.
After our first day's work, we returned to the church we were staying at and got a phone call. Someone had broken into my home back in Arkansas.
That phone call was the start of a dangerous stalking ordeal that would last for months, lead to death threats and a fire being set in my house, and ultimately drive my family out of our home when the police couldn't protect us.
I learned what it's like to lose your home.
For almost a year, my family didn't have a home of our own. We were the lucky homeless. We had a safe, warm place to go because a family friend took us in. But it's not the same as having your own home. Storing your clothes in garbage bags and suitcases isn't the same as storing them in your own dresser.
My father was looking for a new church with an opening for a pastor the entire time, but he didn't have any luck until he heard back from a church in small Michigan town. They had a brand new church building and a brand new parsonage. All they needed was a pastor.
A tornado had hit that little town in July 1999 and wiped out the only church.
Mennonite Disaster Service stepped in and volunteers from all Christian traditions came from across Michigan, the surrounding states, and Canada to rebuild the church and parsonage.
About fifteen years after the tornado hit, I found out the same day I was working on an MDS project in Oklahoma, and got that life-changing phone call, MDS volunteers were putting the roof on the new church in Michigan.
My family moved into the newly built parsonage just as the steeple was going on up the church building.
When we moved in, I thought about that man who'd shown me where he wanted to put a garden. He'd said it was the nicest home he'd ever had. That parsonage was the nicest house I'd ever lived in too.
The congregation and the MDS volunteers hadn't just slapped together some shack and told us to be grateful for what we had. They put in the effort to build a quality home.
The non-local volunteers who swung a hammer a year before I'd even heard of that town never met me or my family. They've never met anyone who's lived in that parsonage since we left. For some of them, it was just one of many weekends they'd spent volunteering at various MDS worksites.
It's easy to think we can't make a difference for someone. What difference does it make if I drive a few nails or tape some drywall?
It makes a difference.
Every one of those volunteers, no matter what type of work they did on that project, provided my family with a safe place to live. They provided us with a home, and they provided my father with a place to work.
I don't know where we would have gone or what we would have done if nobody had volunteered to rebuild a church in a Michigan ghost town. Those volunteers didn't just rebuild a church and a house. They rebuilt my life.
I met lifelong friends in that town. I started a family in Michigan. Everything my life is now was shaped by strangers who donated their time.
It's been 20 years since that tornado knocked down most of a small town. Sometimes we think our small actions don't matter, but even spending the day mudding drywall can make a big difference. If those volunteers hadn't been willing to work, I'd be living a different life. My children wouldn't exist. I might never have found myself in the position to help some of the people I've helped.
Small acts of kindness grow in ways we can't predict.
Sign up with your email or follow me on Twitter or Facebook to keep up with new posts.