A look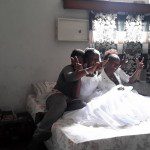 at the film previously known as Heart of Africa.
This is what we're doing.  We have raised well over $100,000. through donations and are now seeking investments.
This project has been my personal opus of love.
I didn't design the "Look Book," and would probably have deleted the soldier pictures had I done it, but I think it's a very good peek into what we're doing.  I would probably have added more women, as women (two main characters and two minor ones) are at the core of the film's imagery and theme. So, here are some phenomenal Congolese women!
Click on the link below to get a sense of our project.