By Wendy Murray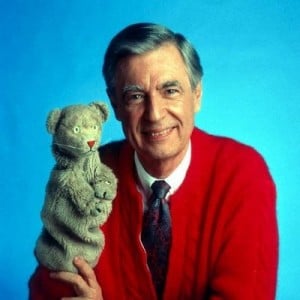 Continuing my conversation with Fred Rogers on the day we met in his office in October 2000, I probed him on his desire to go to seminary as part of his preparation for the work he was doing in television. What was behind his desire to study theology? In what way did he see seminary training as germane to the work he was already doing in television?
[Listen to Part One of this interview here.]
In the portion of our interview that is included below Fred explains the circuitous route that finally brought him to Pittsburgh where his television programming found its fullest expression in the program that would bear his name. Before that, he spent time in Canada where he "cut his teeth" doing live television for this first time. Up to then he had worked (in New York) behind the scenes in music and producing. His work in Canada took him to other side of production, placing him in front of the camera and positioning him to launch his signature program in Pittsburgh a few years later. He said of those formative years: "It just seems like we've somehow been led all along the way."
Once he was settled and working in television Pittsburgh, another part of his nature was longing for something less pragmatic and more sublime. As he put it, he longed to understand "the beginnings of our common faith." To that end, he started attending classes at seminary, beginning with a course in Systematic Theology, after which he was hooked. He continued to attend seminary part-time for the next several years, even while he developed his children's programming.
In this portion of the interview, Fred articulates the "spiritual" aspect of his television work. As he wrote scripts and sat before the camera speaking with his television neighbors, he was convinced that "the space between that television screen and the person who is watching and listening in need . . . is holy ground."
The portion concludes with his delineation of the simple yet profound assessment of the underlying message of the Neighborhood.
(Some technical notes: I have retained in these audio clips that pauses and drawn out silences between answers because these reflect, as much as anything Fred said aloud, his measured way of articulating his words and conveying his intent. At points some audio feedback occurs during the recording, but it is brief and does not interfere with the interview generally.)