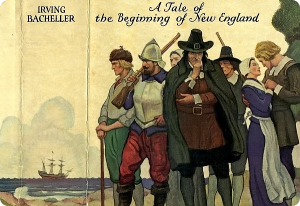 Thanksgiving approaches and we ponder giving thanks, it seems an appropriate time to reflect upon those forebears who put their lives on the line (and among whom many lives were lost), in order to stake a claim for religious freedom and govern by mutual covenant. These sojourners at the Plimouth Colony, known also as the Separatists, or Pilgrims, had plenty of problems to contend with in forming their system of governing in the midst of the precarious and hostile environment they confronted upon their landing on Cape Cod. (Their intention had been to reach Virginia; but inclement weather forced them farther north, in what is now Massachusetts.)
The Pilgrims were fleeing religious persecution under King James of England and had traveled from Holland, where they had been displaced from England, aboard the Mayflower in 1620 along with adventurers and tradesmen. (Here is the list of all passengers.) They fashioned the document called The Mayflower Compact, and was signed aboard ship on November 11, 1620 by  41 of the ship's 101 (male) passengers while the ship was anchored in what is now Provincetown Harbor at the northern tip of Cape Cod. Soon after the document was signed, William Bradford was elected the first governor of the new colony. It reads:
IN THE NAME OF GOD, AMEN. We, whose names are underwritten, the Loyal Subjects of our dread Sovereign Lord King James, by the Grace of God, of Great Britain, France, and Ireland, King, Defender of the Faith, &c. Having undertaken for the Glory of God, and Advancement of the Christian Faith, and the Honour of our King and Country, a Voyage to plant the first Colony in the northern Parts of Virginia; Do by these Presents, solemnly and mutually, in the Presence of God and one another, covenant and combine ourselves together into a civil Body Politick, for our better Ordering and Preservation, and Furtherance of the Ends aforesaid: And by Virtue hereof do enact, constitute, and frame, such just and equal Laws, Ordinances, Acts, Constitutions, and Officers, from time to time, as shall be thought most meet and convenient for the general Good of the Colony; unto which we promise all due Submission and Obedience. IN WITNESS whereof we have hereunto subscribed our names at Cape-Cod the eleventh of November, in the Reign of our Sovereign Lord King James, of England, France, and Ireland, the eighteenth, and of Scotland the fifty-fourth, Anno Domini; 1620.
Mr. John Carver, Mr. William Bradford, Mr Edward Winslow, Mr. William Brewster, Isaac Allerton, Myles Standish, John Alden, John Turner, Francis Eaton, James Chilton, John Craxton, John Billington, Joses Fletcher, John Goodman, Mr. Samuel Fuller, Mr. Christopher Martin, Mr. William Mullins, Mr. William White, Mr. Richard Warren, John Howland, Mr. Steven Hopkins, Digery Priest, Thomas Williams, Gilbert Winslow, Edmund Margesson, Peter Brown, Richard Britteridge George Soule, Edward Tilly, John Tilly, Francis Cooke, Thomas Rogers, Thomas Tinker, John Ridgdale, Edward Fuller, Richard Clark, Richard Gardiner, Mr. John Allerton, Thomas English, Edward Doten, Edward Liester.
Records from Plymouth Colony's earliest courts have survived and (just prior to the Civil War) were published in a 12-volume set edited by Nathaniel B. Shurtleff and David Pulsifer.
Court records date back to 1623 and continue through 1691, when Plymouth Colony merged with the Massachusetts Bay.
These records offer a glimpse into how the Pilgrims interpreted scriptural and English law.  (The following information, delineating the crimes and judgments rendered, comes from the website Mayflower History, whose work is gratefully acknowledged.)
For example, in 1636, the Plymouth Colony codified five crimes that were punishable by death:
willful murder

forming a solemn compact with the devil by way of witchcraft

the willful burning of ships or houses

sodomy, rape, and buggery

adultery
The subsequent years' records show an array of violations that were redressed according to these laws:
In 1639, Mrs. Mary Mendame of Duxbury was convicted of "uncleanness" with an Indian named Tinsin, and was sentenced to be whipped at a cart's-tail through the town streets and to wear an AD badge. (If she was found without, it would be branded onto her forehead.)
In 1641, an adulterous affair between singleman Thomas Bray and Mrs. Anne Linceford was discovered and both parties were sentenced to public whipping at the post and to wear the AD badge on their clothing.
In 1658 the law was finally rewritten to define the punishment for adultery as two severe whippings, once right after conviction and once at a second time to be determined by the magistrates; and the individual would have to wear the letters AD "cut out in cloth and sowed on their uppermost garment on their arm or back."
In 1662 Thomas Bird was sentenced to double whippings for committing "several adulterous practices and attempts, so far as strength of nature would permit" with Hannah Bumpass, who was also sentenced to be whipped once "for yielding to him, and not making such resistance against him as she ought." Bird was also sentenced to pay Hannah  £10 for "satisfaction for the wrong he hath done her."
The first person executed for murder was Mayflower passenger John Billington, who was hanged in September 1630. He had gunned down John Newcomen in the heat of an ongoing quarrel.
The same year Arthur Peach, Thomas Jackson, Richard Stinnings and Daniel Cross were convicted of murdering an Indian named Penowanyanquis in 1638: the motive was robbery. Daniel Cross escaped custody, but the others were executed by hanging. The triple-hanging sent a strong message that Plymouth Colony would treat the murder of Native Americans equally.
In 1648 Alice Bishop was hanged for slashing the neck of her 4-year old daughter Martha with a knife, while Martha was sleeping in her bed: perhaps the most shocking and horrific crime in Plymouth Colony's history.
Nobody in Plymouth Colony was ever charged with intentionally burning a house or ship, so arson as a capital crime was never tested in Plymouth court.
There were two witchcraft trials in Plymouth Colony, decades before the more famous Salem Witchcraft trials of 1692. Both Plymouth Colony witchcraft trials ended in not guilty verdicts: in fact the accusers were fined by the court for having made false accusations.
The Mayflower Compact remained in effect from 1620 until 1691, when the Plymouth Colony was absorbed into the Massachusetts Bay Colony.