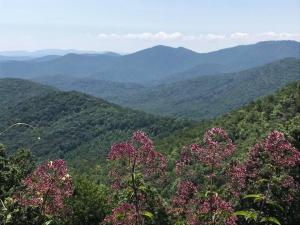 Have you ever been called to a place? A place you heard, without a doubt, beckon you to move there? With no seeming connection or reason to do so?
I moved to Asheville (North Carolina) around three years ago.  Having moved most of my childhood between the New York area and North Carolina, I had spent most of my adult years firmly rooted in one place.  Once my sons were grown, I felt that restless pull to try life in a different place. Logically, I thought I would move to the coast.  I grew up visiting both the mountains and beach in North Carolina, and so my choice seemed like a no-brainer. I loved everything about the beach, and the mountains were clearly a second choice.
Needle scratch.
Before I undertook the uprooting of my life, I consulted with an astrologer friend who specializes in geographical astrology.  He carefully asked me if I liked where I was presently living.  "Oh no, I can't wait to leave here!" I responded.  "Oh good, sweetie.  You need to get out of there. Go where you will flourish." I mentioned the coast, and he seemed hesitant.  I mentioned Asheville, and he brightened considerably.  "Try there!" he said.  Honestly, it gave me pause. I had been visiting the mountains on and off my whole life.  I loved the Blue Ridge Parkway, all the forests, and the nooks and crannies that make up little mountain towns.  Asheville?! There?! Hmmm.
This was a full six months or so before I made my final decision. I visited Asheville often in that time, mostly because my best friend would visit her college-aged daughter there, and I would tag along.  I noticed something interesting happen. Every time I left Asheville, I would leave with a rolling list of things I wanted to do or see.  One thing always lead to another. When I left the coast, I had one thing on my list to see next time: the beach. Not that there's anything wrong with that, as the beach is lovely. Asheville felt like there were things I HAD to do there.
My fate was sealed when I took a solitary drive on the Blue Ridge Parkway.  I meandered a few miles with the windows down, stopping at familiar overlooks, taking in the vistas. I noticed a lightness in my being, a peace that had eluded me. I could breathe more freely. As I sunk deeper in thought, I remembered my mom taking us on endless drives during the summers, over these very same roads. That's when I heard the call.  "Come here," I heard. "This is where you need to be."  I was neither startled nor surprised when this happened. It just felt right.  To be clear, hearing things outside my own voice in my head is a rare occurrence. It has happened a handful of times in my life. Yet when it does happen, I know to listen. And so I did.
In the three years I have been here, I have encountered many people who have heeded the call. I've been told this area either nourishes you, or chews you up and spits you out. Fortunately for me, it's the former. The call to be here can be subtle or intense. Some people give up after a while, leave, and try to return. In a way, it reminds me of a Shangri-La. A mythical place you want to return to, if you ever have the misfortune of leaving. Is Asheville all wonderful, all the time? Hardly. It can be challenging, frustrating, and aggravating. Do I want to leave? Sometimes. Yet when I go back "down the mountain", I cannot wait to head back up again.  The first sighting of the mountain range loosens the tightness of my chest and I can breathe again.
It is also a mystical place. My parents both passed away in the 1990s, yet my only encounters with them have been here. They make themselves known to me in many different ways, which is comforting. My manifesting appears effortless. My spiritual practice is deeper. I connect with the trees in the forest. I align myself with the moon cycle, and there is a rhythm to life here that is as soothing as my heartbeat. This is home to me, in a world of places where I have left pieces of my heart scattered, hither and yon. I feel my roots growing here. A sense of connection, and a pull to remain.
What about you? Did a place call to you? What was it like? I would love to know.