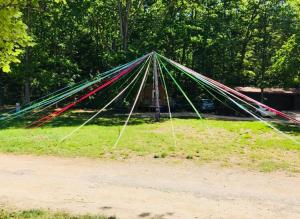 How do you Beltane? Is it even a verb?  Solitary practitioner, always in groups, a mix of the two? Does it include a viewing of The Wicker Man? All these adventures and more can be yours.  'tis the season!
"It's always Beltane in our hearts."  That's one of the first things I heard when I moved to the magical land of Asheville a few years ago. This Beltane festival, what is it, I wondered? I vaguely knew it meant celebrating around the first of May, and I set out to discover the various joys of this festival.  I have to mention The Wicker Man, because for years I watched the original (and yes, the other one. Don't judge!) I knew as a teenager that there was something special about this movie, and then later, I had my big a-ha! moment.  Things make so much more sense now.
I was fortunate enough to be invited to a Beltane festival in Virginia a few years ago, and full of curiosity, off I went with my friends.  If you have never done so, I highly encourage you to participate in one of these festivals at least once in your lifetime. This experience was truly lovely.  We danced around the fire, participated in ritual, had many delicious conversations, and truly celebrated Beltane, the outdoors and being together. I left with many fond memories, and would love to go back. Friendships I have made there have only deepened in time, part of the magic of the celebration.
Another year, I celebrated as a solitary.  Planned out the whole evening, worked on my own ritual, and truly celebrated.  It was delightful as well. I took a photo of myself afterwards (and I'm not one for selfies). Some friends told me I looked transformed. It was a magical evening indeed. I learned much about myself, enjoyed my focused time, and felt truly joyous.
What about this festival makes it so festive, special and amazing? My personal theory includes flower crowns. Something about them can transform a day, a mood, a moment. It's hard to have a bad time with a flower crown on your head. Blooming is also important.  Plants, flowers, blossoms, nature, being outdoors. All that, after a season of cold and snow can be welcome indeed. Our ancestors knew what they were doing when they celebrated Beltane. The earth is blooming, and after a winter of hibernating, we can be blooming as well. The earth and life seem full of possibility. Seeds that have been planted earlier, whether literally or metaphorically, are beginning to grow.
As a solitary, the celebration can be illuminating. Self-care is important. Activities from the simple art of eating a luscious piece of fruit to really pampering oneself physically, can be part of the celebration . Life is hard enough, and Beltane is there to remind us that such acts of love and pleasure are Her rituals. If you can celebrate with a loved one, even better. Celebrate what blooms between you, rejoice in the fertility of the moment, and make plans for your future.
Fire is another part of Beltane that I enjoy. Nothing beats a good campfire, and to dance around the fire with friends, listening to drumming under the night sky while singing is truly magical. It is an experience I treasure, and look forward to experiencing again. The word Beltane itself originates from the Celtic god "Bel" (the bright one) and the gaelic word "teine"meaning fire. If you can't get out into nature, make your own little fire, with a fat, bright red candle and some twigs to decorate around it, and gaze into the flames. There's no telling what you'd see.
Dancing under the Maypole? Even if you are spatially challenged as I am (long story), how fun is it to dance amidst ribbons, weaving in and out, laughing and singing? Make your own wee Maypole with a branch and some ribbons, to use for celebrating or a focal point of meditation.
However you celebrate Beltane, try to incorporate the bits that make you happy. Whether it is decorations or activities, add some Beltane to your life, and light that flame, so that Beltane is always truly in your heart, year 'round. Let me know how you celebrate this year. I'd truly like to know.