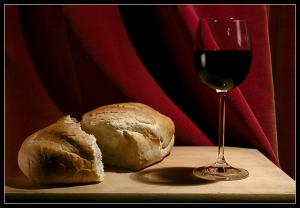 Lammas at first had seemed to me like a second-rate celebration. I think it's probably because I am in denial. It marks the beginning of the end of summer, which is my favorite season. Yes, I am one of those strange people that enjoys heat and sunshine. So for me, it's one long noooooooo! I don't want to celebrate the end of summer. I'm never ready for that.
Then there's the bread. We celebrate bread? First harvests? I'm not a farmer. I'm not a baker. Yes, I was lazy and didn't really look into this much at all. I was dismissive.
First few times, I celebrated half-heartedly (apologies to my tribe, my heart wasn't in it!) A few years later, a friend told me Lammas was the beginning of her journey as a pagan, and it was special to her. Warm feelings flooded my heart. I should look more closely into this Lammas, I thought. It meant so much to someone I respect highly, so there must be something to it, right?
The Wheel of the Year turns, as it does. At first, I didn't really follow through my plans to learn more. Then one article caught my eye. First harvest of grains, yes. It's not merely bread. What about harvesting your dreams earlier in the year, the ones from the last celebration, the last new moon? That is indeed a way of harvesting, and can provide the impetus to keep that momentum going into the rest of the year.
Seems simple, but as the world is increasingly chaotic, it may seem impossible to stop and review. There's so much TO DO. Yet, the Wheel of the Year has provided us markers in which we do stop and slow down. I intend to do so this year.
For myself, this journey I am on has gone down a path where I am able to help lead ritual in a peace garden. I am collaborating, helping to write ritual, celebrating with others in a lovely garden that has been created from a barren spot. I had helped with a ritual there previously, and a participant told me my words brought a peace and comfort that she had not felt in a long time. To do so again is a dream realized.
As this year has whirled by, I recognize that I have scattered my dreams into words written in various journals and lists. This year, Lammas is calling me to organize and realize what seeds I have planted. It is my first harvest this year. A few months ago, I realized that much of my work this year had come to fruition from seeds I had planted last year. Has this ever happened to you? I'm gratified, however, that the seeds I planted this year, although fewer and shoddily planted, are still delicate and growing. They are still very much alive and fighting for growth.
To honor my path, and to fully celebrate Lammas this year, I plan on making my own bread. I've never made my own bread before, mostly because it seems so complicated, and bread is not high on my list of favorite food items. Yet it seems fitting to honor my journey and my newfound respect for the celebration of Lammas. I approach it with gratitude this year, and look forward to a deepening knowledge and fondness for it.
Now about that Lugh…
More to learn.