Around Samhain, customers come into the shop with questions about ancestor altars. They want to know how to create one, how they should do it, and what items they need. As with most things, there are no right or wrong answers.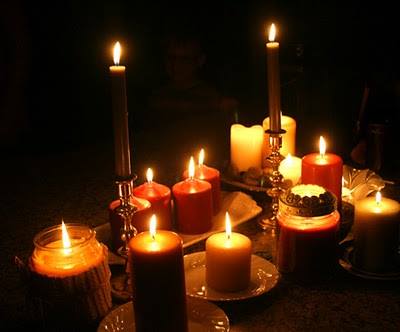 My own journey with ancestor altars began when I moved to Asheville. I had always had my mom's side of the family as part of my life. Thanks to stories and photos, the ones who had passed on were as real to me as the ones who crossed the ocean from Germany to visit us in New York City, where I grew up.
My father's side of the family was a bit trickier. I grew up knowing little to nothing about them. My mom and dad divorced when I was five, and he basically disappeared. My mom would mention him, but not pleasantly, and for the most part, he was part of the family folklore. Distant memories were all I had. He did try to get in touch with me as an adult, but by then, I was so used to being without him, that I didn't make any effort to have a relationship with him. When he died the year before my mom did, I sighed, but life went on. I had my hands full taking care of my mom and my own family to really mourn him.
Fast forward to my move to Asheville a few years ago. They say the veil is thin here, and within a few weeks of my moving here, I knew my mom was around. I'm not one of those people who commune with the dead, but my mom made her presence known, especially when I was on the Blue Ridge Parkway. I sensed she was happy I was revisiting my childhood travels, and she would pop into my mind, and all of a sudden I would gain a new understanding about her. A song would come on that would remind me of her. I would cry. That's how I knew she was around.
Soon after, I went to visit the shop where I now work, and a psychic fair was in full swing. I spent some time with a psychic medium, and while my mom showed up immediately (telling me what I was doing wrong, of course, because that's my mom) my dad popped up, too. Soon after my mom died, I felt sort of tickled they were reunited in the afterlife. Not sure what I believe about life after death, but if those two reunited, things would not be dull, wherever they were. Despite remarriages on both sides, my parents were the loves of each other's lives. My dad came through with a few messages that only he and I would know about, a few little details I retained from my memories of him. I cried. It felt nice to reconnect with him, however briefly.
I happily created an ancestor altar my first Samhain. Both sides of my family was represented, and I included some photos of my dad's side of the family. My mom had given me an album full of old photos when I got married, and it's one of my most precious possessions. I looked more closely at the photos  of unfamiliar relatives. I noticed my dad's mom had a kind face and I felt a glimmer of connection with her. As I built my ancestor altar, I felt the message of honoring my dad's side of the family for the first time in my life. Looking at my parent's wedding photograph, I noticed with slight shock how my younger son looked just like my dad. His genes were strong, as my siblings and I all favored him, but to see this carried into another generation felt comforting.
On my ancestor altar I usually include candles, money from their time period, some of their favorite foods, a bit of alcohol and cigarettes (both were smokers and enjoyed a libation or several). I include some German items for my mom's side of the family, and flowers for my dad's side. Looking at all the faces of the relatives makes me feel loved and protected. After all, we are a result of generations of love, are we not? I feel that, looking at their faces. Strangely enough, they don't feel distant at all, and I feel the thread of connection very strongly. Honoring them, especially at Samhain takes on a deeper resonance, and it grounds me.
So, for all those people who have not built an ancestor altar, I offer the following advice: do it. Research, spend time meditating on the qualities of your ancestors, find commonalities, and listen to your intuition. You will be surprised what you uncover. It will also enrich your Samhain, and can carry onward for the rest of the year. Your ancestors are your foundation, and that foundation should be cherished. Honor them, and see what happens.