Everybody wants my job, or so I laughingly say. Customers check out with a wistful look, saying "It must be so great working here!" It is, and I am very happy. I manage a witch shop in Asheville, North Carolina. Or to cushion the shock for some people, I say it's a "metaphysical book store." It is both that, and so much more. It's a community center, a hub, a respite, a place to feel empowered. We sell books, candles, teas, herbs and incense. So many other items, that you can feel dazzled the first time you enter. It is so very satisfying for me to see people step inside, breathe deeply, and say "I love the energy here. Thank you."
This is my first October as an employee at the shop, and although I complain mightily (and loudly) about missing summer, I feel the current of excitement as we approached October. First, there are the decorations. How can you not be happy with pumpkins, skulls and fall leaves all over the place? We offer daily tea, and people come in, grab a shopping basket and browse. It's a feast for the senses, I say. Enjoy the process. As I began work on the October newsletter, I was in awe of the many workshops we had scheduled. It will be an exciting month.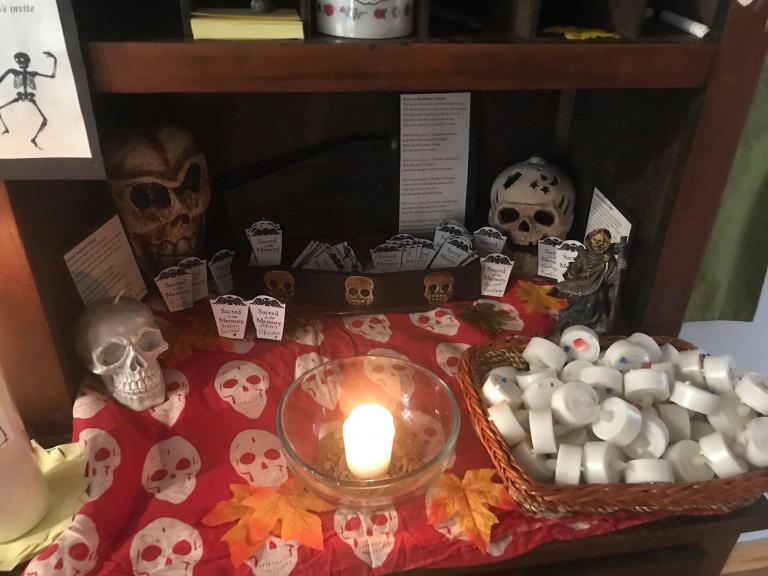 Most of all, we honor our ancestors. I have always personally revered my ancestors (it was part of my life when I was growing up. Now I wish I had paid more attention to names and dates). We have a beautiful community altar in the shop, and for October, it is transformed into an ancestor altar. We note the names of those who have gone before, and add little battery tea lights as well. The veil is thin here in the mountains of North Carolina, and soon after I moved here, I felt my parents' presence in a way I had never before anywhere else. My first October here, I created my first ancestor altar, and truly honored my dad's side of the family as well as my mother's. It was satisfying. I don't know much about my dad's side of the family, but doing so has added a richness to my family history, and I feel their loving presence often.
We have an October filled with workshops! Many are planned to honor and revere our ancestors. I am leading an ancestor vision board workshop, and I am very excited about that. So many people don't know how to honor their ancestors, or how to begin working with them. We help with that process, and the look of satisfaction on customer's faces as they find items to help create altars is personally very fulfilling. We also have workshops on dealing with spirits, ghosts, entities and the like. We have art classes for Automatic Drawing, and making a Samhain Triptych. There is a class on the Herblore of Samhain, which excites me as I begin my budding journey into herbalism. We have Aura Photography, and a Besom drawing. I am gleeful as I write this, as it makes my heart happy that our shop is a hub for so many. Everyone loves a witch store in October, no matter what path they follow.
Several of our customers are students who want to explore different interests, those who are truly lonely and lost, and those who feel they have negative spirits around them. Some look haunted, some look sad, a few are heartbroken. I have always felt, from the first time I stepped through the door, that this was more than a shop. It's a community center, and my healer calling has found a home where I work. I know I am fortunate, and I am thankful every day for what I do.
The most positive thing is that people feel empowered. They leave with a tea that soothes, a candle that will focus their intentions, an oil that helps them feel protected, a crystal to use as a touchstone, or herbs to add to their workings.
The highlight for me in October is the Ancestor Vigil, held at high noon on October 31st, in front of the shop, on one of the busiest streets of Asheville. It is a beautiful ceremony, where we read aloud the names of the beloved dead, so that they are remembered by the community. It is a somber and moving ritual, and I'm honored to take part in it as an employee this year.
I sense that each moment of October will be richer and deeper for me. It will be busy, and full of activity, but also filled with many quiet reflective moments. If you are in the area, please be sure to stop by and visit. Within those walls, we are a community and a home away from home. You can take a little bit of it with you, stay in touch from afar, and know that you are not alone. Come celebrate, reflect, rejuvenate or just be present. Welcome, October!