The road to ordination began for me a few years ago, when I began priestess training at a local goddess temple. I can't tell you why I agreed to priestess training, except that I knew somehow I could not say no. It feels like a physical pull, guiding you along a pathway, trusting yet curious, filled with moments of connection that take your breath away. When a deity calls, you answer, or you can ignore the call as I did, until the calling becomes more persistent.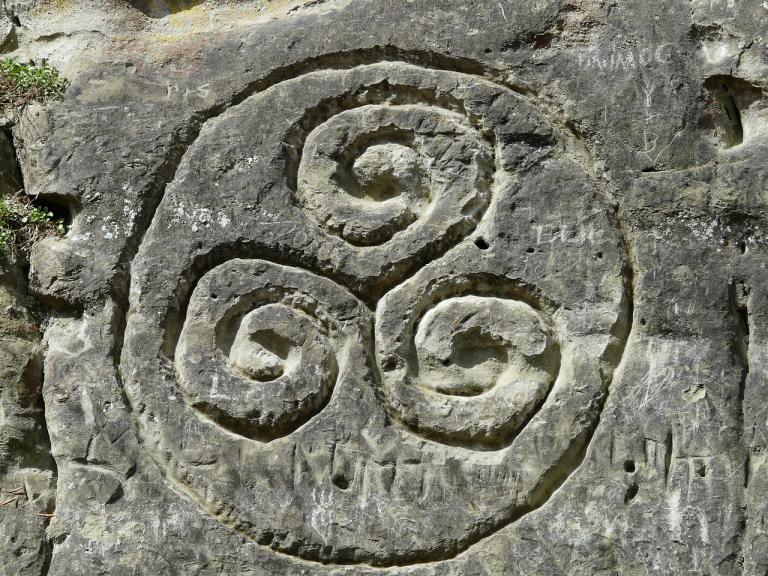 Brigid has been part of my life for a few years now, and she guides and sustains me as I wend my way through life. Last year, she became more insistent, and I was told I needed to become ordained in her name by the following Imbolc. My first response to this, as to most things, is my usual, "Why?!" No answer, except that I knew I had to follow her instructions.
The week before my ordination, which was scheduled on Imbolc itself, I undertook daily steps, as if on a journey. I wanted to honor the commitment I was making, and to note each day in its own unique way. Imbolc is one of my favorite times of year, and it is the time when Brigid first came into my life and changed it. Below are the steps in the journey I took.
Labyrinth: For the first of the seven days, I visited a local labyrinth, determined to start "on the right foot", and began my seven days with a meditative walk. It was a brisk winter day, and I happily had the labyrinth to myself. As I took my steps around the stone pathway, I felt myself truly walking on a journey and feeling as if I was stepping into a new path. The person I was when I began the walk was not the same person who stepped out of the labyrinth at the end. Each step felt symbolic and full of meaning. I was glad I had chosen this symbolic way to begin my road to ordination.
Consecration: Next, I consecrated a new pendant I had purchased. I usually wear a Brigid's wheel daily to honor her, but I wanted to add something special to that necklace to note the occasion. I found a pendant with the moon cycle, overlaid with a pentagram, overlaid with a Celtic weave. It wove all that I love together in one symbolic, multi-layered way. I consecrated the pendant with pine and local herbs, imbuing it with my intentions. It rests comfortably with my Brigid's wheel, and I wear it daily.
Organization: The next evening, I organized my supplies. You know how you just rummage through piles of things to get what you need for spellwork? I had two boxes of items thrown together haphazardly. I took the next evening to organize my tool kit, taking care to honor each one's use in past workings. I will need it in the days ahead as I help people on their journeys, and I wanted to be organized and ready. It was a ritual unto itself, viewing the pathways I had taken with these items, now orderly and prepared for more usage.
Baking: The following evening, I baked. For most Sabbats, I like to partake in some sort of physical action to honor the celebration. I was directed by Brigid to provide Irish soda bread and Jameson's for my ordination, and I happily obliged. I don't bake often, but when I do, I revel in the use of my hands to create something that can be shared. I filled it with love and intention as I worked, honoring both Brigid and the cakes and ale portion of the coming celebrations.
Journeying: For the next evening, Brigid cleared the way for me to partake in shamanic journeying. I was scheduled to attend a workshop that ended up being canceled, and a few moments later, an invitation to Celtic Shamanic journeying crossed my email. I knew better than to be surprised, and I was truly grateful to spend the evening with friends, honoring Brigid with community, song, and the exhilaration of journeying. It was a magical evening, and to be present with others honoring Brigid resonated with me deeply.
Altar: My altar for Imbolc had already been ready, but I spent the next evening truly spending time with her, tweaking a few things, and spending time in silence. I began working on my vows, relishing the beauty of words, choosing with care what I wanted to convey as I took the next step in my journey. The pull of my calling was growing ever stronger, and the day was getting closer. I was also filled with much gratitude, as I had spilled water on my laptop earlier that week. As with many people, my laptop is the source of most of my work, and in drying it out, heard the directive to slow down, pay attention to details, and be more mindful. It was a scary few days. The laptop dried out, and the gratitude I felt when it powered on was expressed mightily that evening at my Brigid altar. Lesson learned.
Green: Living in Asheville, you often see people with all the colors of the rainbow in their hair. That evening I spent with my youngest son and my beloved friend who is also a wonderful hair stylist, and had my hair dyed green. Not only for Brigid, but also as its my favorite color. It was an evening filled with laughter and wine, memories and excitement. Green is not a new color for my hair, but it was a fresh coat before the big day of my ordination. I had spent seven days in preparation, and the next day had arrived.
Ordination: The day of my ordination was long and beautiful. I began with meeting at the local Brigid spring, where, along with my mentor, beloved friend, and senior clergy, we decorated the altar for Brigid, under a tree that soars into the sky and looks like a dancing goddess. I tied a cloutie (Irish prayer intention in the form of a cotton strip of fabric) on the branches over the spring, read words of Celtic wisdom, and reveled in the beautiful day outdoors. It felt so good to begin the day outside. Next on the agenda was my actual ordination, spent with those I love most, my circle of family, friends and loved ones. I felt the warm hug of the ancestors as I took my vows and was presented with bread, honey and a beautiful chalice. We shared the Irish soda bread and the Jameson's I had brought, and I felt my foundation being built up with love, laughter and honor. At the public Imbolc ritual later that evening, I was presented to the community as newly ordained, told my story of my first encounter with Brigid, and gave my first blessing to the congregation. I was also blessed by the congregation, with words of love and appreciation. People came up to me later that evening, telling me they were inspired by my story, and that Brigid had been calling them as well. I went to bed that evening happily exhausted and fulfilled.
People have asked me since if I feel different. Yes, I do. I feel more protected and grounded. I walk differently, as if my footsteps have more purpose, instead of just scurrying about, as I normally tend to do. I have no idea where this journey will take me, but it's akin to how I feel at the airport when I travel: full of anticipation, packed, ready to go, and open for whatever comes next. The journey spirals onward, I have fulfilled my directive from Brigid, and I look forward to whatever comes next in my calling. I know that no matter what happens, I am ordained in Brigid's name, and that alone gives me much satisfaction, joy, and fulfillment. So mote it be!