Wild Magical Soul:
Untame Your Spirit & Connect to Nature's Wisdom
By Monica Crosson
Llewellyn Books – February 2020
241 pages
Paperback: $17.99 Kindle: $9.98
With such a compelling title, I was eager to read Wild Magical Soul by Monica Crosson. Have you ever had a book in your hands that you were eager to literally devour? This is one of those books that did not disappoint.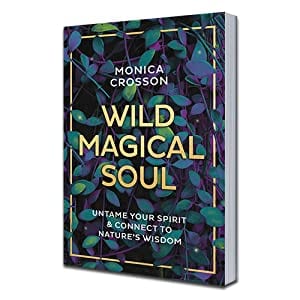 Since I am fortunate enough to live in Western North Carolina, nature and the four seasons compel me outdoors more often than not. Long before I moved here, I communed with nature when and where I could, and felt its insistent pull towards me. It is always a delight to read books by those who share this connections.
Author of the The Magickal Family and Summer Sage, Monica Carlson covers the four elements in this book, linking them with different terrains:
Forest (Earth)
Mountain (Air)
Desert (Fire)
Ocean (Water)
Within those areas, she provides rituals, history, activities, and an engrossing journey throughout the different landscapes. Longing for the ocean, since I have not seen it in person in quite a while, I dived into Ocean first, and was rewarded with such enticing chapters as "Conjuring from the Sea", "Moon Magic" and more. This is a book you pack into your backpack or suitcase, taking it along with you on your travels, with pages bookmarked and dog-eared (which I have already done, of course!)
Beginning the book with the following question: Where's Your Wild? She answers with the following "I will surrender to the ancient rhythm that calls me to the threshold of the otherworld. Tangled within its sacred wisdom, I will find my wild."
If you enjoy taking journeys while reading, this is one of those . Interspersed with folklore, identification charts, rituals, lists, and her own experiences, I took this book to a tree outside my window and performed her Tree Communion Spell. It is a bit similar to what I already do personally, but I liked her additions and readily available materials list. The book is easily picked up and put down for quick references, and also good as a solid few days of reading. She writes in an engaging way, engrossing and not rambling, with a clear format and personable tone.
Monica Crosson has been a practicing witch and educator for over thirty years, according to her author biography. As a former educator myself, I really appreciated her clarity and personal stories, which enhanced the "how-to's" and information.
If you are feeling a bit disconnected from your surroundings, this book will help you reconnect to the energy of where you live, even in an urban setting. You can take this book to a nearby park and appreciate the trees and nature found there, just as easily as you could on a trip to the beach, or a visit to the desert.
In addition, this book will help develop your skills as a healer, storyteller and advocate for the earth. Considering the times we are in, with the earth literally erupting in so many ways, it's timely and helpful for each of us to do our part to magically help and heal.
I consider this book an important addition to my library, and I know my copy will get well-worn during the course of the year. My personal magickal practice is enhanced with boosts such as the information contained within in this book, and I look forward to returning to it again and again.