Is there such a thing as a Pagan Thanksgiving? Not really. Eschewing all the discussions about religion, history and relevance of Thanksgiving in our lives, what this holiday ultimately is (for those who celebrate it) quite simply,  a meal and a gratitude ritual. Add a COVID overlay to it, and the year that is 2020 (the list of adjectives is long, my friends), the idea of what Thanksgiving "should be" goes out the window. , so below is a list I've compiled to help you celebrate the spirit of Thanksgiving, with the addition of Pagan inspiration.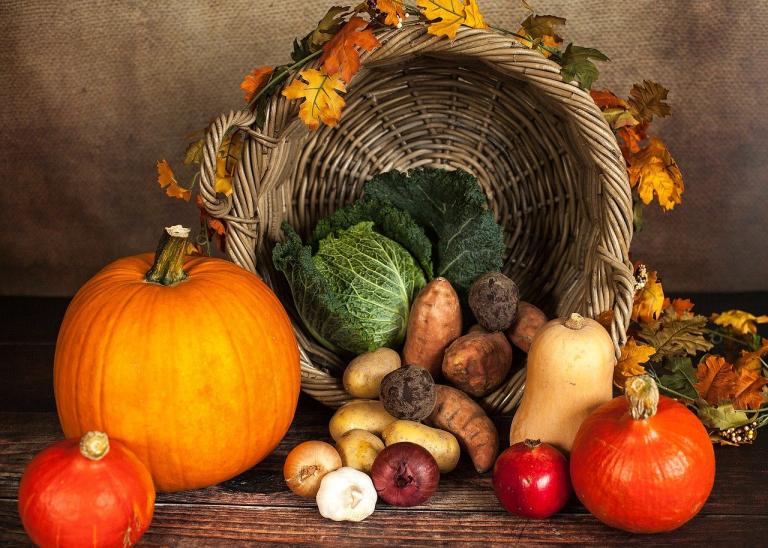 Invite your ancestors: The ancestors are revered during Samhain, but what about adding them to your Thanksgiving preparation? Add a dish to your meal that reflects your ancestry, or create a dish in honor of it. Do research and you may end up using ingredients that may not be familiar, as it will add a zest to your Thanksgiving, even if you partake in a solitary meal. It's a way to feel connected, and much needed in a year like this.
Show Gratitude: It is such a simple thing to say Thank You! To the Universe, to your deities, or to people. It also has the benefit in helping you feel better about what's good in your life. Pagans can have such a zest for life, so express your gratitude in an exuberant way: cover your walls or your dinner table with kraft paper or cut-up paper shopping bags, put out some colored pencils or markers (put a pad underneath if using markers, as they can bleed through) and jot down what you're grateful for, in one fell swoop, or as you think of it in the days and weeks before. Place the completed sheets on your walls, on your fridge, or cover your tables with them. Have the gratitude be visible and inspiring!
Thanksgiving Meal for the wildlife: Add a few treats to your outside environment, whether it be a handful of nuts, some birdseed, or a ceramic dish of water for the birds. Create an offering by a local tree with a few apple chunks or carrots, and give thanks for the beauty of wildlife, wherever you are. Invest in making your surroundings a wildlife space if you have land, or contribute to nature conservation groups, look into participating in a community garden, or set an intention to learn more about your local wildlife and nature.
Get outside: If you don't have plans for the day itself, what better way to celebrate than to be outside? Go for a long walk, explore a nearby trail, or look up natural attractions in your area. Add a festive little picnic to your backpack, and truly give thanks for the wonders of nature. That memory will sustain you in the dark months ahead.
Contribute: Most grocery stores this year offer pre-made shopping bags of food that you can purchase, that will help those in need. Consider stream-lining your food cabinets, and donate unused food (be sure to carefully check the expiration dates!) Contribute to causes you care about, to the local food bank, or animal shelter. Look to what's important to you and contribute what you can. It will make a difference.
Think of others via the written word: Consider sending out gratitude cards for people who you don't get to see often. Call them Thanksgiving cards, if you'd like. Let people know what you appreciate about them this year, especially. Who doesn't like to get mail? Be creative and make your own cards, or dust off your handwriting, and write letters. Drop one off for a considerate neighbor or send a postcard to someone you would like to know better. It will brighten both your lives.
Create with magical intention: As you cook, imbue your meals with magick, whether you stir a magical number of times, or a spell (one you create or find in a book or online), be focused and purposeful. If you knit or crochet, start making hats and gloves that you can keep in your car, and give out when you see a person in need.  Add protection spells to those items. Start thinking about homemade Yule gifts, and imbue magic into creating cordials, preserved fruits, baked goods, or whatever strikes your fancy. Sew masks if you have sewing skills, adding protection and good health intention and magick, as we know it will be a while before this pandemic goes away.
Health: Go on daily walk or dust off your yoga mat and stretch your body. Make some fire cider and elderberry syrup (find recipes online or in books), or find some local businesses who sell those items. Up your intake of water. Get more quality sleep, and change your evening routine if you feel it is affecting that sleep. Take some time to yourself and meditate or zen out. Use that quiet time to recalibrate, little by little. Don't expect big changes right away, but look at it one section of a week at a time. There are long days ahead, and we need to all be healthy, physically and mentally.
Community: What does your community look like? Is it online or local, with people you haven't seen in a while, due to COVID? Don't feel particularly connected to anyone? Offer gratitude for the community you find yourself in, with either volunteering (find ways to do so online), or contribute to food or clothing drives. If you find yourself feeling a bit lonely, look online and find groups with your interests, or if you don't have many interests, think about something you always wanted to learn (a language, a musical instrument, a skill) and see what you can learn online. Sharing passions and interests with others creates a bit of community in these self-contained days.
Get inspired: It can be easy to focus on all what's wrong with the world, most especially when we are stuck in a pandemic at a time where it's supposed to be about family, a holiday, and traditions. Flip that thought to the other side of itself, which is the idea that it will be a gift to a have a quiet day (If you have the day off. If not, this applies to your next free day).  Enjoy a satisfying meal, and take the time to go deeper into the biggest gift you have: yourself. If you are healthy, celebrate it. If not, take a day and focus on things that are good for you, and use that momentum to move forward towards more good things. That is the biggest magick of all. Have a safe and happy Thanksgiving!