If you are exploring a plant-based diet, but unwilling to sacrifice the flavors of the classic dishes you grew up with, have I got a treat for you: Walnut Puttanesca! A vegan diet means that you don't eat animal or dairy products, but you can't forsake protein. Plant-based proteins are relatively easy to find, typically from tree-nuts, seeds, and a combination of grains and legumes. Cows eat plants and make all that muscle, and so can you!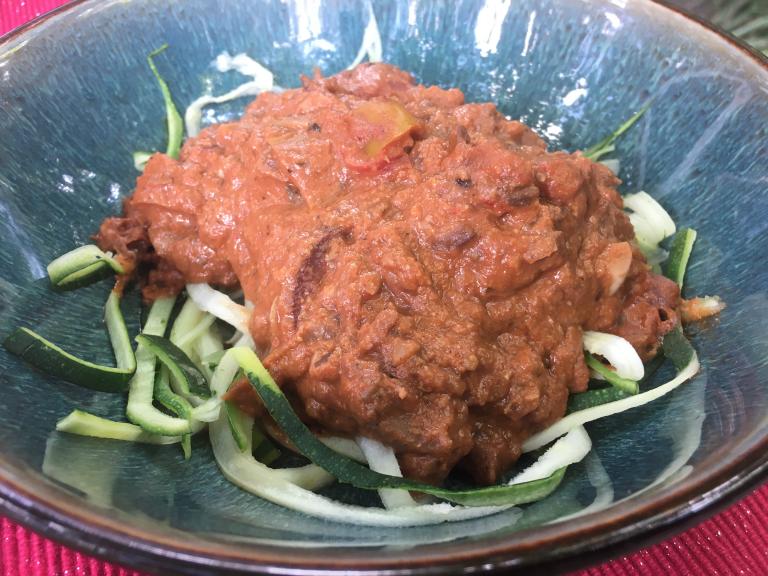 Walnuts offer an abundance of healthy benefits. An article at www.healthline.com lists the following:
13 Proven Health Benefits of Walnuts –
Rich in Antioxidants.
Super Plant Source of Omega-3s.
May Decrease Inflammation.
Promotes a Healthy Gut.
May Reduce Risk of Some Cancers.
Supports Weight Control.
May Help Manage Type 2 Diabetes and Lower Your Risk.
May Help Lower Blood Pressure.
Supports Healthy Aging.
Supports Good Brain Function.
Supports Male Reproductive Health.
Improves Blood Fats.
Widely available, Easy to Add to your Diet.
A Puttanesca Sauce can be a tomato sauce made with any thing you like and have left-over in the fridge or cupboard, though olives, anchovies, lemon, garlic and capers are traditional. I actually prefer my vegan version, and we make it all the time. I like to have plenty of left-over sauce so I make a large batch. Otherwise, I suggest halving the recipe to feed four or less.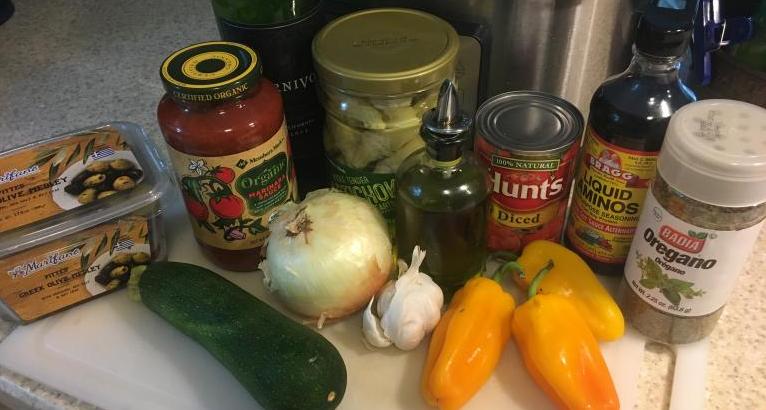 Walnut Puttanesca with Zucchini Veggetti
Vegan and Gluten-Free
Serves 8 with some left-overs, which are always better the next day.
Ingredients:
1/4 cup Extra Virgin Olive Oil (EVOO)
1 large yellow onion, diced
10-15 cloves of garlic, minced (You can never have too much garlic!)
1 bell pepper, any color you like, diced
1 bay leaf
1 Tablespoon Basil
1 Tablespoon Oregano
1 teaspoon Onion Powder
1 teaspoon garlic powder
1/2 teaspoon black pepper
1/2 teaspoon good salt (I almost always use Himalayan Pink Salt)
1 teaspoon red pepper flakes
16 ounces of baby bella or white button mushrooms, chopped small
1/3 cup Bragg's Amino Acids or GF Tamari Soy Sauce
1/3 Cup Red Wine
1/4 cup Balsamic Vinegar
2 Tablespoons Agave nectar
1 can diced tomatoes with juice
2 jars of any Marinara Sauce you prefer.
1 cup Sliced Kalamata Olives – I like to get the kind marinated with Italian Spices from my grocery store.
1 can quartered artichoke hearts, drained
2.5 cups ground walnuts – I run mine in small batches through my coffee bean grinder, but this is also easy to accomplish with a mortar and pestle.
2-4 large zucchini run through a veggetti slicer for "noodles." Alternatively, prepare your favorite spaghetti pasta. Sometimes I make some of both and mix them together.
Nutritional Yeast Flakes to sprinkle on top (optional)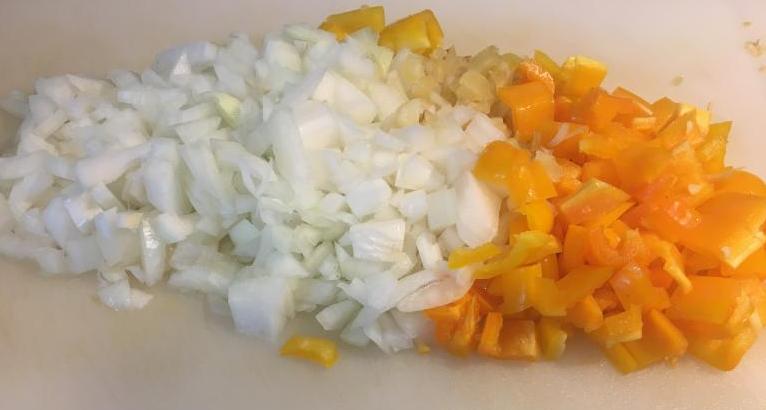 Directions:
After prepping all the vegetable ingredients, heat the EVOO on high in a really large, deep pot. This is going to make a gracious plenty of sauce, so
go big
. Saute the onion, garlic and bell pepper until the onions are glossy – a few minutes. Add the dry spices and mushrooms, stir and saute a few minutes more. It is going to smell amazing!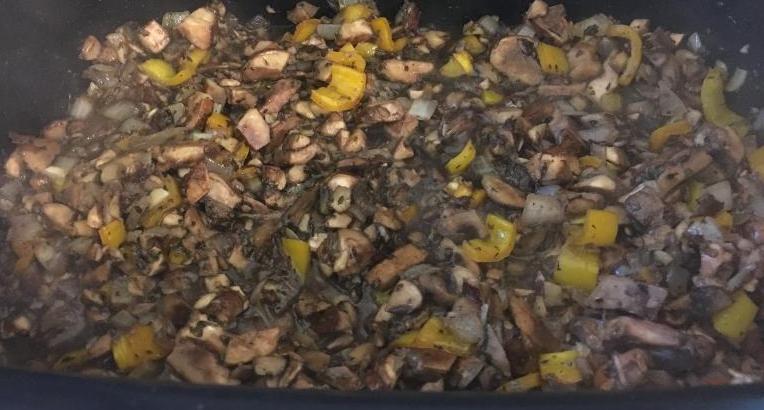 Reduce heat to medium, add the Bragg's Amino Acids, Red Wine, Balsamic Vinegar and Agave Nectar, the can of tomatoes and 2 jars of marinara sauce. I usually add a splash of water to the jars, swirl them around to get all the good sauce – so this adds maybe 1/2 cup of water.
Reduce heat to medium-low, and allow to simmer for about an hour, stirring occasionally. Then add the olives, artichokes, and walnuts. The acid from the sauce emulsifies with the oils in the walnuts, making the sauce rather creamy. Turn off the heat, but allow the sauce to sit on the burner, and marry flavors a few minutes while you veggetti spiral slice the zucchini into "noodles" or prepare the pasta.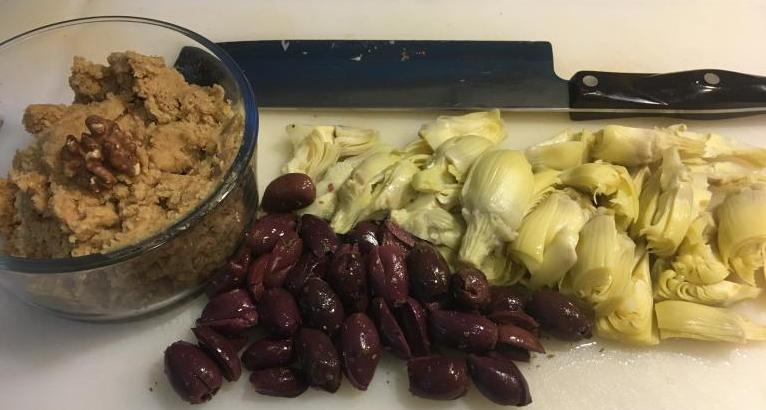 Taste the sauce and adapt to suit your preference. If it needs more zing, add a splash more balsamic. If it is too zingy, or not salty enough, add a splash more Bragg's Amino Acids. If you love the spiciness, perhaps a bit more red pepper flakes.
Serve over the pasta or zucchini noodles, and sprinkle with Nutritional Yeasts Flakes for a boost of B Vitamins and a "cheesy" flavor.
Enjoy!
~Heron