We just made this batch of our no-bake, vegan, gluten-free, dark chocolatey, nutty confection that we call "Chocolate Salty Balls." There are so many jokes one can make with this recipe. The comedy is just an extra benefit to how delicious they are. Moreover, they are raw, gluten-free, heavy on the protein, and have no processed sugar. In my world, (local, raw) honey is sacred medicine, and chocolate is a superfood, so rather than a "cheat" this is sustenance of the highest order. This is what joybauer.com had to say about it:
"Dark chocolate is rich in flavonoids, antioxidants that have been shown to lower blood pressure, improve blood flow, and boost overall heart health. Choose chocolate that is at least 70 percent cacao or cocoa to optimize the antioxidant power and health benefits."
Plus, my son says that they will "rich-flavor your face off." True story.
Oh yes… And if you feel the need to put on some old South Park episodes, and let Chef (Isaac Hayes) serenade you…all the better. My recipe is much easier than his, btw. No baking, so you'll never accidentally burn your balls! But feel free to lick the spoon. 😉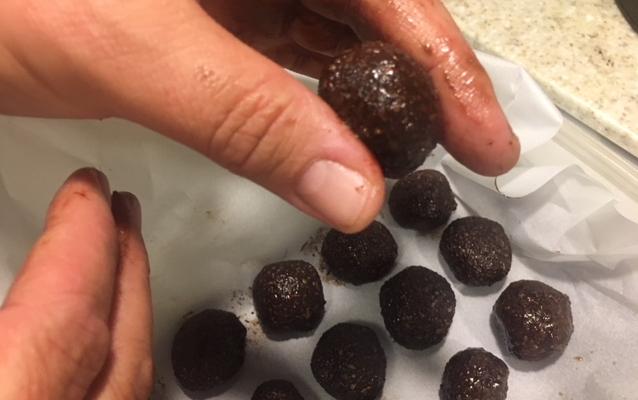 Vegan Chocolate Salty Balls
Raw, Vegan and Gluten Free
Makes 36 bite-sized servings
2 Cups Walnuts
1 Cup Shredded Coconut
1 C. Cacao or Cocoa Powder – the best quality you can find.
1 scant Tablespoon Vanilla Extract
1 Teaspoon Himalayan Pink Salt, or a good quality Sea Salt. None of that Iodized table salt junk.
1 Cup (Local, Raw) Honey, or if you don't consider honey to be vegan try agave nectar, but adjust quantities to taste.
In a food processor, add the walnuts, coconut and cocoa powder and run until all ingredients are finely chopped and well-blended. Transfer to a large mixing bowl.
Add the Vanilla, Salt and Honey, and fold with a spatula as best you can to get it mostly blended. Then wet your hands and knead the dough thoroughly, eventually forming it into a ball. You've got to really get in there. Yes, it will look like you've been playing in the mud, but if you aren't willing to get your hands dirty, did you earn your dessert?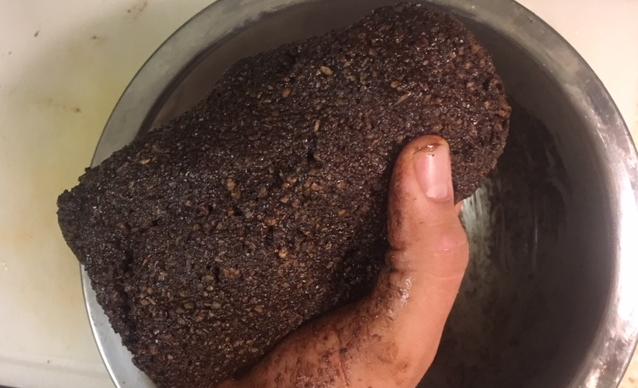 Spread baking parchment on a cookie sheet, or flat covered dish or storage container. Pinch off small portions of dough and roll into quarter-sized balls. Set them on the parchment with plenty of room not to stick to each other. Add more parchment for a second layer, if necessary.
Cover and refrigerate for at least an hour before serving. The balls will firm up in the cold…as they do.
For interesting variations, you can add a splash of your favorite rum or liqueur to the mix, or roll them in confectioners sugar (but then you up the junkity quotient, and that doesn't seem worth it to me.) You could sprinkle them with cinnamon, or  substitute the vanilla extract with orange extract, for example. I bet you could also use this as a gluten-free crust for an amazing pie or tart.
I'd love to hear about any variations you try in the comments.
~Heron