My fiancé is the BEST cook. Truly, when he serves up one of his non-dairy, no-meat, no-wheat meals, the most delicious victuals cross my plate. When you need a filling plant-based protein you can sink your teeth into (and are sick of soy) these seed and lentil patties are a tasty option!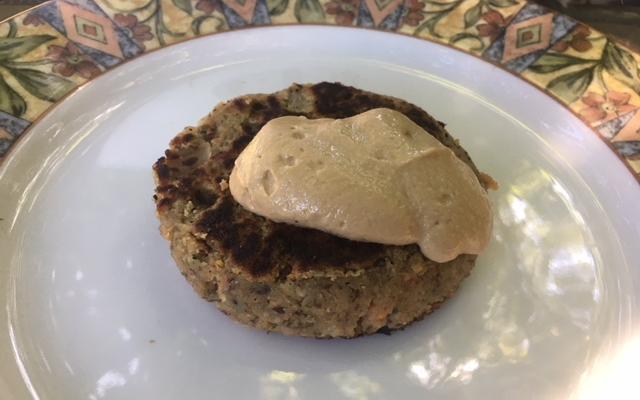 Since Lipbone* is a traveling musician this is also a favorite dish for making in advance. He then has them ready to eat while out on the road, especially when we are camping. He blogs about his adventures in vegan touring, so if you'd like to learn more about his many tips and tricks, check him out at www.lipbone.com.
Lipbone Redding's Famous Sunshine Hippie Cakes with Lemon Tahini Sauce
Vegan and Gluten Free – Makes 12-ish cakes
Step 1: Prepare the Ingredients.
Before you start cooking, prepare your ingredients in advance. Finely dice all your vegetables, and run your lentils, oats, and seeds through a coffee bean grinder until they are powdered like flour.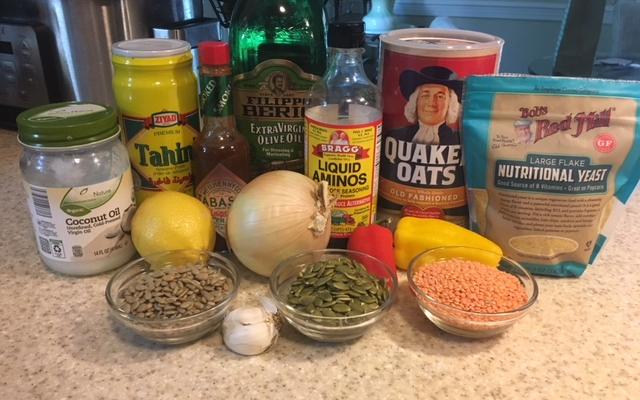 Step 2: Blending the Dough
Add 3 cups of water to a large sauce pan on high heat.
Add 2 cup total of finely diced vegetables. We like:
1 cup diced onions
10 cloves minced garlic
1/2 cup diced bell peppers, any color
1/2 cup diced mushrooms
Bring it all to a boil and let cook 1-2 minutes.
While stirring, slowly pour in 2 cups lentil flour, either green or red lentils. It will thicken into a gruel.
Cover, remove from heat, and let set 2-3 minutes. It will continue cooking.
Mix in:
1.5 cups oat flour. Blend it well with a wooden spoon.

1/4 cup ground flax seeds
1/4 cup Nutritional Yeast
1/2 cup Extra Virgin Olive Oil
3/4 Cup of Bragg's Amino Acids
1 cup ground raw sunflower seeds, unsalted

1 cup ground raw pumpkin seeds, unsalted
If you like hot sauce, add a few dashes of your favorite.
Optional: You can also add any herbs or spices to change the flavor profile. But honestly, "plain" is our favorite way.

Set pan aside, let cool 5 minutes until you can touch dough without burning your hands.
Wet your hands in cold water and knead the dough until thoroughly blended.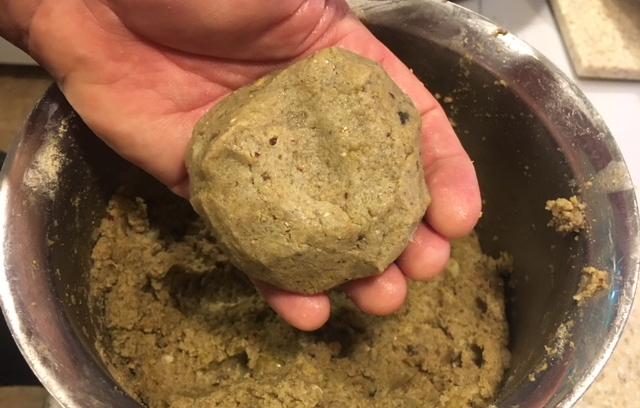 Step 3: Frying the Patties
In a large frying pan on medium, heat a tablespoon or so of coconut oil.
Pinch off a ball of dough, rolling it in your hands, then flattening into a 1/2 inch thick patty about the size of your palm. If you keep your hands wet while kneading, the dough won't stick to your skin.
Fry the patties in the oil until brown – a couple minutes on each side.
Remove patties with a spatula to drain on paper towels. They will harden as they cool.
Step 4: Tahini Sauce:
1/2 Cup Tahini Sauce (from sesame seeds, so yet another source of protein)

Juice of one lemon
1 to 2 teaspoons Bragg's Amino Acids
1/4 water
Blend together the tahini, lemon and bragg's sauce with a fork. Add water and keep whisking as it emulsifies into a creamy consistency about the same as yogurt.
Step 5: Serve
Our family serves these as the protein much like you might have a side of meat, with other vegetables on the side. Or, they are delicious served on a green salad. We aim for left-overs, because they are great served cold, cut in half and arranged on a pita or flour tortilla with the sauce and greens as a wrap.
We hope you enjoy them as much as we do!
~Heron
*Yes, he is known as "Lipbone," as that is what you call it when a blues musician makes a trombone sound using only their mouth – he picked up this nick name while busking in the subways of New York City. He also beat-boxes, throat sings and makes all manner of interesting sound effects while singing. He plays a mean guitar and stomps out a drum beat to his original songs.  He is a phenomenal one man band, but of course I am biased. There are videos on his site if you want to see what I mean.