[EDIT: as of September 13th, Florence lands as a Cat 2 storm and shifts away from my area. I take the weakening intensity of the storm as a good sign that we are doing good work. As I continue the prayer, I'm expanding this shield throughout South Carolina and Georgia. The rains have now begun here at my house. I hold you all in Love and Gratitude. Stay safe!]
Hurricane Florence grows in destructive power as she heads directly towards my patch of Earth. At this time she is expected to make landfall as a Category 4 storm with winds up to 130 mph. She hits the Carolina's Thursday night into early Friday. A life-threatening storm surge is expected with landfall and could hit record levels of 15 to 20 feet or higher. Massive inland rainfall flooding is also expected into next week. After up to 15″ of rainfall saturates the region, it then flows down-river toward the sea. I live on the Tar-River, so after the storm is when things tend to worsen for us here in Greenville, North Carolina. We take these storms very seriously. Nature's chaos comes calling, and we must rise to face Her challenges.
My shop, all the members of my beloved Sojo Circle Coven and our eastern NC pagan community live within the purple, red and orange areas shown on the map below (weather.com.) Many of us are under mandatory evacuation. As we physically prepare for the upcoming challenges, as witchy people we can also prepare metaphysically. It is time to batten down the magickal hatches! If you are safely out of harms way, I ask that you join us in this prayerful working for our protection.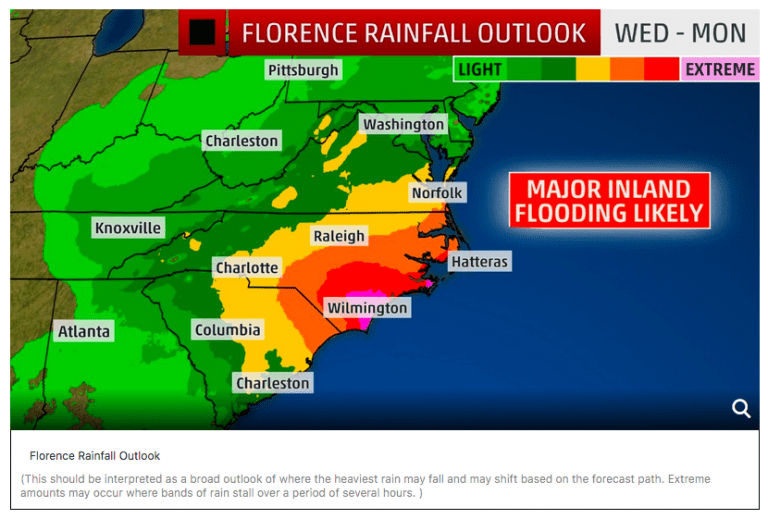 During previous storms in Eastern North Carolina in 2016, and 2017 in Houston, TX, I posted variations of this spell. By working it before, I feel that I was aided.  If nothing else, my own state of mind was calmed through the prayers and ritual actions. Plus, I experienced no personal damage in the storms or floods.
Anything is possible when enough people set their minds and energies to the task. Once again I call upon your Witching aid. Please, join the good Witches of Coastal Carolina and Virginia in this spell of protective magick when Hurricane Florence comes ashore Wednesday- Friday, Sept 12-14, 2018.
Feel free to adapt this for your style, with whatever materials you have on hand. Thank you in advance! Just reading the prayers below with sincerity is helpful, and we appreciate all energetic aid you can lend. Then, when it is over, consider supporting the financial and service organizations who will work to clean-up and rebuild in the aftermath.
Powers of Witchcraft, ACTIVATE!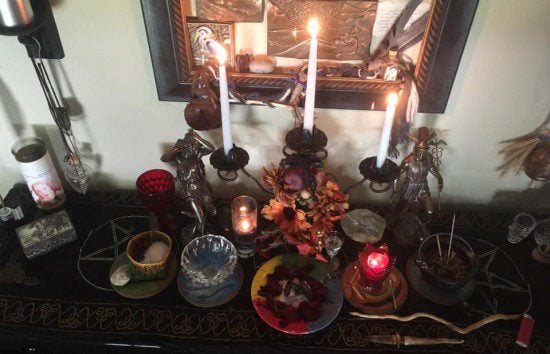 A Witch's Spell Against Hurricane and Flood Damage
Great Ones! Gods, Guides, Angels! Hark unto my call.
Great Mother, Great Father nurture and protect us in our time of need.
Be with us now, we pray. (Lights White Candles)
Ancestors of Spirit! (claps hands three times)
Mighty Dead of The Craft! Draw near!
Awaken within us the old powers, tried and true;
Make strong these roofs and shelter us from all harm.
Aid us in this time of need.
Be with us now, we pray. (Lights Black Candle)
Ancestors of the Blood! (pounds chest in heart-beat pattern three times)
Mothers and Fathers of my line, back through the reach of time,
Return once more to hearth and home, protect all our kith and kin, calm our children and pets.
Awaken within us your tenacity to survive.
Make strong these foundation stones and shelter us from all harm.
Aid us in this time of need.
Be with us now, we pray. (Pours out offering of liquor)
Ancestors of the Land! (Stamps foot on ground three times.)
Those who've cultivated and protected these lands in your time, those who've lived here, worked here, died to defend us and been laid to rest here, return once more to farm and city, harbor and armory.
Protect our livelihoods, our crops, our livestock, our buildings.
Keep safe our sacred places, our cemeteries and temples.
Awaken within us brotherly love for all within this region.
Aid us all in our time of need.
Be with us now, we pray.
(Lays map of region on paten, Red Pentacle for protection and defense is drawn over map; surrounds a monopoly house piece with hematite, rose quartz, blue lace agate, and an iron coffin nail (athame, anything iron will do,) rings with red rose petals.)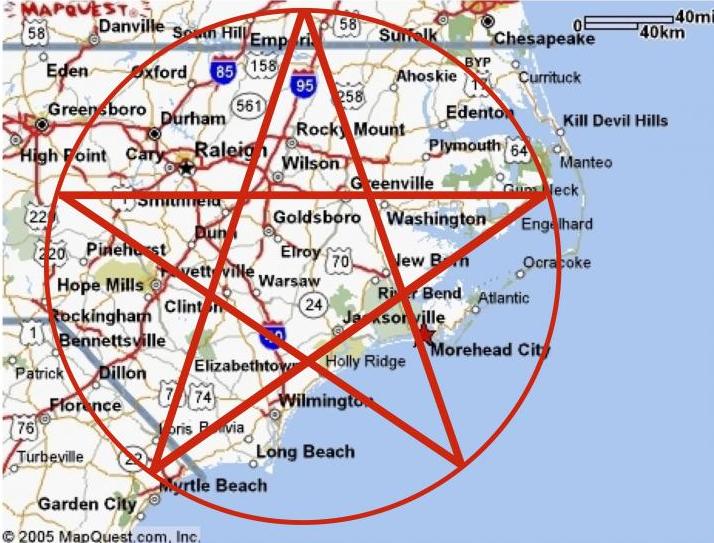 (Lights Incense)
Powers of Air, of intellect and wise governance. Be with us now!
Calm the Winds of Hurricane Florence, diffuse her power, redirect her harmlessly out to sea.
Blow free all confusion; lend your powers of critical thinking and aid all our officials, aid workers and citizens in beneficial decision making as we weather this storm.
Keep us safe from harm.
In gratitude, we call you into this working.
(blows incense gently over items on pentacle.)
I visualize a clearing and calming of the wind and atmosphere itself. I see the atmosphere of our region glowing yellow.
(Lights Red Fire Candle)
Powers of Fire, of action and protection. Be with us now!
Ignite within us the motivation to work hard to help our neighbors, the strength to persevere through adversity.
Lend your power to fortify our defenses and our resolve.
With your power we rise into well-organized, and effective action.
Ignite our Highest Divine Will to guide us safely at this time.
We surrender to your fires all hubris and all unhealthy ego-attachment to unnecessary material possessions.
Keep us safe from harm.
In gratitude, we call you into this working.
(Touches iron nail (or athame) to the flame, then uses nail to draw an invoking pentagram over top of the spell materials.)
I visualize the people of our region, especially the police, national guard, officials and aid workers, rising to the aid of their neighbors like a well-armored and well-provisioned army, setting out to battle in perfect formation. I see the people of our state glowing red.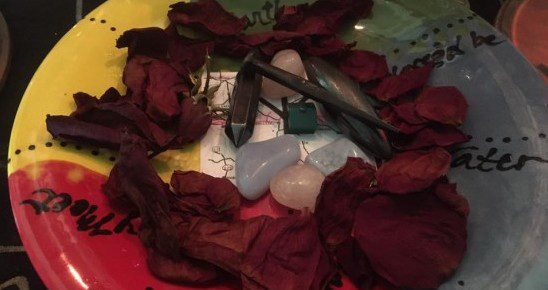 (Touches purified waters)
Powers of Water, of intuition and acceptance, Be with us now!
Awaken our instincts, grace and compassion.
Help our emotions ebb and flow with these waters with a calm acceptance that all things change.
Calm your Hurricane waters, redirect them harmlessly out to sea.
And what rains fall on our land, your rivers now accept their boundaries, flowing gently and harmlessly, finding the least damaging path to the sea.
Protect our water systems from pollution and disease.
Protect our municipal treatment plants so they may do their purifying work.
Keep us safe from harm.
In gratitude, we call you into this working.
(Sprinkles waters upon the ring of rose petals for brotherly love. Another substitution could be cinnamon powder for fiery protection of Mars.)
I visualize the hurricane rain waters dissipating, finding their way gently to the ocean. I see the waters of our land remaining crystal clear, clean, flowing gently and easily, in their normal river beds, accepting the boundaries of the dams and retention walls that hold them. I see the waters of our state glowing blue.
(Touches Sea Salt)
Powers of Earth, of stability and fortification, Be with us now!
Keep us rooted and nourished. Empower the dams, levies and dikes to hold fast and steady.
Be the sturdy banks that guide the waters to a peaceful resolution.
Aid our farmers and protect the bounties of their fields so that we may have the food needed to sustain us.
Be the energetic wall that defends our homes and businesses from destruction.
Keep us safe from harm.
In gratitude, we call you into this working.
(Sprinkles salt in a ring around the rose petals)
I visualize a strengthening of foundation stones, footers, piers and retaining walls; the metals and minerals of the earth itself know their purpose, to be strong and guide the waters. I see crystalline grids forming around all vulnerable areas and systems. I see the very land of our state glowing green.
Great Ones! Gods, Guides, and Angels!
All those who keep us safe and illuminate the path before us.
Powers of East, South, West and North!
All those from Above and Below who answer our call, in gratitude we set you to your work!
Great Mother, grant us your grace. As the moon waxes I anchor our protection to her growing powers.
Great Father, grant us your strength. Illuminate the safe path before us, and protect us from harm.
Mighty Ones of the Oceans, Deities of the Depths whom we know by many names and faces, spare us all harm from your mighty forces, we pray.
May all that we do be for the Highest Good of all involved, harming none.
In gratitude, our intentions are made manifest.
As is our will, it is so. SO MOTE IT BE!
I clap my hands three times, and leave the working to burn for a while. Then I return, as I am able, to relight and repeat, giving thanks for each small miracle that unfolds.
[Update: After there was a significant amount of liquid red wax from my fire candle, I poured it around the circle of rose petals around the map and visualized a fiery wall of protection surrounding the entire region.]
Blessings of protection and well-being to you all! We are all in this together!
~Heron