This mid-term election day, millions of my fellow Americans lined up at the polls to discharge their most sacred duty, to VOTE their conscience and restore compassion to our governance through the Blue Wave. In our coven this year, our Great Work intention was to live through "Active Compassion" and I see this Samhain day election as the culmination of that work. SO VOTE IT BE!**
Astrologically, this is a powerful day. The sun crests to the Witches' Grand Sabbat of High Autumn – when the Sun hits 15 degrees Scorpio. It is also the New Moon, as Luna also wanes to darkness in Scorpio. Scorpio is the sign of the Eagle, no less! How fitting that our nation's election occur under the Eagle's watchful care! Scorpio is a time of transitions, mystery, and the liminal places between the worlds. There is no better time for divination, my witches! So, through this auspicious keyhole, I held a ritual prayer for Highest Divine Guidance for our nation. With a drawing of tarot cards, I received a message which I offer to you this election day: Power, Justice and Compassion!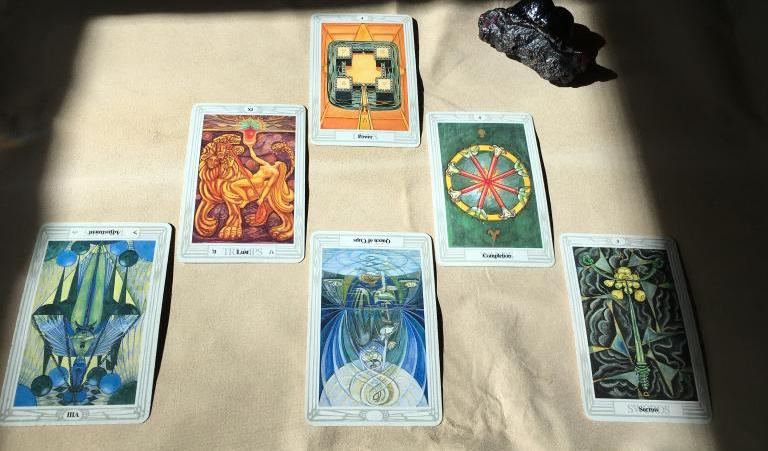 Tarot Guidance for the Us Mid-Term Election 2018
Rites begun at 11:50, am EST. November 6, 2018. Greenville, NC. Rites completed at 1:11 pm EST
Sun 14° Scorpio, Waning New Moon is 2° Scorpio.
My divination guide, led me through a shuffling that ended with an unusual request for me to spread all cards in a line, and individually call for, and select them as guided intuitively for each position. This is unusual because I typically just deal from the top. Interesting!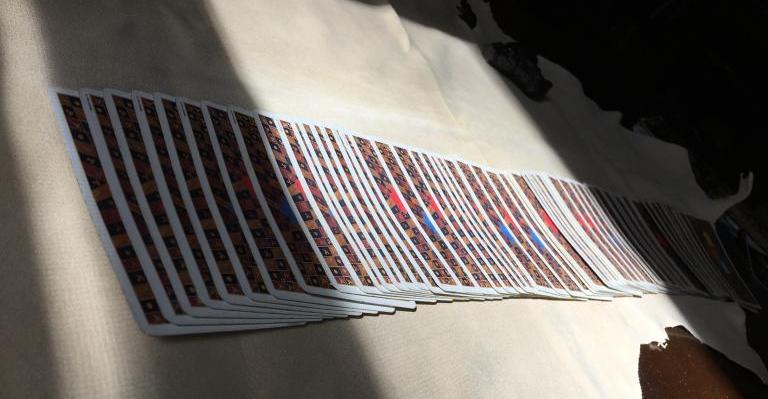 Opening prayer and statement of inquiry:
Great Ones! I seek guidance on behalf of the United States of America on this day of our Mid-term Elections. While both the sun and moon wane to darkness, crossing Scorpio, sign of endings, the occult mysteries and connections to the realms beyond, lend your power to this Divination. What messages do you send our people as we determine the next phase of political and social leadership in our country. With humility I seek guidance for our nation as we await the results of the election, and prepare for the daunting work of restoration ahead. I offer these cards as the vocabulary, and ask that my interpretation flow from Highest Divine Guidance. May this work be of benefit to all involved, harming none. In gratitude, Blessed be.
Pyramid of Power Tarot Spread
Guidance from Spirit: The Power of the God flows through us to impact our Society at this time.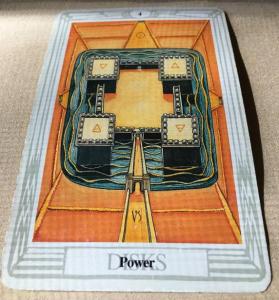 4 of Disks, Power. Sun in Capricorn
The outcome of our actions this election will restore integrity, security and strength on all levels. We've created change in our society through the power of our strong character. By engaging in the structures of the material world, by using the rules and systems to our advantage, we now have the power and authority to accomplish the changes we seek. We now have the power to organize the raw material force that flows through this election, to become more effective and stable.
Instruction: Our power should be offered in the service of Divine Love.
Guidance from Air: What should we know about our society at this time?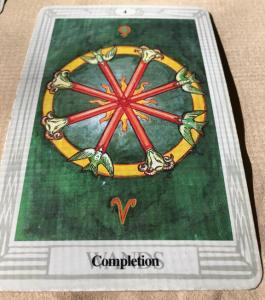 4 of Wands: Completion. Venus in Aries
Know that as a result of our fighting the Good Fight through this election, that a new and beautiful blessing is making its way into our society. Established conditions are being called into question and discussed openly. We have to complete the process of clarifying the old order, so that we may establish a new oneness across our society. Remember that there can be harmony between male and female, active and passive, projective and receptive aspects of our nation. Through this balance we can regain the stability we need to develop this new beauty on all levels.
Instruction: Know that completing this old cycle will free us to build something new.
Numerologically, the number four reminds us that strong structures are created from equality for all sides. I see a message of regained stability in the repetition of this number.
Guidance from Fire: How should we take action in society at this time?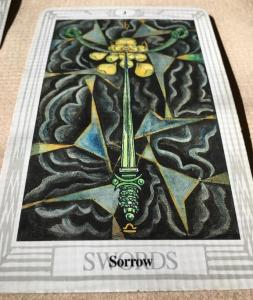 3 of Swords: Sorrow. Saturn in Libra
Worries have plagued us, bringing sorrow. Apply the Fires of our Will to conquer all doubts, and release the tensions in our societal relationships.  Through these fires we are called to make clear and unequivocal decisions. We don't yet have all the facts, so we must keep pushing and digging for the truth. Only in this way can balance and justice be regained.
Instruction: Know that every problem contains it's own solution.
Guidance from Water: What emotional circumstance we should accept about our society at this time?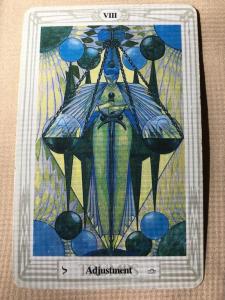 VIII Adjustment (Justice), Libra
Accept that this is a time of Adjustment, and that cosmic balance and justice are being restored. This is a time of balancing extremes to find equilibrium once more. We are tasked to discover what conditions we need in order to establish harmony, define our core values, and then to respond to all the emotional challenges of these times, in a way that is aligned with those core values.
Instruction: Be at rest within your own center.
Guidance from Earth: As we keep silent, what is manifesting for us from this work?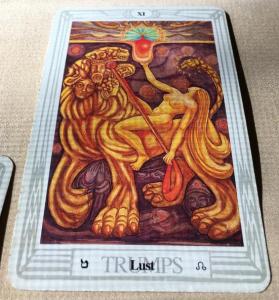 XI Lust (Strength). Leo
Our work from this election will manifest through an overcoming of old fears and conditioning. We are ready to accept this renewed strength, better able to enjoy a new vitality, passion, and enjoyment of life. As a nation we will be better able to move forward with sensitivity, awareness, love and understanding. This chaos serves to impel life into deeper stages of evolution.
Instruction: Tap into the Divine strength of The Two Who Move as One that dwells within ourselves, and through their ecstasy, live fully and passionately.
Next Instruction – What can we personally contribute as we move forward?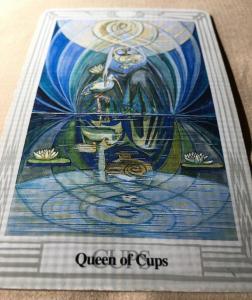 Queen of Cups, Watery aspect of Water, Cancer
By expressing our emotions openly, by connecting deeply to others in our society with sensitivity, and nurturing, we are found to be beautiful. Even if some people do not understand our care for others, we are not to let that concern us, or stop us. Share our inner beauty and emotional truths openly, and this clear vision and understanding of Divine Love will be recognized and appreciated. In this way we will gain authority, and power enough to further our personal and human evolution with emotional integrity.
This interpretation of Divine Guidance is offered in gratitude and humility.
SO VOTE IT BE!**
~Heron Michelle
*Because I've practically memorized this book by now, I should in good conscience credit Mirror of the Soul by Gerd Zeigler (Weiser Books; 01 edition. January 1, 1988) as a constant aid in my Tarot interpretations for the Thoth Deck by Crowley/Harris. I highly recommend it as a companion to this fine deck…the only deck I use.
**Thanks to Courtney Weber for this great turn of phrase in her article 9 Witches who Should Never Vote, Ever!