Witches tend to have a wyrd perspective of death. Death does not frighten me, and I'm absolutely certain that there is Spiritual life beyond the grave, because I've experienced it first hand in hair-raising ways. In March of 2007, my Evangelical Mother suffered a hemorrhage from a cerebral aneurysm. She went from a vibrant and perfectly healthy 59 year old woman, to brain-dead organ donor, in under 3 minutes. Due to the zealousness of her Evangelical convictions, we had a troubled relationship while she was living. The miracle of this story, is that through her death we found acceptance and unconditional love for each other once again. At Samhain I honor her, and what she taught me.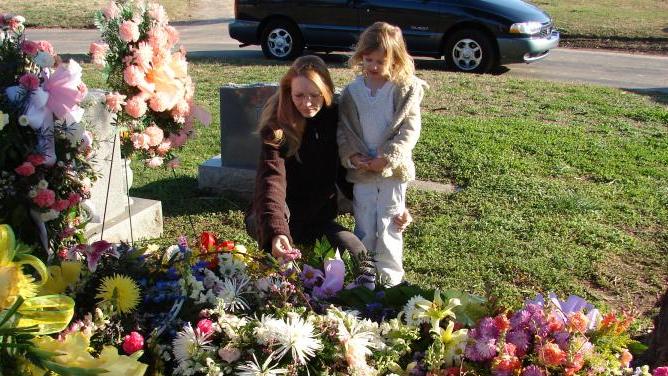 The following index of stories are my personal account of her sudden death, funeral, and the mourning period where I believe that she was guiding me through a psychic connection. Ironically, she continued to haunt me for years to come, nudging, guarding and inspiring me to leave my broom-closet, and live an authentic life as a Witch and Priestess. Then we were able to communicate via a Psychic Medium, as she finally went into the light. Since then, she's occasionally returned to let me know all was well.
My whole life changed for the better after the passing away of my Christian mother, but not in the ways you might expect. The death toll demanded of me that first year of my witchhood was a high price to pay, but the road beyond has been well-worth traveling, thanks to her guidance.
I've written much about our journey together. I am continually affirmed in my own path, thanks to her guidance over the last 10 years. Below you'll find the links to those tales; just click on the pictures to follow the story.
A Witch Remembers her Evangelical Mother at Samhain
"She could be a special sort of boundary-violating jerk, she carried her soapbox with her everywhere she went, and the message was clear: there was only one right way, her way. As you can imagine, we had a very difficult relationship, but because she was so entrenched and vocal about her opinions–on everything, without ceasing–planning her funeral was a no-brainer."
 Death Toll: A Mother's Sudden Death
Passing Away
"There was this weighted pause, where I expected her to go on, but we just hung there in awkward silence. I didn't understand. "What is next? Where do we go from here?" I asked, hopefully.
She replies so gently, so simply, "Honey, she's brain dead. This is it."
Coming to Terms
"A sense of peace swept over me like a big hug. My panic shifted into acceptance and I just knew that Mom was OK. She was still there; I could feel her, peaceful, light, and seeking me out as well."
Psychic Agent
"I was wracked with guilt for all the ways in which I simply could not stand my mother; all the times I was horrified and embarrassed to be her daughter; all the intolerant things I'd ever said to her, and about her. But the Eulogy just kept on pushing forward, speaking itself to me aloud. Stories I hadn't thought of in years popped into my mind. Themes formed."
 Visitation
"Everything looked beautiful from the back of the room, which is where I wanted to remain frozen, but there was no avoiding that open casket that demanded an audience. It was hard to approach mom's body."
The Funeral and Eulogy
"Then it was my turn. I assure you that this irony was not lost on me…of my being a Witch, and delivering a message from a Christian pulpit, at my loudly fundamentalist mother's church. I knew full well that if the majority of the people in that room knew who was about to address them, they would have run me out on a rail. But *I* know that to Spirit we are all sacred beings, and what they didn't know about me, wouldn't hurt them."
Death Toll: Amazing Grace
Mourning
"When the duty was complete, I wanted so badly to stay there among her things and take comfort at her house, but eventually I felt the pressure to leave. Life was marching on out there in the world. There was work to be done and alphabets to learn, a house to be kept…"
Remembrance
"What I can tell you from my intimate experience with funeral planning, is that their purpose must be two-fold: To honor the dearly departed in accordance to their spiritual beliefs, and most importantly, to give the mourners a way to process their emotions while fully releasing their loved one to the Next Big Thing."
Hauntings
Into the Light at Long Last
"I choose to believe that my mother was released from the petty smallness of incarnation, suddenly knowing a higher truth to things. She knew how badly I needed to make changes in my life, and stuck around long enough to help me see my way clear, then make amends. That kind of closure is a precious gift that I will not deny. Besides, once you set your feet to the path of the witch, opening your mind and your heart to the greatness of the Universe, this is the sort of wonder you are asking for. Receive their gifts with grace for the benefits they offer."
Years Later, A Graveyard Visitation
"My family wanted me to know that they accept me as I am–the Witch in the family.  I'd kept that last bit from all three of them while they were alive. "Well, they know now, and they are fine with it," Denise comforted me. It was toe-curling awesome to be fully known by them at last. "
I hope these tales brought you peace, as they have for me – peace about the immortality of the Spirit, and the triumph of Love beyond the grave. Most importantly, if you also find yourself in a difficult relationship with a loved one who condemns your witchery, I hope that you'll someday know the reconciliation that I found. My wish is that it won't take a tragedy to restore that common ground between you. For some additional advice on dealing with your own Christian family, I offer Broom Closets and Bible Belts: 10 Tips for your Coming Out Party.
Blessings of Samhain's Rest,
~Heron
Broom Closets and Bible Belts – 10 Tips For Your Coming Out Party