Macaroni and Cheese is my perfect comfort food, and today I was craving some. At the same time, my son was craving "Hippie Flavors," which is our way of referring to my umami blend of coconut oil, liquid amino acids and nutritional yeast. Just like the old cartoons, a light bulb lit up with a big idea. <bing!> That's when I got a little crazy in the kitchen.
The dish that emerged could be called "Hippie Mac" or "Mac 'n' Yeast," but both of those names sound yucky, and my son said this dish was "delicious!" He is a highly discriminating 14 year old, who won't eat just any ol' thing. While we aren't all vegan, our family is always looking for ways to eat a healthier diet, and get complete nutrition just because… Still, comfort food is important, y'all.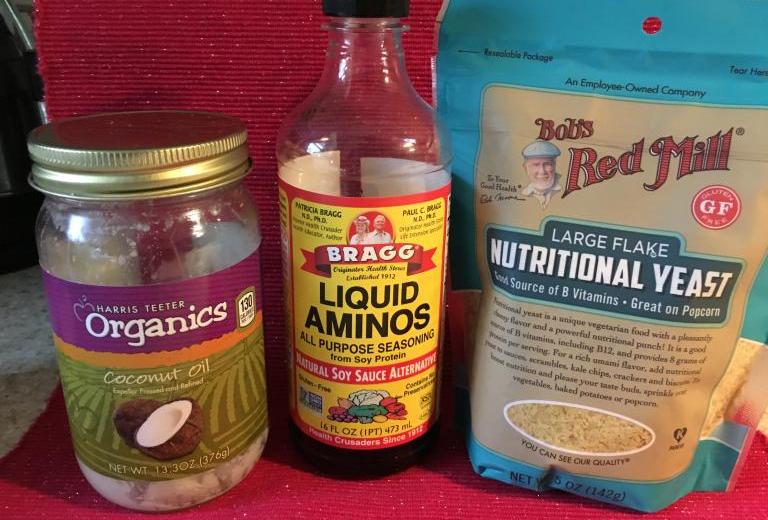 The Umami Trio
"Biologically speaking, your taste buds are equipped to experience four basic flavors: sweet, salty, sour and bitter. After many years of eating and research, scientists (and chefs) now add umami — the almost mythical fifth taste of glutamates and nucleotides — as the mysterious fifth taste." Source
People are always asking how one gets enough protein without eating meat and dairy products. The snarky answer is "the same way that cows do, eating grains and vegetables." But human nutrition is a bit more complicated than that, and there are some specific vitamins and proteins, that one should take special care to include in their plant-based diet.
Two such prepared Vegan ingredients that you'll find in many of my recipes are Liquid Aminos and Nutritional Yeast; both are described as having an umami flavor. I did some research about their qualities and found this article, Clever Ways to Use Liquid Aminos (and Why You Should) on Shape.com
Liquid Aminos: A Fancy Soy-Sauce alternative

"Liquid aminos also contains plant proteins and a variety of amino acids, which are the building blocks of proteins. It's especially important for people eating a plant-based diet to consider liquid aminos, as it's more difficult to find the nine essential amino acids (which your body cannot manufacture on its own) without consuming animal products. One popular brand, Bragg Liquid Aminos, contains 16 types of essential and non-essential amino acids—that's almost all of the 20 amino acids found in your body's proteins." by Lauren Mazzo

And this one: Why Is Nutritional Yeast Good for You? on Healthline.com
Nutritional Yeast: Flaky Sprinkles of Happiness

"Some of the main nutritional benefits of nutritional yeast include:

It is a complete protein: Nutritional yeast contains all nine essential amino acids that humans must get from food. One tablespoon contains 2 grams of protein, making it an easy way for vegans to add high-quality protein to meals (2).
It contains many B vitamins: One tablespoon of nutritional yeast contains 30–180% of the RDI for B vitamins. When fortified, it is especially rich in thiamine, riboflavin, niacin, vitamin B6 and vitamin B12.
It contains trace minerals: One tablespoon contains 2–30% of the RDI for trace minerals, such as zinc, selenium, manganese and molybdenum. Trace minerals are involved in gene regulation, metabolism, growth and immunity. Source from Healthline.com
Combine these with coconut oil or Coconut milk in any combination, and whatever you put it on becomes an umami, "Hippie" treat.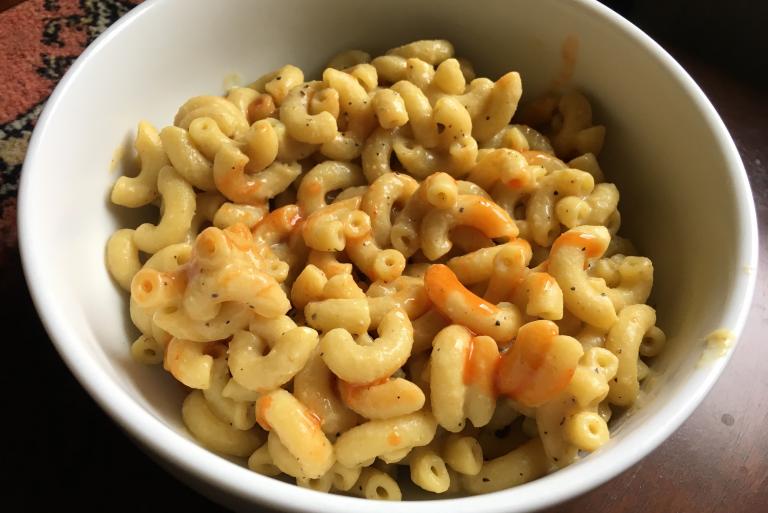 Umami Mac, a Vegan "Mac 'n' Cheese" Recipe
For when a bowl of simple, savory pasta is the only cure for what ails you….plus hot sauce.
Ingredients:
2 tbsp. coconut oil
1 tablespoon whole wheat flour
2-3 tsp. spicy brown mustard
2-3 tsp. garlic powder
2-3 tsp. onion powder
1/2 – 1 tsp. black pepper
1 1/2 cup coconut milk
3/4 cup nutritional yeast
2 tablespoons Bragg's Liquid Amino Acids
1 pound package of dry macaroni pasta, cooked per instructions.
1 Tablespoon of Extra Virgin Olive Oil, the good stuff.
Hot sauce
Instructions:
Boil the pasta per package instructions. Once done, drain pasta in a colander and return to the original pot. Drizzle the Extra Virgin Olive Oil over the pasta and give them a quick toss. Cover until sauce is done.
In a small saucepan over medium-low heat, melt the coconut oil. With a wooden spoon stir in the whole wheat flour and dry spices, making a paste. Note that I gave a range on the amounts. I like strong flavors, so I typically go heavy with spices. But if you prefer more subtle flavors, start at the low end. You can always add more later.
Blend the mustard into the paste.
Slowly pour in the coconut milk, stirring continuously. Allow the mixture to come to barely a simmer and thicken for a few minutes. Add the nutritional yeast and stir until well blended.
Remove from the heat, add the Bragg's Amino Acids and stir until everything is well-blended.
Taste the sauce. If it's not salty enough for your tastes, add another splash of the Liquid Aminos. Not zingy enough? Add another squirt of mustard. If you like spicy food, add a teaspoon or two (or 5) of your favorite hot sauce. Still not quite umami enough? Add more onion and garlic powders. I almost always want more black pepper than anyone else in my family, but those flavorings can be added to individual bowls, too.
Pour the Umami sauce over the pasta and mix well to coat.
As you serve up individual portions, adding an extra sprinkle of Nutritional Yeast on top of the pasta adds a nice texture, too. It is much like the cracker crumbles sometimes baked on top of mac 'n' cheese.
Serve with the hot sauce of your preference. I usually go crazy with some Texas Pete!
We hope you like it as much as we have! Enjoy!
~Heron
P.S. If you like my Umami Trio of flavors, try "Hippie Popcorn." Basically just pop corn as normal in coconut oil. Then, in a big bowl drizzle over the popcorn some Extra Virgin Olive oil, and spray Liquid Aminos liberally, toss about to "wet" the popcorn a bit, then dust liberally with Nutritional yeast. Toss to coat it evening and maybe add a little more as needed. The Bragg brand of aminos can even come in sprayer bottles, which is very handy.