I'm not one to often crave sweets. Nay, I'm a Salty Witch* with a fierce salt-tooth that must be fed. During the pandemic lock-down, my favorite comfort food has been this sour and savory, chilled pasta salad. It just soothes the complex needs of my emotional saltiness.
Back at Imbolc, I made this dish for our coven's sabbat feast. It was a huge hit among us Salty Witches in attendance. No one knew that would be the last in-person gathering for the foreseeable future! So, now I can fill a bowl, and remember that good time when the coven sat around a table to dine together. We hugged, held-hands, and laughed as we danced the circle round in high magick. As I share that recipe, I hold out hope that those good times will return once again in their proper time.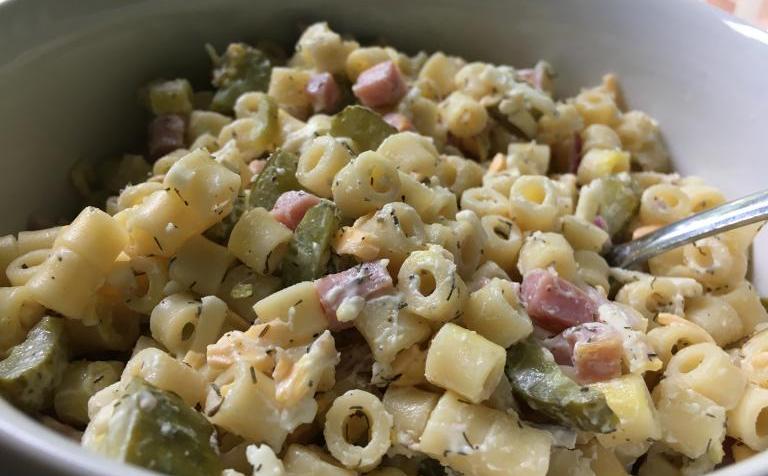 Dill Pickle Pasta Salad Recipe
Package of small pasta like shells or macaroni, prepared per the directions, chilled.
2 cups diced kosher dill pickles
half a diced onion: I like Red, if you preferred milder go white
1 cup cubed ham (or more)
1 cup cubed or shredded colby jack cheese (or more)
tablespoon of dried dill, or 2-3 Tbls of fresh dill
1/2 cup pickle juice
3/4 cup sour cream
3/4 cup mayonnaise
1 tablespoon apple cider vinegar
1 tablespoon Bragg's Amino Acids or Tamari Soy sauce. If you don't have this, add a dash of salt to suit your tastes.
black pepper to taste, I like lots.
Toss it all in a large mixing bowl. Refrigerate for a bit first, and serve chilled. I think it improves as it sits for a while. I've been making this huge batch just for me, and I can happily nosh on it for days.
Be well,
~Heron
* Yes, I'm a Salty Witch, pun intended. I find it challenging to suffer fools, and there is much foolishness to cope with of late. If your attitude suffers under pandemic life; this pasta might help.