Nothing like a new pandemic to bring out all the old plague lore. Legend has it that long ago, grave robbers once brokered their freedom in exchange for the secret to how they didn't contract the deadly plague while pillaging their victims. Allegedly, they used aromatic herbs in their masks to neutralize the awful smell, and stumbled upon the anti-microbial effects of these plants. Those helpful healers came to be included in all kinds of "thieves" protection blends.
During the Witch on Fire-side chat video of April 10th, which can be viewed below, I demonstrated which five "thieves" I include in my essential oil blend. Then I use that blend in making a household cleaner spray, and hand-sanitizer. I diffuse the blend into the air to clear pathogens including mold spores. I even draw banishing pentagrams with the blend on my HVAC filter, so it runs through the ductwork. I use the blend in a technique for making a sigil paint for use on the doors of the house. Those recipes are included below in this article.
Also discussed in the video above are methods for a basic home purification with the four elements, and the black and white candle spell, which are discussed in depth already in my article Warding Ritual for Spiritual Protection of Your Home. 
For that spell, I used the excellent magickally prepared oils, Jupiter's Juju, by my friend and Sojourner Associate, Jupiter Melchizedek. All are made of top notch ingredients according the astrological timing, and traditional hoodoo and witchcraft techniques. They can be purchased from his etsy store: https://www.etsy.com/shop/jupitersjuju
Five-Thieves Banishing Illness Oil
Cinnamon
Elemental: Fire
Planetary: Sun
Zodiac: Leo
Qualities: Health, Love, Prosperity, Consecration, Purification and Sanctification. A natural pesticide.
Clove
Elemental: Fire, Alternate Air
Planetary: Jupiter, Alternate Uranus
Zodiac: Sagittarius
Qualities: Healing, Courage, Protection, Purification, Blessing
Rosemary
Elemental: Fire
Planetary: Sun
Zodiac: Leo
Qualities: Purification, Mental clarity, Confidence, Good Luck.
Lemon
Elemental: Water
Planetary: Moon
Zodiac: Cancer
Qualities: Calm, Love, Purification of baneful emotions.
Eucalyptus
Elemental: Water and Earth
Planetary: Moon
Zodiac: Cancer
Qualities: Protection, Banishing, Purifying, healing, mental and physical well-being, acts as a charm against disease. Reduces fatigue, aids respiratory system.
All of the herbal information above was sourced from Amy Blackthorn's Botanical Magic book, also highly recommended.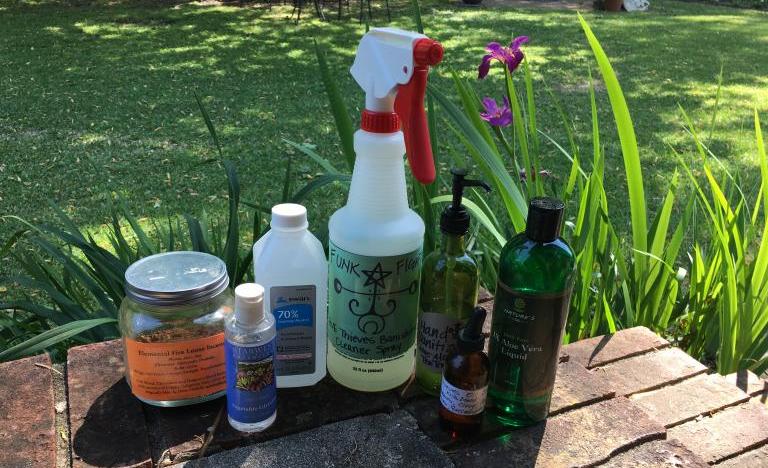 Funk Fighting Household Cleaner Spray Recipe
In household sprayer bottle, blend:
2/3 bottle Rubbing Alcohol (I typically use white vinegar, but lately I've upped my game)
1/3 bottle Water
1 teaspoon dish washing liquid soap
1-2 droppers full of five thieves oil.
Add all ingredients to the sprayer bottle and charge to their purpose of hygiene and fighting the household funk, as if you're killing all microbial harm with the fires of Ares himself. Label the bottle and add protective sigils.
Hand Sanitizer Recipe
2 cups Rubbing Alcohol
1 cup Aloe Vera liquid or gel
1 tablespoon of Florida Water Cologne
1 dropper full of Five Thieves Essential oil blend above.
Add all ingredients to a glass pump bottle and charge to their purpose of hygiene and good health, protecting from all baneful influence. Label the bottle and add protective sigils.
Protection from Illness Sigil Paint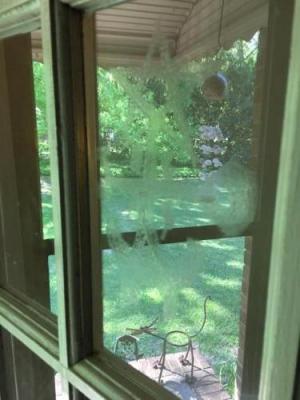 1 Tablespoon Vegetable Glycerine
9 drops Five Thieves Essential oil blend
1 teaspoon Garnet Sand: Root Chakra, revitalizes

, balancing, love, resources, libido, emotional harmony, survival instinct, courage, hope; thought to detoxify blood, heart and lungs.

1 teaspoon Fire Incense blend (recipe here) or powdered cinnamon, clove, and/or dragon's blood resin.
Paintbrush to blend and apply
Awaken and charge each ingredient for the fiery protection from illness, or any harm, for all those who live in your home. Draw in the paint banishing pentacles while charging to it's purpose of defense, balance, and purification. Then use that paint to draw any protection sigil, such as this immunity booster sigil promoting good health, by Laura Tempest Zakroff. Or, use a banishing pentacle. Apply to outside of the home's doors and/or windows, or anywhere else that physical protection is needed.
This magickal paint will work for any intention where the Warrior Mars energy can aid in your defense. The glycerine will dry, leaving the faint outline of the herbs and stone, but the energetic imprint is now marked, even if the image wears away. A variation of this idea was originally found in Teaching Witchcraft by Miles Batty.
Note that any fiery oil such as cinnamon and clove can potentially irritate sensitive skin, especially if they are not sufficiently diluted. Use sparingly.
Be well!
~Heron Michelle
Witch on Fire-side chats will be held throughout the month of April 2020, on Tuesday, Friday and Sunday nights at 9:00 pm EST. This effort is in support of my shop, The Sojourner Whole Earth Provisions, while we are closed in accordance to the Covid-19 shelter-in-place mandates by the state. Donations are accepted via PayPal at orders@thesojo.com and go to cover our payroll and basic expenses.
Tune in to participate live on my Facebook Business Page: https://www.facebook.com/WitchonFire. I welcome you to like and follow that page, and to share and promote the videos through your own social media sites.
All previous Fire-side chat videos are posted to my YouTube Channel: Heron Michelle. Please subscribe!