When I train folks in gospel-centered public speaking, I emphasize that we've got to identify what's good news. After all, Jesus started his ministry by proclaiming good news—especially to the poor. That's what gospel means—good news. When we honk out bad news—no wonder no one's listening.
I don't hold to that rule 100% in blogging, but I do 95% of the time— because if I can't identify good news, or at least humor, why add more drag to the planet?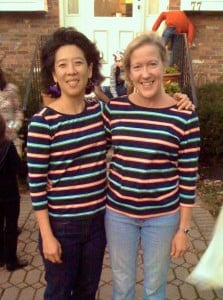 So I've blogged pretty steadily the past 5 years. And then July came and I got too sad. I was half way through my 6 month sabbatical and my friend Julie began actively dying.
I met Julie soon after moving to Boston 18 years ago. She and her husband Joe became our go-to "couple" friends. We commiserated about both being "8"s on the Enneagram married to "6"s. In 2007, they moved their Christmas celebration to our home just days after she received her Stage 4 cancer diagnosis.
In late spring, during an accountability group time, a friend told Julie, "Tell Joe not to worry, Kathy will run your funeral." I don't know if she passed on that message, but he emailed the next week and we began the slow painstaking work of planning for her death.
An early July Saturday morning, Joe called that she had taken a deep dive, he needed to pick up his daughter from camp, and wanted us to ensure she wouldn't aspirate and die. The hospice nurses said it might only be a week.
And I got sad.
It wasn't just Julie's impending death—so much was going on in the world that I felt sorry for President Obama. In fact, it felt downright unfair that the man I voted for (and went to my high school) had a crisis in every part of the globe when presidents before only had 1 or 2. To remind you:
Hamas/Israel were at war
Ebola just started
Putin invaded Ukraine
ISIS reared its ugly head
Other friends faced horrible-terrible-no-good-very-bad situations as well. I felt guilty that my main frustrations were:
Nudging Ling to get a summer job
Helping her manage the 2 summer jobs she found (60 hours total—crazy making!)
Not resting/rejuvenating on sabbatical
I told my spiritual director that I wanted God to show up in BIG ways. I wanted God to solve BIG problems like world peace, pandemics, and cancer, not just grant little graces.
Because I couldn't deny the little graces.
As I vented, I couldn't help recognizing about 20 tiny little miraculous graces that came along with all the big sadnesses. Tiny little ebenezers. (Not Scrooge, ebenezers were the stone piles God told the Israelites to raise in order to remember God's works).
Little ebenezers like:
Julie living an extra 7 weeks, weeks filled with laughter and fun. Weeks where she could write letters to her kids and videotape stories and hold an impromptu backyard bbq to see a hundred of her friends
Scott and I dropping Ling off at Colby College the day Julie's daughter was in Maine so when Julie took a turn towards the end so we could pick her up.
Scott whisking me off for a day's anniversary trip to NYC because we thought we'd be at a funeral for our actual anniversary
Little. Too little. But real nevertheless.
Finally, it's been Julie who's helped me with this spiritual struggle. She came to understand that cancer wasn't God's will for her, but an evil spiritual attack. That she was part of a spiritual battle fighting for good, but we battle real forces of evil with real casualties.
In our very secular, very intellectual world of Boston, the idea of spiritual battle seems insane. Yet the evil outside and the evil within so overwhelm that trusting God has triumphed through Jesus, the cross, and an upside-down Kingdom actually feels like good news again.
I organized much of that funeral weekend, praying that good organization would prevent unnecessary suffering. It did, but suffering still remains as a 10 and 13 year old have no mother and a father no wife.
Adding my own little graces to a big cosmic battle can feel futile, but so does dying on a cross. I'm trying to practice a spiritual discipline of hope. Trusting that Jesus and His gospel are good.
All the time.