Day 73 of 90 straight days of hot yoga at Modo Yoga  and I entered the studio awaiting a special class today in honor and the celebration of peace. Today is International Day of Peace. The class was a Yin class on Peace, facilitated by our teacher Emily B, and in the class she read poems, quotes, and we chanted OM, and listened to music all with the intention of bringing peace inside.
Sometimes on my mat, in practice, an idea will come that will really catch my heart, like a dream catcher, catches dreams, my heart is an inspiration catcher. What came to my heart was the idea of R.I.P.  Rest In Peace.  The majority of people wait till they actually die to experience peace, why wait to experience peace when you die, why not experience it now, by learning meditation, yoga, Tai Chi, Prayer, breathing, or anything that will facilitate in you as Emily put it, "Your own peace treaty."
There is a wonderful story Wayne Dyer used to tell of a man on his death bed, and he turned to his wife and said, "What if I never lived my life fully?" Then he died.  Another wonderful story, is the Ancient Egyptians believed that upon death they would be asked two questions and their answers would determine whether they could continue their journey in the afterlife. The first question was, 'Did you bring joy?' The second was, 'Did you find joy?"
I have sat with people dying, their eyes go clear, the heart expands, and weight is lifted off of them. This same experience happens with waking up from your inner slumber.  Today's class was a beautiful reminder of a famous Buddha story, when the Buddha started to wander around India shortly after his enlightenment, he encountered several men who recognized him to be a very extraordinary being. They asked him: "Are you a god?" "No," he replied. "Are you a reincarnation of god?" "No," he replied."Are you a wizard, then?" "No." "Well, are you a man?" "No." "So what are you?" They asked, being very perplexed.  Buddha simply replied: "I am awake." Buddha means "the awakened one." How to awaken is all he taught.
After taking several classes with most of the teachers, I love in Emily B's classes that under her breath, when she feels the class is doing well, in a almost whisper she says, "Good".  I feel like my guardian angels are like that. When I am present with things, even when the noise is a lot, if I acknowledge to myself this simple statement, "Yes here is noise, and I am okay", I feel like my guardian angels smile, and say, "Good".
Today examine in your life how you are with peace inside, and where you go when the noise seems relentless.  Because I can promise you, peace is present with you. Practice peace. Love on you! Peace be with you.
On to day 74….Namaste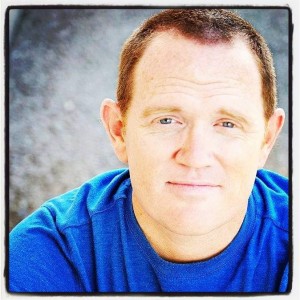 David Matthew Brown: Dad, Yogi, Speaker