I am re-posting this from my 90 straight days of hot yoga at Moksha LA now called Modo Yoga LA. Many people loved this post and said it helped them. That is why I am here, to help and serve. Enjoy Love
Day 18 of 30 straight days of hot yoga at Moksha Yoga Los Angeles.
Laying on my yoga mat with my eyes closed, I was reminded of the day I went sky diving. As the plane climbed higher and higher in the air, my fear did too. I was strapped to the instructor, for a tandem jump, and so I was going to jump. So much fear, and these thoughts racing in my head, and I sat at the edge of the plane looking out, 2 miles up in the air, feet dangling, head racing. the instructor said, "Okay David We have to jump now, let's do it." I jumped, into the abyss, facing the fear head on, and the mind stopped, and we glided across the sky. It was awe-inspiring. No words can describe the feeling of jumping. The same holds true for yoga. Yes the mind may be racing in a pose, the mind may be trying to get your attention, but all you can do is breath and allow.
Today my practice felt like jumping out of the plane. Was my mind racing? Not as much as skydiving, but my breath and heart wanted to move past what they new, they wanted to go deeper and express. The heart was ready to be the leader and the breath was ready to use her grace. Karma means "come back". So how we treat ourselves and others comes back to us. Every thing on the mat comes back to you, and yet in stillness and quiet within, there is no karma. Crazy but true. Yoga is an invitation to meet your life on your mat, and no one can push you, tell you where you should be, it is entirely up to you, to make the commitment to follow the breath, the heart, and jump.
I have learned many valuable lessons in practicing Moksha. First the breath is so important, number two, that falling is okay and when I say fall, just fall over, and finally, the breath will help you find alignment and alignment is very important. More important than circus poses to grab attention. Take time. Enjoy the class. Enjoy the poses as they arrive. We can truly only meet the pose right now. Be willing to be willing. Listen. The breath is your friend. Yoga is your friend. The pose is your friend. The mat is the space of safety, security, and comfort, you will not be harmed, or hurt. So in the safety of your mat, relax onto it and experience you fully. Your body is your temple, respect it. Life is happening now. When I truly honor myself on the mat, then I can fully honor you, Namaste!!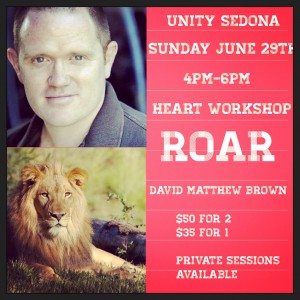 Tell your friends in SEDONA ARIZONA I will be facilitating ROAR at Unity Sedona at 4pm. This is a powerful, simple approach that has helped many people at work, in relationships, family, health, and really helps with stress, worry, and fear what it grips you throughout the day.
See you there!!